Backup
How to Create AT&T Email Backup? Simple & Verified Solution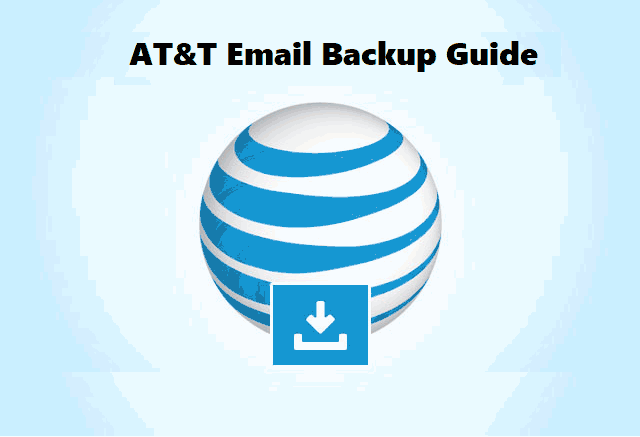 Introduction: Here, you will understand how to create AT&T email backup and how the process works. Also, know about the needs of the users that can be met by the exact solution mentioned here.
All of us have used one or the other web-based email service for communication purposes regarding our business, personal, or school life. One of the cloud email services is AT&T which is the largest telecommunication organization and has acquired a good number of companies on its own.
Every day we get a lot of users who ask us if there is any method to backup AT&T emails and have different requirements. Keeping those requirements in mind, we are here with an impeccable solution.
You can understand the process for the same with the help of this tool as explained in this article. But first, here are the reasons to backup:
By creating a backup, you can simply protect data from virus, ransomware attacks or hacking,
Moreover, if you have a copy of emails already, then it will void data-loss due to accidentally deleting it permanently,
Likewise, the protection against corruption caused by spam email, or for an extra layer of security
Moving on to the solution on how to create a backup.
Technique for AT&T Email Backup Without Any Data-Loss
We have checked and researched a lot over the internet for manual methods to perform this task and we found that there are no methods for it. So, to resolve the user queries, here is the Best IMAP Mail Backup Tool For Mac Users.
You have to install this software on your Mac OS latest versions 11 and above or prior versions Mac OS 10.8 and above. There are a lot of features and functionalities that can be used to perform the task to backup AT&T emails in an uncomplicated manner.
But before learning the features, let us take a look at the kind of user queries that we have received and what are the different requirements
What Are the Users Requirements for Backup?
User 1 – I have a lot of email on my AT&T account that I need to export to my local storage for backup. However, I want to save these files as Outlook Data File so that I can transfer them to Outlook. Is there any solution that can help with AT&T email backup easily?
User 2 – I have some emails that I want to download from my account but from a specific time-period. Now, I have found many tools but none of them provide all the options and features that I need like downloading selected emails in MBOX format. If anyone has any suggestion can you mention it here? I'm really desperate!
User 3 – My company has assigned me to back up AT&T email for all the associates in my department. Unfortunately, I don't know how to do this. I've been trying to find a solution all day, but I can't find a way that's simple enough to do it in bulk and keep the data safe. Please help me and let me know if anything can be done.
These are some of the requirements that can be met with the software that we have mentioned in the upcoming section.
What Are the Steps for AT&T Email Backup Using the Software?
Following are the instructions to create an archive:
Once you have installed the software, launch it and select the domain your account in on. Fill in the sign in details and click on the Login button.
Now, select the format you want to download your data in from the Select Export Type section and choose the Advance Settings option.
After that, you have to choose the Naming Convention and set the Date-Filter to selectively backup AT&T emails.
Then, you can mark the Maintain Folder Hierarchy option and Delete after Download option if the need be.
In the next step, click on the Change button to pick an end location for the exported files.
Finally, hit the Start Backup button for completing the exporting process on desktop.
After completing the task, you can even check the details in the export report which is downloaded with all the files.
Let's now take a look at the features making this process of AT&T email backup simple and interesting.
Amazing Features of the Software for Successful Backup Operation
Multiple email formats including PST, MBOX, MSG, EML, EMLX, TXT, HTML, etc.
Date-Filter for selective email backup by setting a time-period in Advance Settings
Moreover, this tool even offers a feature by deleting email data automatically via Delete after Download
Maintains the folder structure after backup using Maintain Folder Hierarchy
Likewise, while selecting PST format, this tool split large files into smaller parts with the help of Split PST Option.
Backup AT&T emails that have recently arrived after first process with Incremental Backup
Various Naming Convention patterns for end results like Subject, Subject + Date, etc.
Ending With A Note
However, it is not a wise thing to not create a backup of your data, be it on any email service, web-based or desktop-based. So, you should always have a backup of your data stored someplace safe. In this article, we have explained how you can create AT&T email backup and save it locally in desired file format. Hence, use the suggested solution for a successful backup process without wasting too much time or effort.