Outlook for MAC
Learn How to Convert ICS Files to PDF File Format | Overview Described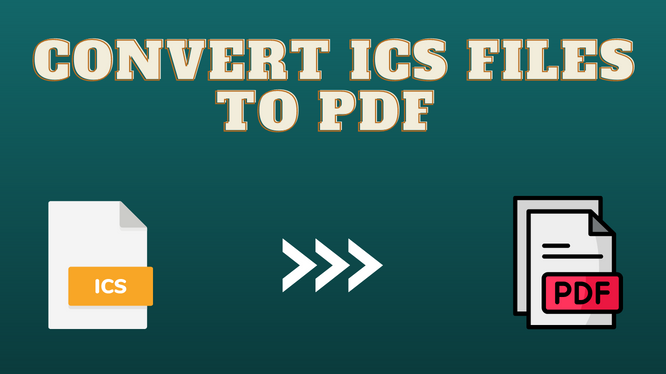 Summary: Are you stuck in a situation to convert ICS files to PDF file format? If so and couldn't find any solution for the ICS files conversion. Then this blog will become helpful to resolve your query easily and quickly. In this technical guide, we are going to explain the best conversion to convert ICS calendar files into PDF format. So, let's get started.
ICS calendar files are the file extension that is used for sharing the calendar data by using Google calendar and many more like Thunderbird MS Outlook, Lotus Notes, etc. All of these applications support ICS files to add events on daily basis. However, these files are mostly used by professionals or office workers to share office-related events.
Using this dependable solution you can, you can convert ICS files to PDF documents without facing any type of error. There are multiple reasons why users's converting ICS files to portable document, in the next section we talk about what are the reasons behind the ICS files conversion.
Reasons Why to Convert ICS Files into PDF File Format
Converting ICS files into PDF files is a great option because PDF file provides multiple benefits.
You can protect PDF files from outsiders by encrypting them with a password.
It can work on both Windows and Mac operating machines.
PDF files open easily in the Adobe Adobe Acrobat Reader.
Any attachments can easily attach to the PDF file.
A PDF file is easy to share and easy to create, no technical knowledge is needed.
Trustworthy Solution to Transfer ICS files to PDF
There are no manual solutions to convert ICS files to PDF. Therefore, there is a professional solution only to convert ICS files. Using automated solutions is quite an easy and quick way to resolve your query. But still, some solutions are very difficult to use due to their high technical working or lengthiness.
But we are here, with the highly Recommended expert commendable solution to convert ICS files into PDF format. ICS File Converter Tool best software which is specially programmed for the user's reliability.
Moreover, it creates a single file for every ICS folder and there is no such kind of file size restriction. While using any third-party software, the folder hierarchy is the main concern of every user. But No need to worry! This tool is quite advanced that preserves folder hierarchy after completing the conversion process.
Step-by-Step Conversion Guide to Export ICS Files to PDF
Install & Launch the software on your machine.
Then, Add ICS file by clicking on Add File & Add Folder option.
After this, select the PDF section from the format option.
Go to the Advanced Setting for the following filters as per your requirement.
Click the Change option to provide a Destination for the converted ICS files.
In the end, Click Export button to complete the process.
Final Verdict
In this technical guide, we have discussed the shared the best possible solution with you to convert ICS files to PDF. There is no direct or manual solution to complete this conversion. Therefore, we suggest you this automated procedure, you can check out this software by trying its demo version to know more about this software.