Excel
,
MAC OS
How to Convert XLSX to PDF on Mac Computer?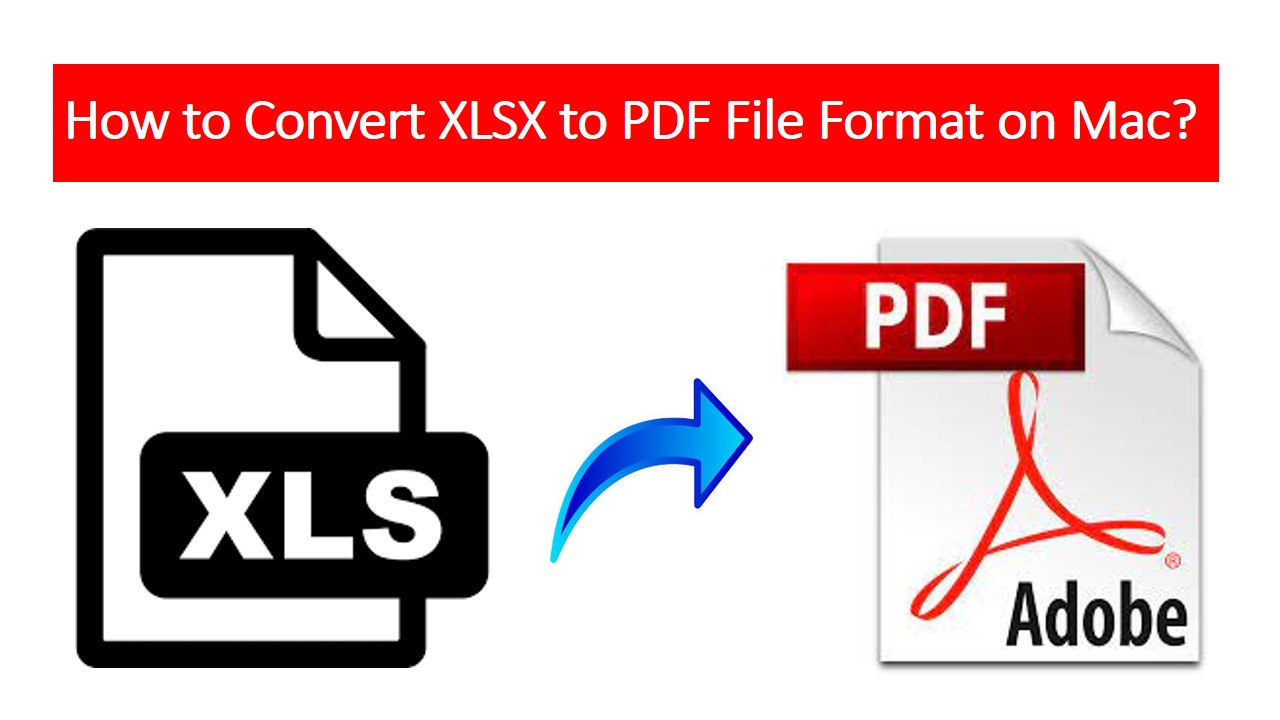 Summary- If you are looking for a way to convert XLSX to PDF on Mac OS, then this blog is the right for you. Here in this blog, we are going to discuss the most effective way to export Excel contacts to PDF Mac. So stick with the blog till the last to know the complete conversion process.
Basically, XLSX file format is related to MS Excel which is one of the most popular software for editing and creating spreadsheets on both Mac and Windows environments. But is not that handy or portable file format for data sharing.
On the other hand, PDF is a universally acceptable file format and it is one of the most preferable file formats for data sharing. Basically, the main reason behind its popularity is platform independence it one can assess it on any device. Also, it offers security features so by using the security feature one can restrict the users for any kind of data modification.
Why Users Prefer to Convert Excel to PDF Mac?
Due to PDF popularity, there are many reasons that force users for this conversion on a Mac desktop. In this section, we cover some important and major ones.
The first thing is that to open any Excel file you need particular software, hence, it's a software-dependent file format. On the other hand, PDF is universally supported and also it is an independent document file.
In a PDF file, one can easily add a password to their documents for security purposes. But in an Excel file, anyone can modify your data it means there are no security features.
Manual Solution to Convert XLSX to PDF on Mac
If you are seeking for a free method to complete this XLSX file to PDF. Then, you can do this task by using the predefined option to get your any Excel spreadsheet in PDF file format. Now, to know how to do that, follow the below steps carefully.
First, launch Microsoft Excel on your any Mac machine
Now, click on the Open option from the left Menu Bar and browse the file which you want to Save As a PDF
Once the file is opened in Excel go to the File option
Now, from the File option choose the Print option
Next, from the Print windows choose the Save As PDF option
Select the destination path to save the Excel XLSX file as a PDF
At last, click on the Save to preserve the file as one PDF on Mac desktop.
Limitation of the Manual Method
There is no doubt that you can export Excel file to PDF on Mac. But while doing this you will notice that you can only save one Sheet or Workbook at a time. You are not able to print multiple Excel files at once, due that it is only feasible for those users who have a fewer Excel contacts list to convert. Now, if the above method is not enough for you, then keep reading the blog because you are close to knowing how to convert multiple XLSX files to PDF on Mac without any data loss.
Professional Solution to Convert XLSX to PDF on Mac
As we said earlier, the manual method is not worthwhile for every user. So, in this situation of multiple Excel sheet conversion, you can try Mac Excel Contacts Converter Tool. This tool gives you an option to convert all your Excel contacts files into PDF, MSG, TXT, and other file formats without losing data integrity.
By using this software, users can save unlimited Excel XLS / XLSX / XLSM to PDF on Mac within a few clicks. Also, the utility offers a filed mapping option for no data loss during the process. Along with PDF this software also convert XLS contacts to vCard of all versions.
In fact, this is one of the best tool to transfer Excel contacts to iPhone, android phone or Google account and any email client. If required, you can even take the help of this software to convert Excel to WhatsApp.
Working Steps to Convert Excel XLSX Contacts to PDF Mac
Download and install the software on your Mac machine
Once the installation is done launch to tool on any version of Mac machine
Now, click on "Add File(s)" to add Excel XLSX files into the software pane and then Next
Select the PDF radio button from the Select Export Type option
After that choose to Create Single PDF Per File to create a single PDF file and Enable Mapping option to map the Excel fields
Once the mapping is completed Press on the Change button to select the destination path
At last Pick on the Export button to convert XLSX to PDF on Mac.
Why Choose this Mac Excel Converter Software
In the case of multiple conversions, the manual method becomes very hectic for you. But this tool comes with various features that make the conversion process very smooth. Some of the prominent features of this tool is mentioned below:
Capable to convert all types of Excel files such as XLSX, XLS, XLSM in five different file formats.
Facilitated option to auto-map and manual mapping for Excel fields.
Option to convert Excel contacts files into all versions of vCard such as v2.1, v3.0, and v4.0
Support all versions of Mac OS 10.8 and all the above versions of Mac OS.
Conclusion
There are various users who want to convert Excel to PDF because it universally accepted file format hence, many uses have asked a query on how to convert XLSX to PDF on Mac. So, after considering the user's requirement here in this blog we have discussed two methods to complete this task. Now, it up to you to choose the right one for you. However, we would recommend you to go with a professional solution as it can perform the task safely.