MAC OS
How to Convert XLS Contacts to vCard: The Best Solution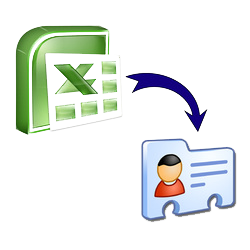 Today we have come up with a completely different account. After considering user queries to convert Excel contacts to vCard on Mac. The Excel XLS / XLSX file format is a popular file format that can be opened on almost any computer. However, there are some software that can only transfer Excel contacts via vCard files.
What are the Excel XLS files?
XLS is a Microsoft Excel file type suitable for storing tabular data such as company databases and contact information. Microsoft Excel 2003 and earlier versions use the .xls file extension. Then the XLS file format was developed with the latest features and created the XLSX format. XLS files arrange data in the form of tables (rows and columns).
What is vCard?
Standard file format for address books are vCard, also known as VCF file format. The vCard file format is commonly used to transfer business card data between computers. It includes your name, address, phone number, email address, and other important contact information. VCF files also support custom fields, images, and other types of media too.
Benefits to Convert Excel to vCard
Excel files are one of the most commonly used file formats for storing and managing large amounts of data. However, there are some disadvantages. A few of the advantages of converting XLS file to vCard are mentioned in the section below:
Easily Transferable: Excel does not allow you to share your individual personal contacts using email services or other programs. On the other hand, you can create one vCard for each individual contact and easily share it with any email service or program.
Compatibility: vCard files are highly compatible with some email programs, devices, and applications. Best of all, it can be accessed from any operating system.
No size restrictions: By comparison, Excel files are mostly large, while vCard files are small in size. So you can easily attach a vCard to an email and share it without file size restrictions.
Convert XLS Contacts to vCard on Mac With Ease
There are multiple methods in which users can perform the conversion of Excel address book to vCard. The manual method offered by the Microsoft Excel spreadsheet program for Mac does not support completely convert Excel Contacts. In the manual method, you need to convert your Excel file into CSV format first. Then, import it into the Mac Address Book Application.
The manual method has certain limitations which makes it difficult for the users to convert their Excel contacts. Therefore, to solve this problem, we come up with a solution, namely the Excel Contacts Converter Software.

This is an advanced utility to transfer XLS contacts to vCard, PST, PDF, HTML, TXT, and more. It's very easy to convert Excel files to single or multiple vCard files of any size. The tool has a user-friendly interface and is perfect for non-technical users.
Exquisite Features Offered By The Tool
1. Convert XLS Contacts: Excel Contacts Converter allows you to convert multiple XLS contacts to vCard, PDF, MSG, TXT, and HTML file formats. Select the export option and the software will start converting the entire Excel file in a single go.
2. Single vCard Per Excel File: You can use this software to create a separate virtual contacts file for every Excel file added to the software. The file is saved on the local system with its original name for easy management by the user.
3. Different vCard for Different OS: This tool allows you to create various vCard options. Like Mac and Windows, it has a different internal structure from the operating system. This is why some Mac OS files are not supported on Windows. Therefore, this software will create two different contact files depending on the OS.
4. Mapping Options: Excel Contacts Converter for Mac has two mapping options: manual mapping and automatic mapping. If you have many columns that need to be mapped, you can run the automatic option. Users can also manually exclude / include columns during mapping.
5. Compatibility with Several Formats: This software supports importing result files to various platforms. Email clients include Microsoft Outlook, Mozilla Thunderbird, Lotus Notes, Gmail, and Office 365. Once the conversion process is complete, you can transfer the resulting file to multiple Android and iOS devices such as Samsung, Nokia, Apple, etc.
The Final Statement
In the above-mentioned article, we have enclosed the best third party automated solution to convert XLS contacts to vCard files for Mac. Now, it is entirely on you, our users, to select the most suited solution for converting Excel contacts into vCard file format.