Outlook for MAC
How to Extract Bulk Attachments from OLM Files on Mac OS?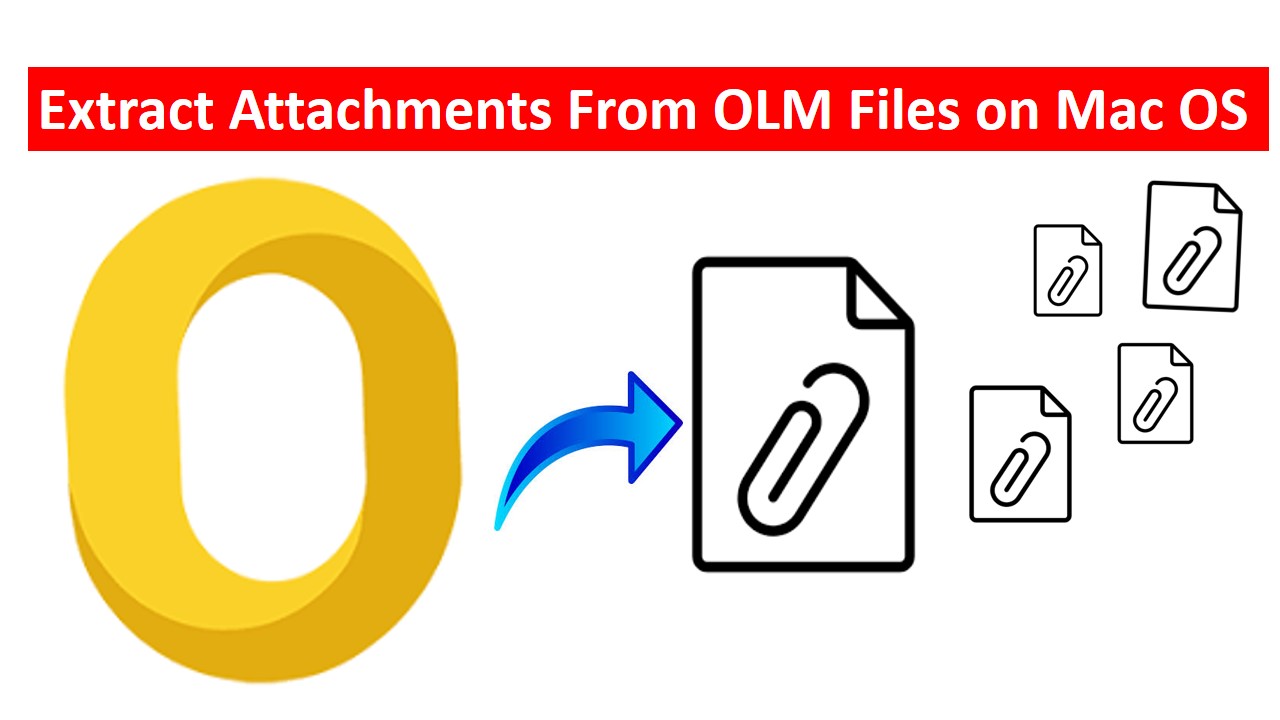 Want to extract attachments from OLM files? Because of oversized OLM file which crating issue for your Outlook program and affecting your workflow. Then you are landed on the right page. Because at the end of this write-up you will able to know how to extract multiple email attachments from Mac Outlook OLM files in an easy manner. But before starting the blog lets understand what is OLM file and how attachments increase the size of OLM files.
What is OLM File?
Basically, the OLM file is a Mac Outlook database file to store Mac Outlook data. An individual OLM file store various data like email messages, contacts, journals notes, task, calendar, and all other personal information of users account.
Why Do We Need to Extract Attachments From OLM Files?
Sometimes users experience a lag, performance degradation, and other issues in Mac Outlook and this is happed due to oversized OLM files. Large attachments are one of the main culprits behind oversized Mac Outlook OLM file. Hence, it very important to extract attachments from Mac Outlook OLM files.
Some of the users want to secure their attachments due to security reasons and extraction of attachments and keep it on your local machine is one of the most effective ways to secure email attachments. Also, if the attachments are stored in one palace then one can easily interact with it when you need it.
But the question is how a normal user can extract multiple attachments in a single click? Because with the help of manual method you can extract attachments from OLM files on Mac but not from multiple emails. In fact, you have to extract all attachment on by one from different emails. Hence, to full fill the limitation of the manual method we have come with an automated solution that completes the task in just a few clicks.
Quick Way to Extract Attachments from OLM Files in Bulk?
Well, we have said above that if we want to save email with attachments from Mac Outlook then we have to save it one by one from our emails. But in the situation, where users have to extract thousands of attachments from multiple emails, then the Mac Outlook Attachments Extractor is best to go for.
It is a toolkit that is specially developed for the bulk attachments extraction program in Outlook for Mac. Not just this, but it will help you even you are unable to open attachments in Outlook Mac. This software is a fusion of advanced features and easy user interface so one can easily extract PDF attachments from Outlook for Mac emails without any expertise.
This advanced tool is also capable to automatically save attachments from Office 365, and Mac Outlook file without any data loss. So, whatever the case is, it will easily let you do the entire process on all versions of Mac machine in bulk.
Steps to Get Bulk OLM Files Attachments on Mac OS
Initially, download the software on your Mac machine, just after that follow the working steps of this advanced utility-
First of all, from the appeared screen, choose Let me Browse radio button to upload the OLM files from Mac system.
Now, choose the required OLM files from the Mac computer, and tap on the Open button
Choose Maintain Folder Hierarchy option for the all the attached files of OLM
If you want to preserve your attachment with the specific name then choose the Naming Convention option.
Now, click on the General Settings option and choose OLM mailbox categories such as Mail, Calendar, Contacts.
In this step, choose the location to securely saving your attachments on Mac computer
After all the settings, click on the Export button to initiate the process of Bulk OLM attachments extraction.
Features of the Advanced Standalone Tool for Mac
The developer team of this software added some amazing features in this tool, such as:
Provide naming convention features for attachments and for the folder.
Multiple filter options such as date filter, mailbox items filter, file size, and extension filter.
Capable to preserve the folder hierarchy during the extraction process.
Facility to extract attachments from contacts and calendars in bulk.
This advanced tool is fully supportable with all versions of Mac Outlook and Mac OS.
Also Read: How to Fix Unable to See Attachments in Outlook on Mac?
Conclusion
Most of the time, we have OLM files with multiple attached files on our Mac computer. So, if the same case if with you or you just need to pull out the attachments. For you, in this blog, we have discussed an easiest technique to extract attachments from OLM files on Mac machine. The discussed technique is very fast and accurate so that you are not going to lose a bit of data. The software will execute entire process of bulk attachments extraction from Mac Outlook quite easily.