Backup
G Suite Legacy Free Edition is End? What to Do Now?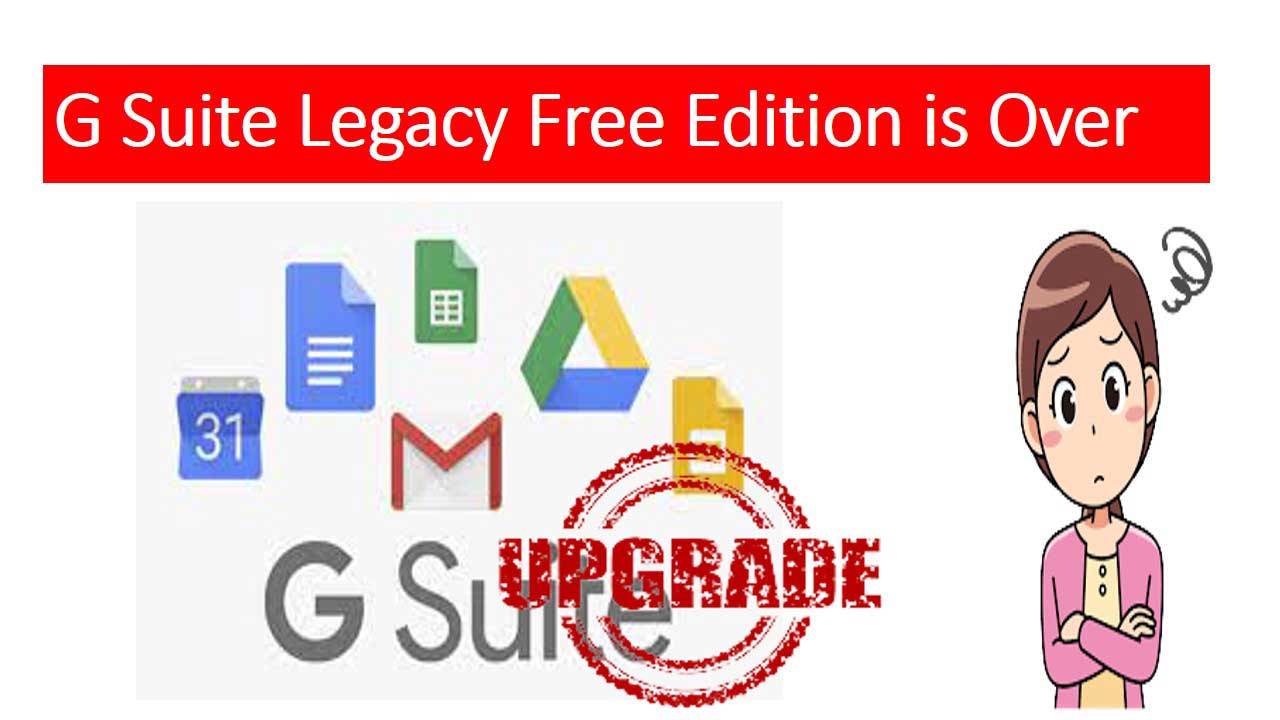 We all are well aware that in January Google announced that the "G Suite legacy free edition" will not be free anymore. Hence, an upgrade to the subscription plans is necessary to access the facility for further use. Google even said to upgrade to the subscription plans before the 1st of June 2022.
However, this step of Google affected many loyal customers but Google still end the legacy edition of G Suite. Before this, Google even ends the unlimited storage of Google Photos earlier.
When Google users came to know that the G Suite no longer free from June 2022, they were left with two options. Either upgrade with the subscription plans or just move to the alternative by deleting the G Suite account.
So, if you are the one who doesn't want to pay for further use of G Suite legacy, then you can go for its alternatives.
There are a few alternatives that you can go for when the G Suite no longer free situation occurred. So, if you don't want to use the G Suite anymore or do not want to upgrade. You can shift to other alternatives like Microsoft 365, iCloud+, Hey Mail, ProtonMail, ZOHO mail, etc.
But before going further we suggest you to have a backup of your entire G Suite data on your computer.
G Suite Legacy Free Edition is Over – Don't Want to Upgrade?
Many of you may not want to upgrade to the paid version of G Suite Legacy. Therefore, it becomes a situation when it is about saving G Suite data.
Almost everyone like you must be having issues or facing situations with what to do to save the data. So, to resolve all the problems related to this issue we have come up with a smart solution. Hence, the Google Workspace Backup Software for Mac operating system will help you out.
Using this software you can easily access all your G Suite data when G Suite no longer free. Then you can backup your entire data in a safe place on the desktop. It is a quick solution to download Google Workspace emails. Moreover, you can simply export G Suite mailbox to PST format, even though this smart utility offers multiple file formats.
Step by Step Guide to Download Data When G Suite No Longer Free
Download the software on your personal Mac desktop. Follow the steps when G Suite legacy free edition is not available-
Enter your active credentials, including your email address and password of your G Suite account, and tap Login
Then, it will provide a preview of G Suite data, here, choose any file format option as given in the export section
After that, press the Advance Settings and apply the settings, including date filters, naming convention patterns or etc
Just after that, browse the location path on the desktop by tapping on the Change button to save the data securely
Eventually, hit the Start Backup option to begin the backup process of G Suite mailbox data.
Benefits for Choosing this Software
There are multiple features that this automated application offers that make it superior to other applications-
Also, it is easy to take the help of this most secure and pre-tested application for downloading emails when the G Suite legacy free edition ends.
Moreover, this smart utility will not hamper your original formatting of any file during the entire procedure.
There is an option to take a backup for selective emails from the G Suite account.
It even offers various file formats to backup required emails along with different naming convention options.
Advanced features are available whenever you need to do changes in page orientation, page margins, page size or etc.
Likewise, there is an Incremental Backup feature that only allows the creation of a copy of Google Apps emails or new emails. Hence, this tool is best to prevent any email duplicates.
G Suite Legacy Free Edition – Conclusion
When the free edition ended of the G Suite legacy, the main issue users started facing issue to protect their data. Therefore, in this article, we have suggested the best alternative method here. Using the suggested software you can simply backup your entire G Suite data. Moreover, to know about this tool in advance, this tool offers a free demo version that you can try. Trying this software in advance will help you to know how this tool works.