Migrate
How to Migrate Email from Gmail to GoDaddy WebMail Account?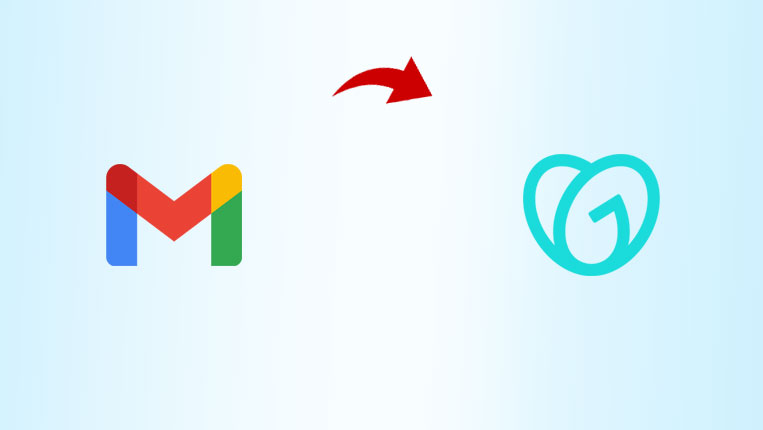 If you are wondering how to migrate email from Gmail to GoDaddy account then this article is what you are looking for. Here, we will share the best possible way to easily migrate all Gmail emails to the destination GoDaddy webmail.
Due to rare situations, users feel like migrating or moving emails from their Gmail account. Some of the reasons may include domain hosting, competitive pricing, business integration, better customer support, etc.
GoDaddy Webmail is also a user-friendly email service that offers a range of features to manage data. Therefore, email data can be easily managed in the GoDaddy account mailbox.
However, we found several user queries on our forum for this particular situation, one of them being-
User Query: I run a small jewelry business. When I started my online business I used a free Gmail account, but now as my business is growing, I want a professional custom email address with my domain. Therefore, I decided to transfer Gmail to GoDaddy. Since I'm a non-technical fellow, don't know how to do the same. On top of that, I use a Mac device. If anyone suggests a solution for the same, I would really appreciate it. Thanks in advance! 
5 Simple Steps to Migrate Email from Gmail to GoDaddy
Step 1. Download the Gmail to GoDaddy migration tool given below on your device.
Step 2. Select the Source Host Name as Gmail and Enter the credentials.
Step 3. Select the Destination Host Name as GoDaddy and Enter the credentials.
Step 4. Apply the Advanced Settings to customize your migration process.
Step 5. Start your migration to transfer your emails to GoDaddy.
Migrate Email from Gmail to GoDaddy – Expert-Recommended
A secure migration without any data modification is the prime concern of any user. Hence, it is best to go for a professionally recommended solution. Therefore, the best way is to use a Safe MacWareTools IMAP Email Migration Tool for Mac OS.
With this automated solution, one can easily transfer multiple emails by selecting the required folders of a Gmail account. Furthermore, it allows to migration of only selected emails from a particular date range with the help of a date filter option.
Any Mac user can perform a GoDaddy migration to Gmail email using this tool on any latest or older Mac OS version. It is a complete package of advanced algorithms that is compatible with Mac OS 12.0, 11.0, 10.8, and below versions.
Why Choose This Software to Transfer Gmail to GoDaddy?
Going ahead with this tool to migrate email from Gmail to GoDaddy is better than choosing other software available in the market because-
It is a great solution that provides quick results along with complete data security during migration. Hence, you get the final results in the destination account without any data modification.

Furthermore, this professional tool is compatible with all Mac operating machines.

The application also migrates from the source Gmail account to the destination GoDaddy account in batches. With the concurrent migration feature, the tool lets users migrate multiple accounts at once.

Likewise, the tool to

migrate email from Gmail to GoDaddy

will keep all email attributes, folder hierarchies, and data integrity the same during the entire Gmail email to GoDaddy migration process.

Security wise this utility is safe as it only requires the login credentials of the source and destination IMAP accounts.

Apart from these, the tool also provides a delta migration feature to skip all the Gmail emails that are already migrated to the GoDaddy account.
Step by Step Guide to Migrate Email from Gmail to GoDaddy in Bulk
Download the software on your Mac-supported machine and follow the steps to transfer emails-
First of all, activate the key of the software and follow the prerequisites. tap on the Continue button.
From the next step, select the Gmail option as the host name for a source IMAP account. For the same account, enter the active username and password to transfer Gmail emails with attachments to GoDaddy.
Thereafter, the requirement is to choose the

GoDaddy

option in the destination IMAP account. If not available in the drop-down list, choose the Other option to

migrate email from Gmail to GoDaddy

, enter its username and password, and

validate.
Then, click

Advanced Settings

to select the required Gmail mailbox folders to

transfer Gmail to GoDaddy

.
Tap the Start Migration option to safely perform Gmail email to GoDaddy migration on Mac desktop.
Conclusion
In this article, we have tried to solve the query on how to migrate email from Gmail to GoDaddy account on a Mac desktop. For this migration, we have introduced the best professional solution in the above section. You can try this and do a secure migration from the Gmail account to GoDaddy mailbox in bulk. However, to try out this automated software, it comes with a free demo version that Mac users can opt for.