Migrate
Migrate Roundcube To Gmail Using The Step by Step Guide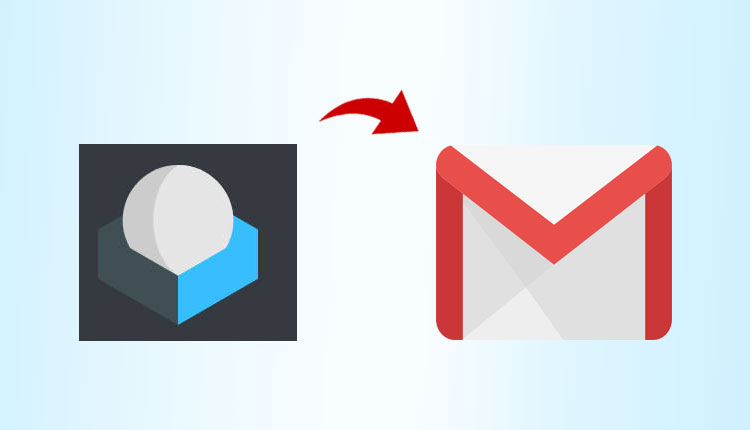 Roundcube is a web-based multilingual IMAP email client with an easy-to-access interface and features like a three-column view, attachment previews, spell checking, and IMAP folder management. Many Roundcube users wish to migrate their emails to Gmail, and this user message sums up the situation perfectly:
"I wish to migrate Roundcube to Gmail since Gmail provides more features than Roundcube. 
Can you guide me in forwarding all my data from Roundcube to Gmail? Any step-by-step instructions or recommended tools are highly appreciated."
Quick Steps to Transfer Roundcube to Gmail
Step 1. Download the automated tool and launch it.
Step 2. Enter Source (Roundcube) credentials & validate.
Step 3. Enter Destination (Gmail) credentials & validate.
Step 4. After mapping the source & destination, apply advanced settings if required.
Step 5. At last, start the migration.
Now, let's discuss the reasons and the solutions for migrating Roundcube emails to Gmail in detail.
Table of Content
Why Migrate Roundcube to Gmail?
Many reasons necessitate exporting Roundcube emails to Gmail, and some of them are:
The first and most important reason is

Security

. Gmail has many security features like two-step verification, Transport Layer Security (TLS) and safe browsing. On the contrary, Roundcube has fewer security features, some of them being OAuth login support and privacy protection. More security features for Gmail make Roundcube users shift to Gmail.




Gmail offers 15 GB of free storage for emails and attachments, while Roundcube's storage capacity depends on the hosting provider and the user plan. That's the reason why users prefer to migrate Roundcube to Gmail. 

User interface and design-wise, Gmail is superior to Roundcube. Due to the clean, intuitive, and modern user interface, users get drawn towards Gmail.

Performance-wise, Roundcube is slower compared to Gmail. Emails take time to open, send and compose on Roundcube, while Gmail's constant updates make it a smooth email client for daily usage, proven by a global userbase of around 40%.
These reasons necessitate an urgent migration of Roundcube emails to Gmail, and we will now discuss the solution for the migration.
Best Solution To Migrate Roundcube To Gmail
There isn't any solution for migrating Roundcube emails to Gmail manually; therefore, an automated tool is the perfect solution for Gmail migration. The software we are discussing here can migrate emails from one IMAP client to another without requiring any technical expertise. This tool is IMAP Migrator Software for Mac computers.
Features of The Tool
The following points mention some features of this IMAP migration software:
Multiple Migration Options –

The tool has various options for migration:

Skip Migration

,

Delta Migration

,

Retry Failed Items

and

Full Migration

.



Simultaneous Migration –

Apart from migrating Roundcube to Gmail, this tool helps you migrate data from many IMAP clients without issues. All you need to do is add the host and destination accounts and validate them.



Migrate New Emails Only –

This feature, known as

Delta Migration

, helps you migrate only the recent emails rather than the entire mailbox, reducing any data redundancy possibility.



Advanced Filters –

This software has advanced filters for Roundcube to Gmail migration. Users can apply the

Date Filter

to select emails between two dates, and

Folder Filter

helps to choose the folders (All Mails, Sent, Spam) for migration. 
Step by Step Guide to Transfer Roundcube to Gmail
First just download this tool on your Mac desktop to operate it. After downloading, install it and follow the steps to access your emails with attachments in your destination account-
From the welcome window of the software, read the given instructions for implementing them, all the prerequisites should be fulfilled, hit Continue.
Now, secondly, choose the Roundcube option as a Host Account. If not available in the given options, then choose Other and enter required IMAP server details. And provide Roundcube User name and password to proceed with the validation.
After that, in the Destination Account section, select the Gmail option from the list, and enter the credentials of the required Gmail account to validate.
If you want to add more accounts, then tap on the Add option to migrate Roundcube to Gmail account and validate them as well.
At last, hit the Start Migration option, and then the tool will instantly begin the migration process. As a result, you will be able to access all your emails in your destination Gmail account.
Once the process is complete, the tool will provide you with a report of the entire migration process which can be downloaded in summary or detailed form.
User Reviews
"I recently tried the demo version of the tool to migrate my Roundcube emails to Gmail and was very satisfied with the result. I successfully migrated all my emails to the destination without any technical glitches and support. Later, I opted for the paid version to migrate all my emails. Undoubtedly, I will rate the tool 5 out of 5 stars. ~ Tom, New Jersy".
"The Roundcube to Gmail migration tool was a real game changer for me. The entire process was smooth and it saved me countless hrs of daunting tasks. Thanks to my friend I found this tool and easily migrated my emails. Interesting thing I got to know when I used the tool i.e. I can migrate any IMAP-based emails with the help of this tool.  Really happy with the tool. ~ Josh, New York".
Conclusion
This blog discussed the reasons that compel Roundcube users to migrate their emails to Gmail. We also discussed the best solution to migrate Roundcube to Gmail – IMAP Migrator Tool. This tool can comfortably export Roundcube emails to Gmail with features like selective email migration helping you migrate only a few emails instead of the entire mailbox.
Common Questions Asked by Users
Q1. Can the tool help me to export only new emails from my Roundcube account to my Gmail account?
Ans. Yes! The tool comes with the Delta Migration feature that lets you export recent emails on your Roundcube account to your Gmail account.
Q2. Can this tool help me migrate emails from other IMAP clients?
Ans. Definitely! This software is perfect for parallel email migration from one IMAP client to another. Add the host and destination IMAP email addresses in the User Mapping List box and click the Add button to verify them.
Q3. Can I migrate Roundcube to Gmail only with the emails in my Sent Items folder?
Ans. Yes! The Folder Filter feature helps you select the folders (All Mails, Sent, Spam) for Gmail migration.
Q4. Will my Roundcube emails get migrated without any changes to their structure? 
Ans. Yes! The tool can migrate Roundcube emails without changing their metadata and other properties.

Q5. I have a Macbook having Mac OS 11 (Big Sur). Can I use the tool on my Macbook for IMAP email migration?
Ans. Definitely! The tool is compatible with Mac computers having Mac OS 10.8 (Mountain Lion) to 12.0 (Monterey), including OS 11 (Big Sur).