Migrate
How to Migrate Zoho Mail to Gmail / G Suite? Verified Solution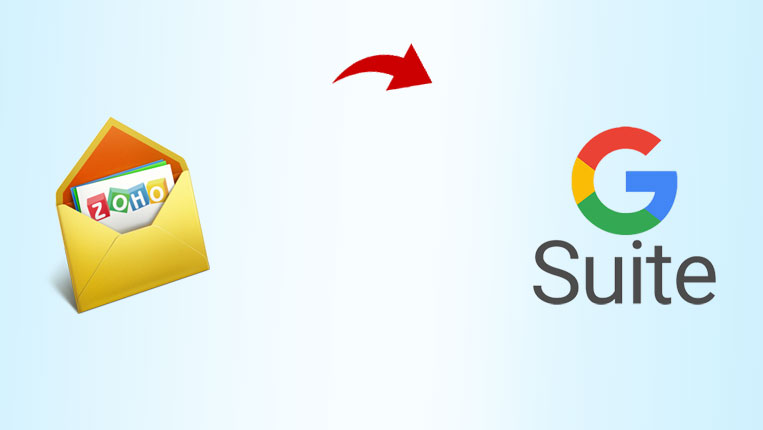 Migration simply means transferring the received data from one email client to another for better use. Here, the concern is to migrate Zoho to G Suite/Gmail. So, we will be discussing how you can just migrate even from your old Zoho mail account to Google Workspace.
The main reason for this migration is the multiple features of the G Suite that excites all types of users. As we all know Google keeps updating with new and better features in its suite. Even it provides high security when it comes to securely managing the data in its both free Gmail and paid G Suite services.
There are some users who have been searching for the solution to migrate Zoho mail to Gmail / G Suite account, like-
User Query 1– I am searching for docs that can help me with an easy way to migrate from Zoho Mail to G Suite. However, years ago our firm chose a Zoho Mail because it was cheaper to maintain data. But due to some limitations, we decide to switch. For that, we have decided to use Google Workspace because of its various advantages. So, if any one can help me on this issue then suggest me a valuable and reliable solution.
User Query 2-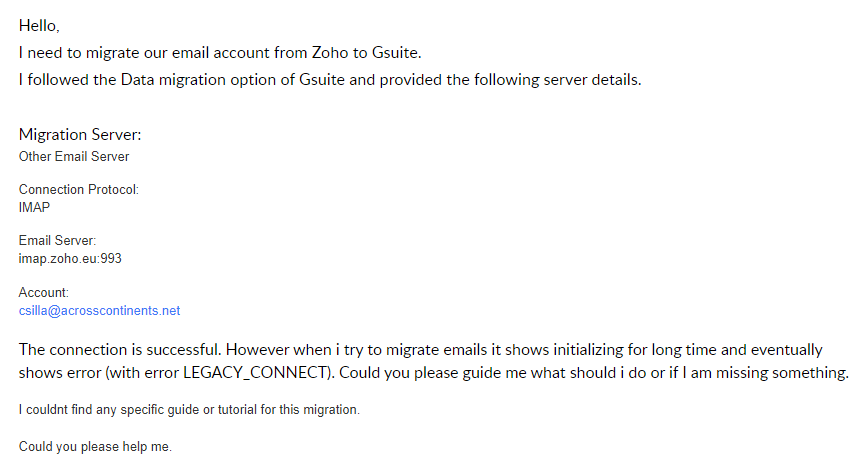 Just like these users, there are multiple users out there who want to do this migration as earliest possible. Therefore, in this article, we will provide you with a better and easiest solution.
Direct Solution to Migrate Zoho to G Suite / Gmail
If you want a reliable and systematic solution to transfer all the emails from Zoho mailbox. Then, the Safe & Secure IMAP Migration Software is the one that can help you out. As it will provide you the direct migration option and transfer emails from Zoho to Gmail / Google Workspace.
However, this is an advanced software that comes with integrated features that helps in a secure migration. Once you download this software on any version of a Mac machine, you can simply operate it. As this is the tool that comes with an easy user graphic interface to for a quick Zoho mil to G Suite migration.
You can avail all the benefits of this software for an instant migration with all folder hierarchy. In case, you want to try out this automated utility then there is a free demo version. Even, this automated software best for a smooth Zoho to Office 365 migration on Mac OS.
Features of the Mac Zoho to Gmail Migration Utility
There are multiple features that you get to transfer emails from Zoho Mail to Google Workspace in this software, a few of them are-
New Email Migration – There is a feature to prevent any duplicates of emails while transferring from Zoho Mail which will transfer only new emails. So, with the help of Delta migration option you can migrate only that data which you have not migrated till now.
Simple GUI Interface – When it comes to using a professional solution, one of the major concerns is the interface. So, to ease the pain of all technical and non-technical users, this tool provides easy to use graphic interface.
Date-Filter Option – If you want to migrate email from Zoho to G Suite or Gmail from a particular date range. Then, you can do this by using the date filter feature of this software. In short, it eases the task of selectively moving messages by time period.
Multiple Zoho Mail Migrations – There is even a feature that helps transfer emails to Google Workspace (G Suite) in batch mode. This means, you can add multiple Zoho accounts to the software using the Add option. And just do the migration in one go.
Folder Structure Maintenance – Furthermore, this smart tool will preserve the folder structure and keep the metadata as before. So that you'll never have to deal with missing folders or information in your destination Gmail or G Suite account.
Exclude/Include folders options – Using this utility, you can exclude or include unnecessary folders from Zoho mail account. You just need to include folders like Sent Items, Spam/Bulk/Junk, or Deleted Items and execute the migration process.
Steps to Migrate Zoho to G Suite Instantly on Mac
To perform this migration, first, download this software on any version of the Mac machine. After that, follow the steps to migrate Zoho Mail to Gmail or Google Workspace –
In the initial screen, there are a few instructions given for this automated software, read them and press the Continue.
From the next screen, select Zoho mail as the Host Name and provide User Name and Password that you need to transfer emails from.
Now, in the Destination IMAP Account, select the Gmail or G Suite option, and provide the active User Name and Password in which you want to access emails.
In case, there is a need to migrate emails from multiple Zoho Mail to Gmail/G Suite accounts then tap on the Add option.
You can even apply extra filters by clicking on the Advance Settings for Zoho Mail emails for accessing them later in the destination account.
At last, tap on the Start Migration option to begin the process for a batch Zoho mail to Gmail migration.
User Reviews For Software
User 1- Hi, As our company was mainly using Zoho platform for email data management. But, by the time Zoho Mail is almost out of date compared to Gmail now. Therefore, we have decided to continue managing the data in the Gmail account. For that, my friend suggested this MacWareTools Zoho to Gmail migration tool for a quick process. And using this tool I must say that the entire migration has become so easy because of this simple GUI interface. Now, we have got all the emails in Gmail account and we are quite happy with this tool. Thanks team!!
User 2- However, one of our clients uses Zoho Mail as a primary email service and we use a G Suite account to manage email data. Due to which we needed Zoho Mail to G Suite migration and for that we found this migrator tool. This software really helped me a lot for a secure email migration without data manipulation in existing data. Using this utility was quite simple and the support team was helpful whenever we faced any issues. This tool is really best for smooth migration of email data.
Conclusion
Regardless of the reasons for Zoho Mail to Gmail or Google Workspace migration, we have described the solution here. In this article, we have suggested the easiest and most professionally tested software. So, using this smarty utility, you can easily migrate Zoho to G Suite or Gmail account. Once the migration is complete, you'll be able to access all emails in the same folder hierarchy. For more certainty, you can try its free demo version before choosing the license version.