Backup
Why My MS Office 365 eDiscovery Export Tool Not Working?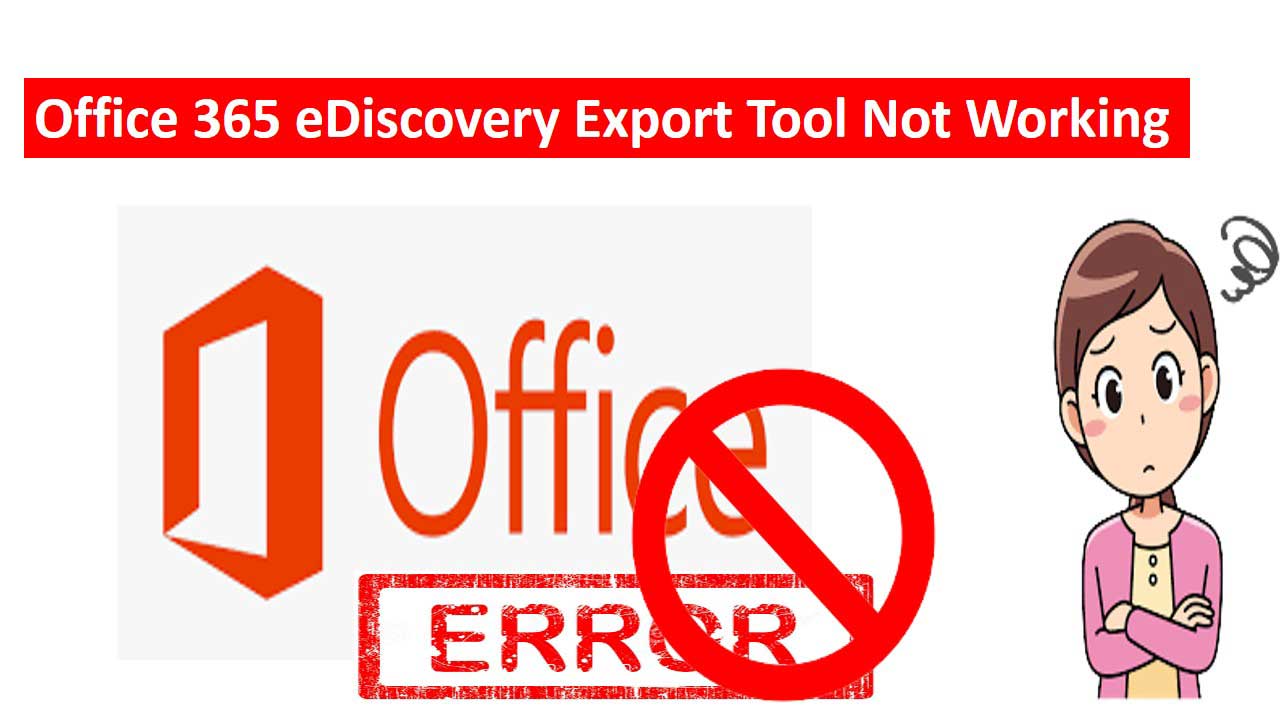 If you're facing issues while working with the Office 365 eDiscovery. Then, no worries, here, we will explain the best way to tackle if Office 365 eDiscovery export tool not working. In this article, we will share all possible solutions that are capable enough to fix this error.
User Query: Hi, I am Prateek. I was working on Microsoft Office 365, where I was exporting a few emails to PST from the mailbox. For doing this, I took the help of the eDiscovery Export tool. However, I got stuck in between and it stopped working. I don't know what happened and what should I do now. Please share the best way to fix this error as earliest possible.
Causes behind Failure of Microsoft 365 eDiscovery Export Tool
However, there are multiple reasons that can affect the exporting task and throws such error, like –
It happens mostly when you use the old version of operating machines either Windows or Mac OS.
Moreover, even the large size of exporting files of Microsoft 365 affects it and as a result, it stops working.
Likewise, sometimes, there could be chances when mailbox contents get corrupted.
Apart from these, there can be other reasons that affect the working of the eDiscovery Export Tool. But, now let's move on to the solution.
How to Fix Office 365 eDiscovery Export Tool Not Working Issue Securely?
Although, we know when it comes to exporting the data from the Microsoft 365 account. Then, experts suggest using the manual Office 365 eDiscovery Export Tool. But when it stops working between working. Then, in this situation we suggest you to choose the Mac Office 365 Backup Software.
Using this software, you can move your data without losing a bit of data from Office 365 on your computer system. Once, you get it on location, you can either import the output file in the required email client or just store it.
To check out the tool before choosing licensing version you can go for its free demo version. With its free trial version, you can export a limited data from the Microsoft 365 account.
Top Features of the Software – Highlighted Points
As, in this application, you get multiple benefits while using this software, a few of which we are sharing here-
The most important thing is to free up the storage space of Microsoft 365, therefore, for doing that, this tool provides a "Delete After Download" feature. Using this feature you can simply delete multiple emails in Office 365 account, to keep the space free.
Moreover, you are allowed to backup Office 365 emails or contacts, or calendars easily in their supported file format on Mac PC.
To make it more efficient, this tool has other advanced features to apply as per the requirement.
Likewise, when it comes to operating this software, you can simply operate it on all latest and earlier versions of the Mac machine.
To prevent duplicates this automated software provides an option that helps in exporting only newly received emails in Microsoft 365 mailbox.
Apart from that, there are multiple file formats supported by multiple applications. Hence, it makes task easy to select the required format to take out the emails from the mailbox.
Steps to Export the Data from Microsoft Office 365 on Mac
Download the software on your Mac computer machine first. After that, follow the steps when Office 365 eDiscovery export tool not working –
To begin the process, just run the program, login with your Microsoft Office 365 Account credentials
After that, you can choose the Emails category and then opt for any format from the given options
Later on, apply the filters by tapping on the Advance Settings to the output file for Microsoft 365 data
If required, check the Delete After Download option to delete multiple emails in Office 365 account in one go
Eventually, hit the Start Backup to get the Microsoft Office 365 emails as a copy on your Mac machine.
Conclusion
In this article, we have mentioned about what are the causes of the "Microsoft Office 365 eDiscovery Export Tool Not Working". Moreover, later on we have explained the solution to what you can do in this situation on a Mac machine. Hence, using the suggested solution, you can easily extract the emails from the Office 365 mailbox on your Mac desktop.