Office 365
How to Delete Multiple Emails in Office 365 Account Instantly?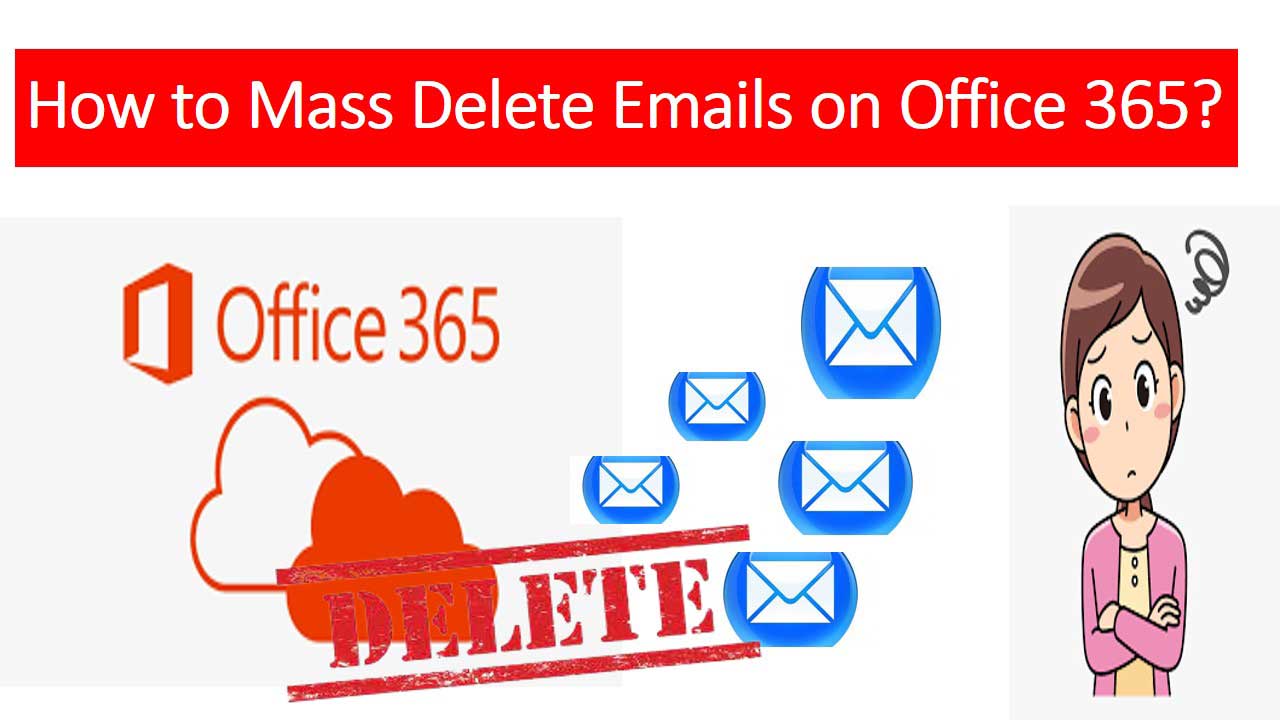 Do you like to clean up your cluttered Office 365 mailbox to get new emails? Doesn't it bother you when your Microsoft 365 mailbox is full of unnecessary emails? It bothers you, isn't it? That's why you're here. So, by keeping your situation in mind we have come up with the best solution to help you. This solution will let you mass delete emails in Office 365 account on PC effortlessly.
If you're wondering how to do this procedure, or if is it safe to delete multiple emails from Office 365. Then, you do not need to worry, all these questions will be answered here. So, in this article, you will get to know the possible solutions for cleaning up your MS Office 365 account emails.
User Query: I have been using Microsoft 365 for a long time on system, and till date, I have countless emails. From which, most of them are just useless, so, I want to get rid of them. But, I'm short on time, therefore, I want to know how to delete bulk emails in Office 365. If anyone refers me to any reliable software then it would be a great help. Thanks in advance.  
Secure Data Before Office 365 Emails Deletion
There is a saying, which goes "Precaution is better than cure". This is totally correct or you should keep this thing in mind before mass deleting emails in Office 365. Therefore, to save you from any future uncertainties, we have come up with this professional solution. It will help you to keep a copy of all your Microsoft 365 emails in one place on computer. Then you can proceed with your task of deleting them permanently from the mailbox.
Using Mac Office 365 Email Backup Software , you will be able to perform the deletion task in just a short time. Moreover, it provides you multiple options or features that you can apply while backing up the emails.
You will not just get a copy of your entire O365 emails or other data but you can delete multiple emails from Office 365 easily. When it comes to operate this tool, then, you will be glad because here you will get an easy user interface.
For more information, you can go for the free version of the software to save Office 365 emails to hard drive.
Guide to Mass Delete Emails in Office 365 Professionally
Make sure you download the software from the official page on your Mac machine. After that, install it properly on the machine and follow the steps –
First of all, open the program, login with your Office 365 Account credentials
Secondly, select the Emails category and then opt any format from the given options
Then, just apply Advance Filters to the output file as required before deletion
Now, make sure you check the Delete After Download option to delete multiple emails in Office 365
At last, tap on the Start Backup to have all O365 emails as a copy on your computer system.
How to Delete Bulk Emails in Office 365 Manually?
In this section, we will suggest you a few manual techniques that you can use for removing emails from Microsoft 365.
We all generally prefer deleting emails manually, which is the most common way for removing messages. Here, in Office 365, you just need to select emails one by one and press Shift + Delete together. Once you get the confirmation, just tap on the Yes button on PC to move further.
But in case, if you don't want to select one by one, and decide to delete all in one go. Then, just select all emails, press Shift, and tap the Delete button on the Home tab.
Afterwards, tap on the Yes to mass delete emails in Office 365 manually.
Tip: If you don't want any interruption while deleting O365 emails, then make sure to change the settings in the backend. For doing this, move to the File >> Options >> Advanced Option on your computer machine.
Here, uncheck Prompt for confirmation before permanently deleting items option. By unchecking this option, you're good to go.
Another Manual Method to Remove Messages from O365
In this method, you can empty the deleted items folder from your MS Office 365.
Generally, when you delete emails from Office 365 using the Delete option only, they just move to the Deleted Items Folder or Trash Folder. Hence, to mass delete emails in Office 365 permanently, you need to clean up that folder as well.
For that, just select all emails, right-click on them, and opt the Delete option. In this way, you have successfully cleaned up the Office 365 folder permanently.
After the completion of this message deletion task, you get free space in O365 and will receive new emails as well.
However, using the manual approach you will get space in your Microsoft 365 account, but what if you delete your some important email incidentally? Seems like a tragic situation, no? Therefore, we suggest you to take precautions before deleting your Office 365 mailbox emails without any thought.
Warning: Before deleting, make sure you have a copy of your Office 365 emails. Otherwise, if in the future you feel any need for those emails, you will regret it.
Conclusion
To make Office 365 clutter-free or remove unnecessary emails, it is better to know how to mass delete emails in Office 365. Hence, in this article, we have discussed how to perform this task easily. Also, to save you we have mentioned a professional solution that will help you to prevent any uncertainties after deletion. However, if you have a lot of time, and you want to perform this task on your own, then go for the manual method. But, in case, if you want to delete multiple emails from Office 365 in one go then we suggest you to choose the automated solution.