Backup
How to Save an AOL Email As a PDF File Document Instantly?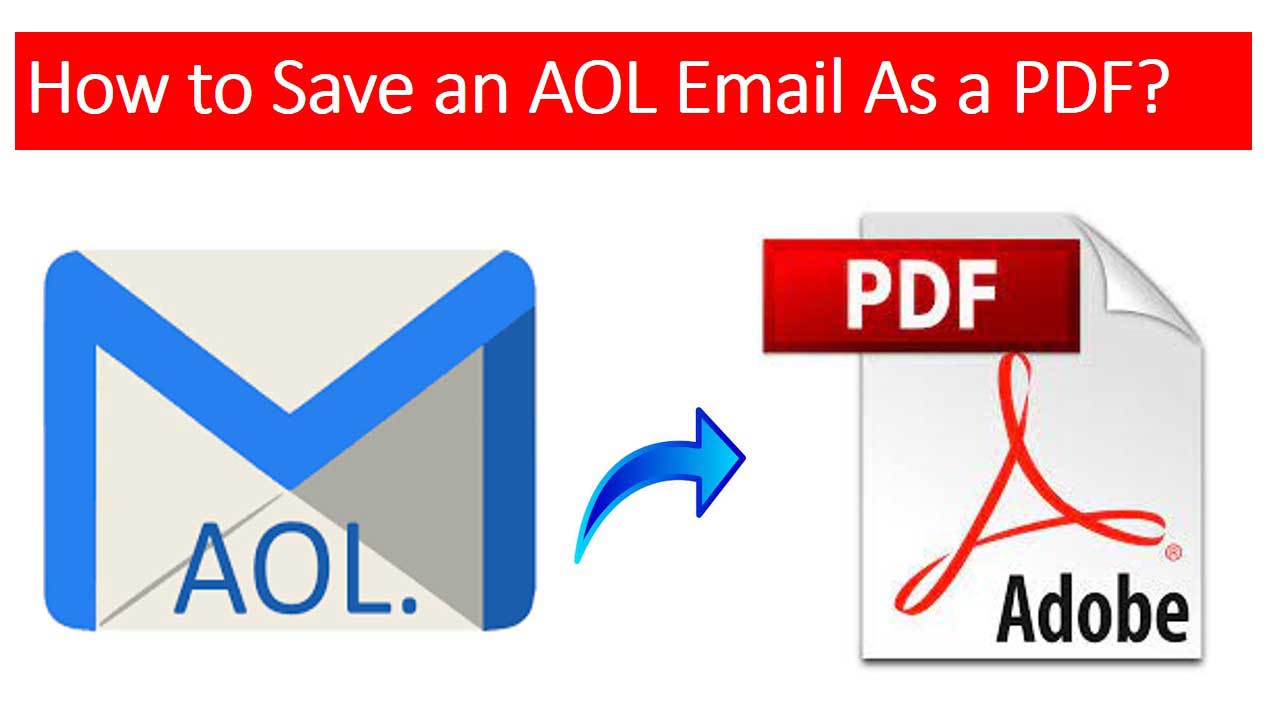 Saving a file in a portable document sometimes becomes necessary. However, there are multiple reasons behind saving emails in PDF format. But, here we will be discussing how to save AOL email as PDF file format. So, in this article, we will provide you with the best methods that will help you to convert AOL mail to PDF documents.
There are some user queries that we have got in this same regard-
User Queries-
– User 1– Hi, though I have been using AOL mail for a long time. But my manager asked me for an urgent presentation. So, for that, I need to save AOL email as PDF file in bulk. As there are multiple important emails in AOL mail. For a quick task I'm looking for a professional solution, can anyone help me out?
– User 2– Hi, I am Shawn, I have tried the given manual method on the internet to convert AOL email to PDF document. But, this manual method is so tiring and time-consuming way. And I have an urgent need for saving them in a portable document. Hence, I am looking for a professional solution I can rely on. Can anyone please help me out by suggesting me an appropriate solution?
Just like these users, there must be other users as well, so let's move to the solution.
Manual Way to Save AOL Email as PDF Document
If you requirement is only saving a few AOL mail emails you can follow the guideline given below. But, we like to warn you as by using this method you will need to perform this task for each email individually. Follow this manual procedure to convert AOL mail to PDF file-
To begin this task, first of all, login into your AOL mail account
After that, from the welcome window, you can choose any particular email that you want to save as a portable document file
After opening the email, select the More drop down option
Here, mouse-click on the Print Message option for converting into a PDF
In necessary, just apply the additional settings and click on the Print button to move further to saving AOL email
Now, choose the destination path on your respective computer for the PDF file to save it
Once the location is selected, just hit the Save button to complete the conversion process.
That's it, this was the complete manual task to save AOL mail as PDF document file. But, this solution comes with some drawbacks. So, let's know about those limitations in detail.
Drawbacks of the Manual Method for Saving Emails
If you are planning to convert multiple AOL emails to PDF documents at once then it is not possible manually.
Moreover, there are chances that it may affect the attachments or email properties of an AOL mail.
In order to perform the above method you will have to repeat the same task for each AOL email. In short, it is a tiring process if you want to save AOL email as PDF in bulk.
Also, if there is a need to export the data from AOL mail to another file format then it is even not possible. As this manual method only supports the PDF file format for saving email from AOL mail.
Even, the AOL mail application is essential for performing this conversion using this manual solution.
Now, the question is how to overcome these limitations. No worries, the next section will help you to overcome all the drawbacks.
How to Convert AOL Mail to PDF Format – Use Alternative Solution
However, the manual method we have explained that it contains some limitations as well. So, due to all those drawbacks of the manual method, you should opt for the professional and secure method. The most easiest and secure solution is MacWareTools AOL Email Backup Software for Mac OS. Using this smart software you can save AOL email as PDF document securely.
When it comes to trusting the software, it comes out as the most trustworthy solution. Because it is pre-tested by the top technical expert for saving AOL data in bulk. Moreover, it will complete the task in a quick way so it won't waste your precious time.
Along with these, this software comprises multiple benefits that make it the top-most utility. As it even capable to when it comes to AOL download all attachments. Also, this software is helpful if you are planning to add AOL account to Thunderbird application.
Steps to Save AOL Email as PDF Document Instantly
To process this task, just download the software and follow the following step-by-step guide-
Launch the suggested automated tool on your PC and enter the active AOL mail account credentials and Login into your account
In the next screen, the software will provide a preview of AOL mail folders, select the PDF file format for saving emails
If required, you can even set the page settings for the PDF file, for that, hit the Advance Settings button. It will lead you to set the Date-filter and set dates to convert only selective AOL emails
Now, just browse the location on your computer for your exported PDF file by clicking the Change button
Finally, hit the Start Backup button to convert emails from AOL mail to PDF file format with all attachments.
Conclusion
In this above tutorial, we have discussed how to save AOL email as PDF file document in an effective way. However, we have shared both manual and professional solutions for the same task. But the manual method needs some technical knowledge and has other drawbacks. On the other hand, the automated solution is easy to convert AOL Mail to PDF format in bulk. Moreover, it even provides facility to save email attachments from AOL mail with same formatting. Therefore, we would suggest you to choose the professional solution for a convenient conversion and try the free trial version.