IMAP
How to Convert SquirrelMail to Outlook PST File in Simple Steps?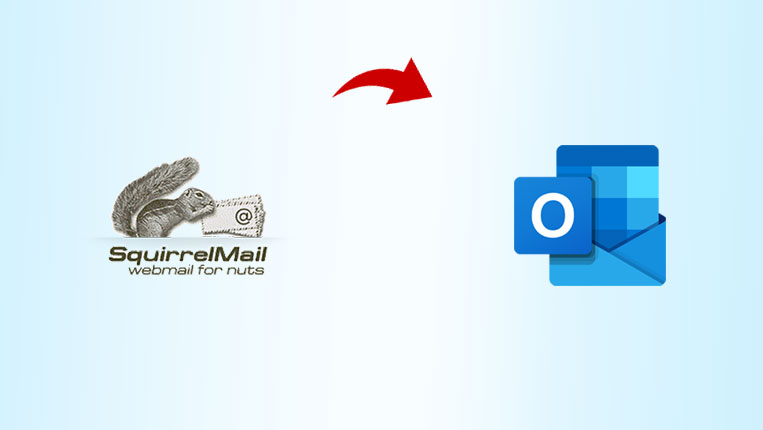 If you are using SquirrelMail webmail and want to switch to a better platform like Outlook, one of the best email clients in the market. Then, this is the article for you. In this article, we will provide you with the best solution to easily convert SquirrelMail to Outlook PST. Check out the article till the end to know how the conversion process works.
Switching from one email client to another seems difficult to perform. And when it comes to converting from SquirrelMail to Outlook, it becomes quite challenging when don't know where to begin. As there is no manual method provided by SquirrelMail that you can go with. That's why users have multiple queries related to the migration process.
User Query: Hey, I have decided to transfer emails from SquirrelMail to Outlook PST due to the different features and modern facilities of MS Outlook. Since I have a large SquirrelMail mailbox items, is there any solution using which I can easily convert my SquirrelMail items to Outlook? Please suggest me a reliable solution that I can trust.
Why Users Prefer SquirrelMail Conversion to PST
The account SquirrelMail does not provide high-end features and multiple options as compared to the Outlook application.
Moreover, even the user interface becomes the cause for converting the SquirrelMail account to Outlook. As Outlook email client has a one-of-a-kind user interface that is quite easy to manage.
Every time you want to login into your SquirrelMail you need to go for the hosted website again and again. On the other hand, in the Outlook application, there are no such requirements, you can access it easily.
How to Convert SquirrelMail to Outlook PST Professionally?
Download the tool by clicking on the download button given below.
Enter your IMAP credentials.
Choose PST as the export option.
Apply Advanced Settings for customization to convert SquirrelMail.
Finally, click on Start Backup.
As there is no manual solution for this conversion, therefore, we suggest you go with the Smart IMAP Backup Software for Mac OS to transfer SquirrelMail emails to PST format. Because this solution will easily let you export your entire email data from SquirrelMail to your desktop. Moreover, it provides other platform options as well, that you can opt to convert the email data.
When it comes to operating this automated utility then even a novice user can operate it with ease. Because it provides a simple GUI interface. Hence, it becomes so easy to do a bulk SquirrelMail email conversion to Outlook.pst with the help of this software.
Even the folder hierarchy or metadata will remain the same during the conversion process. Along with these, the software provides you with several file formats which makes it easier for you to convert SquirrelMail to Outlook. It provides PST, MSG, EML, MBOX, HTML, EMLX, PDF, and other formats. Therefore, you can export your data from your SquirrelMail account to a PST format, and then import it into Outlook 2021, 2019, 2016, etc.
Top Features of the Software
Delete New Emails from SquirrelMail – Here, you get the option to move only newly received emails to your SquirrelMail account. So, by checking the Incremental Backup option, next time you will get only new emails. In short, it prevents any duplicates while exporting.
Date-Filter Option – This is advanced software that has a date filter option to convert only selected mailbox emails. With the help of this feature of this application, you can set the date range according to the time period and convert SquirrelMail to Outlook PST specifically.
Maintains Folder Structure – If you are looking for a smart tool that can maintain your SquirrelMail folder hierarchy then this tool is good to go. As it preserves the folder structure and keeps the metadata the same during and after the process. So, in the output file, you will get the same structure and meta properties of all emails and use them in Outlook.
Conversion of multiple SquirrelMail Emails – If you have multiple email folders in your SquirrelMail account, and you want to extract all of them in bulk. Then, this tool will easily extract all emails into the selected file format.
Step by Step Guide to Convert SquirrelMail to Outlook PST
Download the software on your Mac machine and follow the step by step for the SquirrelMail Emails to PST conversion-
In the first step, just add the Host Name of the SquirrelMail Account, and provide the User Name and Password to fill in the details.
Secondly, choose the PST file format for the SquirrelMail account to Outlook conversion.
Choose Advance Settings in the next step before initiating the process.
Now, tap on the Change button to browse the required location on the computer for the output file.
Finally, click the Start Backup icon to begin the first step for conversion process on your respective computer.
By doing this, you will get a PST file which is supported by Outlook application on desktop. So, in the next step, you need to import this file into your MS Outlook or Outlook for Mac.
Import PST to Microsoft Outlook 2019, 2016, 2013
Firstly, go to your Outlook account on your Windows operating machine
Click on File menu >> Open & Export option >> Import / Export option
After this, tap on the "Import from another program or file" option
Now, just choose the PST option and upload the files from the location where you have stored it
That's it, you're now able to access the data of SquirrelMail account data in the Outlook application.
After that, your need to convert SquirrelMail to Outlook PST will be completed. If you're a Mac user then have a look at the below section for importing the PST file.
Importing Resultant File to Outlook for Mac
For using the SquirrelMail data in Mac Outlook 2019, 2016, 2011, just navigate to the File menu, select Import
From the given options, select Outlook for Windows archive file (.pst), and then choose Continue
Just after that, you need to locate the data file on your Mac computer, and tap Import
Then, after the completion of the process, choose Finish
With these steps, the imported items appear under On My Computer of your Outlook for Mac account.
Conclusion
There can be many reasons why you need to convert SquirrelMail to Outlook PST file. So, for that, in this article, we have shared the best expert-tested solutions. Using the mentioned solution you can get Squirrelmail account email data in Outlook 2021, 2019, 2016, etc. For more, a free demo version is available if you want to try it first. You can simply operate it and do the conversion of all emails and their respective attachments.
FAQs
Q- Why convert SquirrelMail to Outlook PST?
First of all, SquirrelMail is no longer actively developed or maintained. In other words, it is discontinued. That's why many organizations have transitioned to modern email clients such as Outlook. Converting SquirrelMail to Outlook will give users an opportunity to experience new and advanced email communication.
Q- Is there any manual solution for converting SquirrelMail?
As of now, there is no update on a direct manual procedure for the conversion.
Q- How can I export my SquirrelMail to Outlook?
The detailed process is explained in the blog post. However, here is a quick overview.
Download the tool mentioned above and log in to your SquirrelMail account.
Select the export type as PST.
Apply Date Filter and other options to customize the process.
Change the destination path where you want to save emails in PST format.
Finally, after the backup you can import that PST file on Outlook using the Import/Export wizard.