IMAP
How to Archive IMAP Emails on Mac Computer Hard Drive?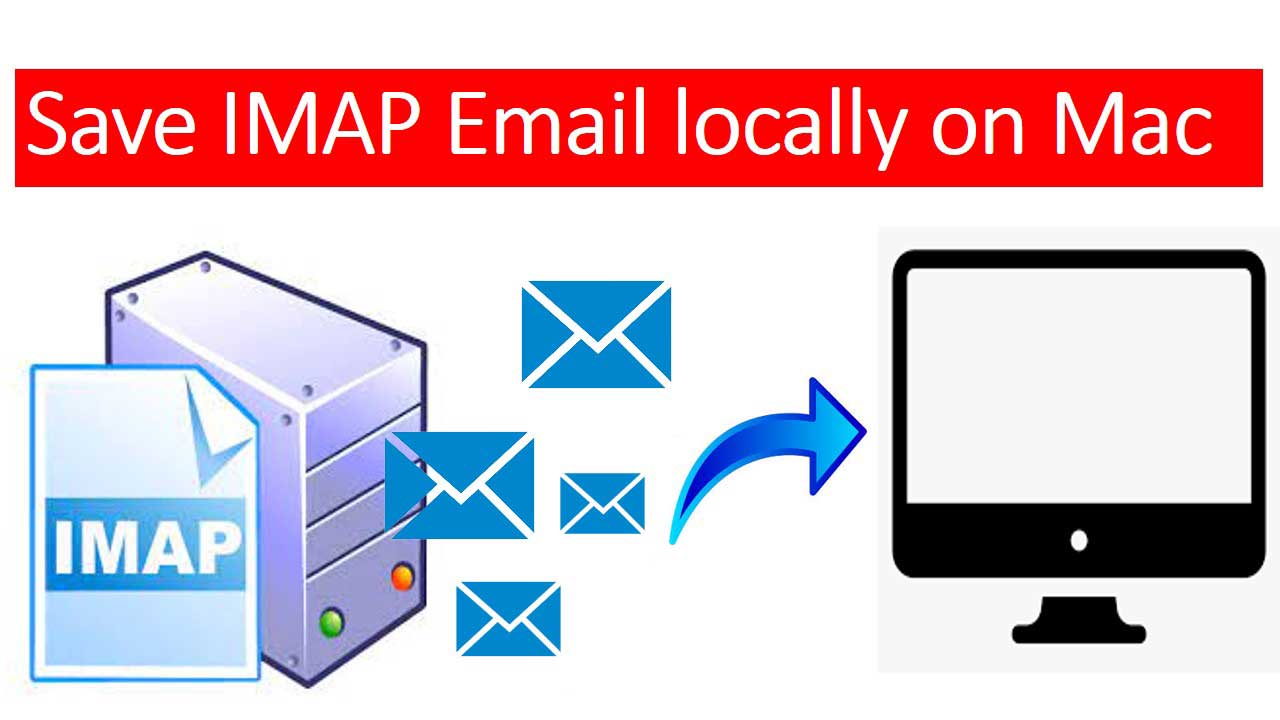 Summary: In this article, we will talk about how to save IMAP email locally on Mac based computers. So, if you are looking for a safe solution to archive emails IMAP locally from IMAP server. Then, this article is for all Mac users like you to resolve this query. Here, we will explain the method to store IMAP email to desktop without any hassle. So, let's start this process using reliable solution.
IMAP emails can be easily saved, downloaded, moved, and printed without installing any other application. So, here we are providing two possible solutions for this task. Where the first one is the professional solution without any turbulence and another way is a freeway Manual method.
IMAP is known as Internet Message Access protocol to retrieve email messages from email servers. Almost every email client use IMAP server to receive emails on their computer. Moreover, it also you all to store IMAP emails to hard drive or computer based on any OS.
Here, we will understand the entire process on how you can safely archive all data of IMAP on your Mac machine.
Manual Method to Save IMAP Email Locally on Mac
Here we are using MS Outlook as the email client for doing this task manually. You can archive IMAP emails locally on Mac computer hard drive using Outlook. It's a simple approach for saving a single folder or item at a time. To finish the procedure, follow the steps below.
Download and open the mail application on your Mac-based computer system.
Now, go for the File menu option and click open & export under that Import/Export option.
Then, now Import and Export wizard, select the Export file and click Next.
After that, select Outlook Data file (.pst) and click next.
Now, select the folder where you want to save the data.
Finally, store IMAP email to a computer on any version of Mac machine.
Drawbacks of Manual Method for Storing IMAP Emails
The emails you choose will be stored in a folder on your Mac. This method must be repeated if you wish to preserve more emails.
Although the following manual approaches answer how to save IMAP emails locally on Mac, they are time-consuming since they can only save a single email or folder at a time.
Furthermore, due to their complexity, these solutions are inaccessible to all non-technical users.
Save IMAP Email locally on Mac Using Professional Solution
To get beyond these limits, you can use an alternative option, such as MacWareTools IMAP Email Backup Utility. This professional tool will actually help you for storing all emails along with their attachments to your Mac computer.
Not just this but it can also backup IMAP emails into Office 365, Yahoo, Gmail, ZOHO Mail, AOL Mail, and other IMAP email clients. Moreover, it is a comprehensive software that archive IMAP emails locally or hard drive in bulk. That mean, you can operate this tool for storing emails and contacts to several file formats such as PDF, PST, MBOX, EMLX, MSG, CSV, TXT, and others.
You may also store up to some limited IMAP emails to hard drive for free with its free demo Version on Mac computer. Once you done with the process, you can even free up the storage by using Delete After Download option.
Steps to Archive Emails from IMAP Instantly
First of all, download the software on any version of Mac machine for storing IMAP emails. After this, follow the step by step guide as mentioned below-
Run the utility, and open it on your Mac-based computer to execute this process.
Now, fill in the login details on the software panel of any domain, tap Login
Then, select the desired saving file format option to save IMAP emails locally
After that, apply the special Advance Settings filter option as per your requirements for resultant file
Now, choose the desired Destination Location to securely archive IMAP emails to computer
Eventually, hit the Start Backup option to execute this process for IMAP emails or contacts on Mac.
After that, you will get notified with the completion of the process, hit the OK button
Final Words
We've covered how to save IMAP email locally on Mac in this article. Here, the manual technique has been listed for your convenience. Furthermore, the manual approach does not work for some Mac-based users since they have issues. So, we recommend you to use a professional solution to archive IMAP emails locally to a computer hard drive on Mac. It's a more standalone, efficient, trustworthy, and user-friendly piece of software.