Backup
How to Backup Kerio Mail Server Mailbox to Local Computer?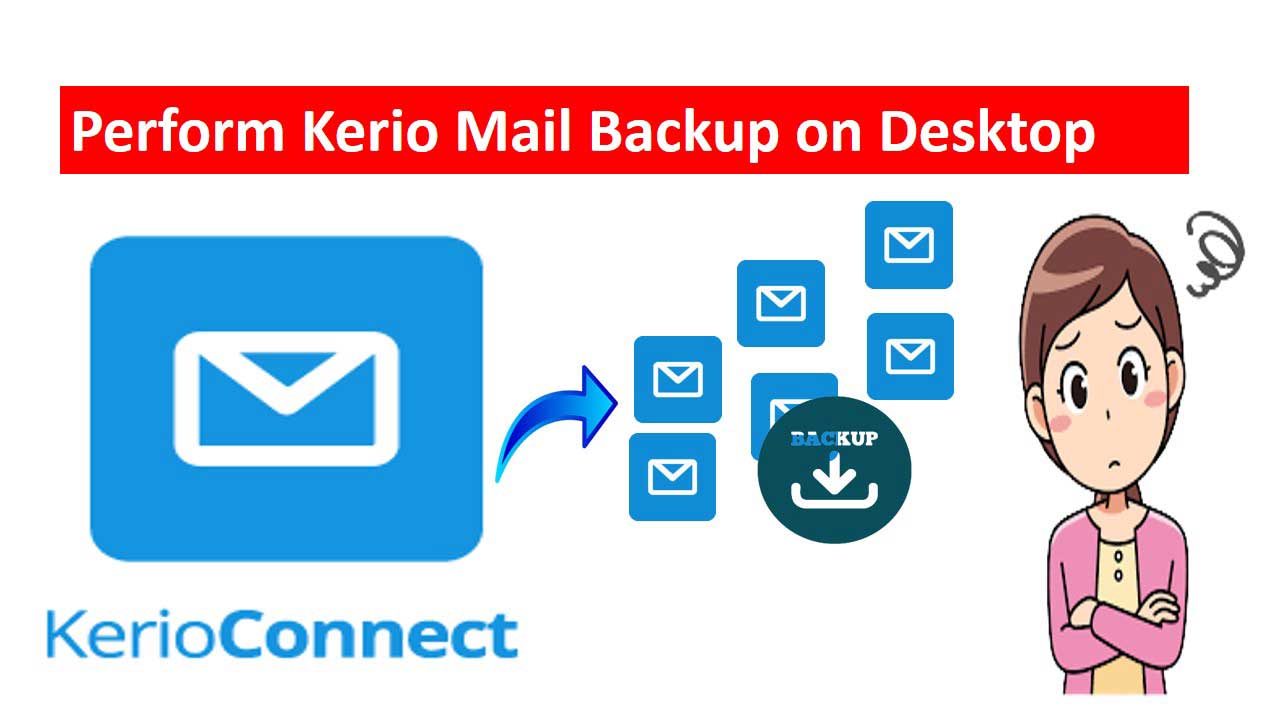 Want to secure information by taking Kerio Mail backup? Discover the easiest solution for Kerio Connect Backup server on your local Mac computer. In this article, we will provide you with the best and most trustable solution that can easily resolve this query.
Backup is an important task that anyone can perform to protect any crucial information. When it comes to backup emails from Kerio server, it is mostly because either user likes to switch. Or there is no high-end security for the mailbox emails.
Among you all, multiple users can be there who don't like to empty the mailbox by removing old or unnecessary emails. Or maybe many of you don't prefer to manage the data properly in the Kerio server mailbox. Therefore, in such situations, it is better to have a backup, so that, if in the future you get any issue the backup will help.
Brief About Kerio Connect Server
If we talk about Kerio, it believes in collaboration software providers for small or medium organizations. It even offers multiple services, like Kerio Cloud or email Hosting. So, the user can simply use this software to host the company's email account online.
For this, there is a user query that has shared his issue with us for Kerio mail backup process-
User Query: Hey, I have used the hosted Kerio service, where we have used multiple Kerio email accounts to local computer for multiple employees. But, now we are planning to switch to Microsoft Exchange servers for better results. Therefore, of all the employees I need a Kerio mail server backup to the Mac computer. Is there any solution that can help me with the backup process of multiple accounts?
Best Proven Solution for Kerio Mail Backup
However, the Kerio Connect server doesn't provide any manual options to backup emails of the hosted Kerio mail account. Therefore, it is better to move towards the Mac IMAP Backup Software. This is one of the best solutions that easily backup all the emails of the Kerio hosted account server on any version of the Mac machine.
Moreover, you can get this software for free to try before going with the licensed version of it. In case, you need a way where you want to backup hosted Kerio emails but into some file formats. Then, there are multiple formats available that you can opt for and take out your data.
It even provides other different features options that you can apply as per the requirement during Kerio mail server backup process. This software will easily backup the entire Kerio mailbox with its easy-to-use GUI interface.
Key Features of this Mac Software
This Mac based Kerio Connect Mail backup tool provides multiple features, such as-
Different Export Options: When you start using this tool, you will get to know that it provides different export types. So, you can just go for the one that is your requirements. As this tool includes PDF, MSG, HTML, TXT, MBOX, EML, & EMLX, and other formats. Hence, it becomes easy for Kerio mail backup without changing any email data attributes.
Date-Filter Option: In this software, you can set a date range if you just need to backup some specific emails from the Kerio server. However, for using this date filter option, you need to set a date "From" and "To" in the required fields. This tool is even capable enough to convert eM Client to Thunderbird application easily.
Full Support of All Mac OS – Every user can operate this smart and professional Kerio mail server backup wizard on their local Mac computer. Because this software is fully compatible with all the Mac operating system. That mean, it is quite easy to run and work with this tool on Mac OS 12.0, Mac OS 11.0, Mac 10.8 and all below versions.
Keeps Folder Hierarchy and Metadata: Moreover, while using this utility there will be no risk of modification in the Kerio mail folder hierarchy. The entire metadata and Kerio folder structure will remain the same as before the backing up process.
Safe Backup to Computer: With the help of this tool it is too easy to choose the location on the Mac device to save the output file. You can even plan to transfer eM Client to Outlook PST file on Mac.
Delete after Download: When it comes to freeing up space, the advanced algorithms of this tool become helpful. As there is an option that allows you to delete all the backed-up emails from the Kerio hosted server. All you have to do is check the Delete After Download option and this tool will automatically remove all the emails after taking backup.
Easy Steps to Perform Kerio Mail Backup on Mac
To understand this software, first, download the Kerio Connect Backup Tool on your Mac machine, and follow the steps as given below-
In the initial screen of this application, just add the IMAP Host Name by choosing the Other option if you don't get a Kerio mail option. Then, enter Kerio Server User Name and Password to fill the required details
From the next screen, you can choose any file format as per your need for hosted Kerio mail server backup
In this step, you can choose the Advance Settings before initiating the backup process
After this, locate the location to save the output file on the Mac computer, by tapping Change icon
Now, in the last step, click the Start Backup icon to begin the backup process of your hosted Kerio mailbox on your local Mac computer.
Conclusion
In this article, if you have any need to backup required emails from the hosted Kerio mailbox, then we have provided the solution. The mentioned Kerio Connect Backup Software will help you with Kerio mail backup to your Mac computer. As this automated solution can easily create a backup for all the emails together that too without any Kerio mailbox data loss.