Backup
,
Office 365
Save All Emails from Outlook 365 to Hard Drive with Attachments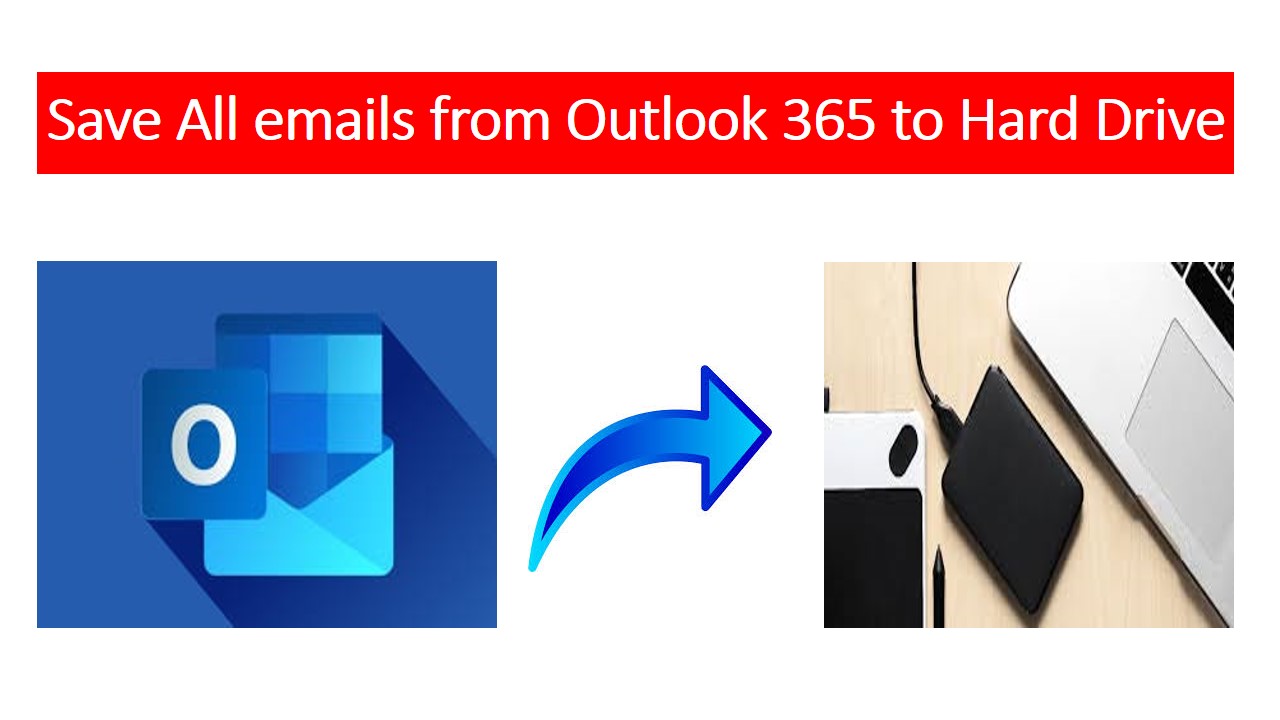 Summary – Keen to know how to save all emails from Outlook 365 to hard drive with attachments, then you are landed on the right page. Here, in this blog, we are going to discuss the best way to download multiple emails at once from Outlook 365 to computer.
Well, Outlook 365 is part of Office 365, which is a cloud-based subscription service. Moreover, it can be used anywhere on any device in the presence of the internet. Previously it is known as OWA or Outlook Web Assess/App.
Now, we know that it is subscription-based and internet-dependent, so security is the first concern for us. Hence, most of you being an Outlook 365 users may want to know how to save all your emails. Also, how you can store important documents in local folders to access them from anywhere without internet connectivity. So if you are seeking the same, then stick with us till the last.
But before going toward the techniques to download emails from Outlook 365 to computer hard drive, let's understand the needs.
Reasons to Save Outlook 365 Emails to Hard drive
There are multiple reasons for downloading Outlook 365 to the local computer. But here in this section, we are going to discuss some of the major ones.
Users save all their data locally so that they can easily assess it without the presence of the internet.
The backup files are always useful in the situation when you lost some of the emails. So, you can easily retrieve lost data from the backup file.
Saving emails of Outlook 365 also help users to release some mailbox memory space of Outlook 365.
Ways to Download Emails from Outlook 365 to Computer
There are two ways that you can try for doing this task, using them you will be able to save all necessary emails and other data from Outlook 365 to your Hard drive. These are –
How to Save All Emails from Outlook 365 to Hard Drive Instantly?
Although there are various ways to download Outlook 365 emails to the computer hard drive. But in the upcoming section, you will see their limitation. Like sometimes it can be a very risky task, such as you will end with the loss of data integrity and folder structure of your email data file.
So, for the perfect and reliable saving process, you can try Mac Office 365 Mailbox Backup Tool. It is well capable to save entire mailboxes along with attachments using this tool on Mac OS. Moreover, the software provides you the multiple file format options for exporting Office 365 mailbox to PST, MBOX, EML, EMLX, and MSG. Also gives you an option to save only from the selected folder in Outlook 365.
This tool gives you an option to select between a single file backup or save entire mailbox folders like Inbox, sent items, drafts, etc. For complete details, you can try the free demo version. In addition, the program is also capable to import Office 365 contacts to iCloud account.
The software comes with an amazing feature that is known as Delete After Download. It means once you download the mailbox data, you can easily remove all the downloaded files and their attachments from Outlook 365.
Note: Internet connectivity needs while saving Outlook 365 data, and also if you have added the two-step verification, then disable multi-factor authentication
Steps to Download Outlook 365 Emails  to Computer With Attachments
First Download and install the software on your Mac machine, after that follow the following steps –
1. Once the installation is completed launch the tool
2. Now, in the Login section provide your user name and password and click on the Login button
3. After that, chose the categories such as E-mail, Calendar, and Contacts from the Select Category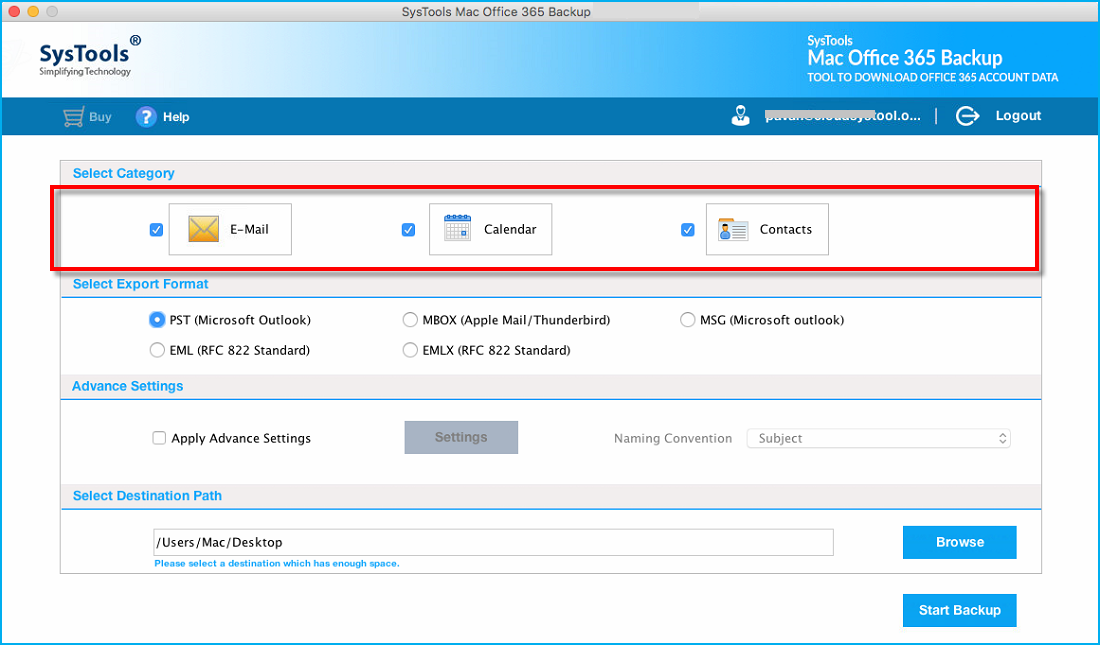 4. Select the export format as per your choice from Select Export Format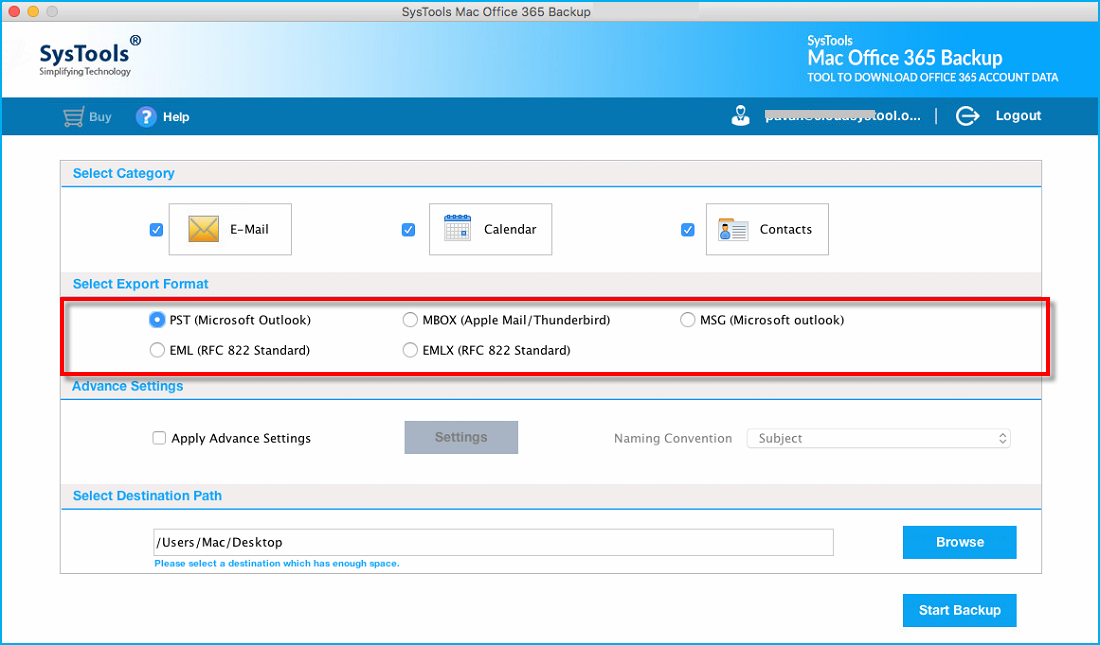 5. Now, click on the Advance Setting option to choose advance settings
7. Under the Advance Settings, you can add a Date Filter, Delete After Download, or Folder Filter
8. Now, choose the Destination location to save all emails from Outlook 365 to hard drive
9. After all the settings, click on the Start Backup button to initiate the process of download multiple emails
10. Once the task is over connect your external hard drive to the computer and move all the backup data to it.
Save Outlook 365 Emails in HTML File Manually
This is the manual method to save all emails from Outlook 365 to hard drive. So, if you are seeking a free solution, then follow the below steps:
1. First, launch the Office 365 profile on your personal computer
2. After that, go to the email folder to export the emails to HTML file format
3. Now, right-click on the page and select the Save As an option
4. After that, choose desired location to download the exported emails
5. Finally, the copy of Office 365 emails will be saved in HTML format
Note: For multiple emails, you have to repeat the steps for the remaining Office 365 emails to be saved.
Conclusion
There are many users seeking a way to download emails from Outlook 365 to computer or desktop. So they can protect their data from any cumbersome situation. Therefore here in this write-up, we have discussed the two best ways to save all emails from Outlook 365 to hard drive with attachments. But if you want the most effective and accurate result, then try the automated utility for easy download Outlook 365 emails to desktop.