MAC Email
,
MAC OS
,
PDF
Top Two Ways to Export Emails from Mac Mail to PDF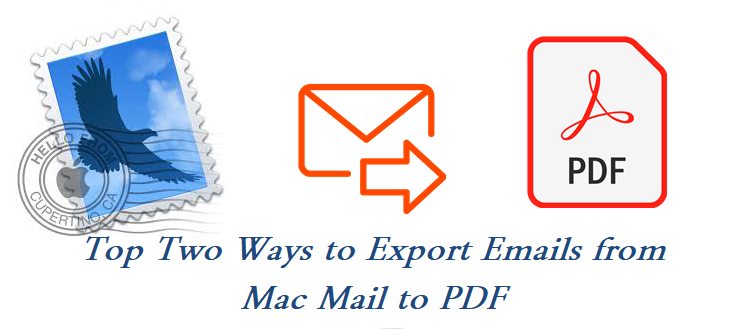 User Query- Hi, currently I am working in a law firm and for evidence submission, I have to convert multiple emails to PDF. So, I tried the manual export option but the thing is that is very time-consuming and I have to complete the report by tomorrow. Now if anyone knows any quick method that helps me to export emails from Mac Mail to PDF, then please suggest it to me.
Like the above user, there are also many users who want to convert their email in PDF file format. Because it is a widely accepted file format and OS independent file and also a very good format to save and share email data.
Now, if you are a Mac user and seeking for a way to export emails from Mac Mail to PDF, then here in this blog we are going to discuss some best techniques to complete the task. So keep reading this blog to know the right way to save multiple emails from Mac Mail to PDF format.
But before starting the procedure let discuss why PDF?
Reasons Why Users Choose PDF Over the Other File Format?
If you talk about the reasons, then there are various so, in this section, we cover the most common reasons:
The first and very common reason is that you can view PDF documents on any device like PC, mobile device, and tablet.
You can add a protective layer like a password in a PDF file so only an authorized person can able to open it.
PDF is a cross-platform file format so you can open it on any OS.
PDF file allows serving the cross-platform and a non-editable platform.
The PDF documents are extremely used to save the legal document in it.
You can easily add a non-text element like hyperlinks, images, and others.
A very portable document format so you can easily share this file with anyone.
PDF is also very helpful in maintaining the layout across devices.
How to Export Emails from Mac Mail to PDF Manually
Now, if you seeking for a free method to migrate Mac Mail emails to PDF, then there is an option available in Mac Mail to save its emails as PDF. And to do this follow the below steps:
1. First, launch your Mac Mail
2. Now, choose the email that you want to save as a PDF and open it
3. After that click on the File option
4. Now, from the drop-down menu choose the Export as PDF option
5. Select the destination location to save the file
Note- That's it you have to just follow five manual steps to export emails from Mac Mail to PDF. But there is one limitation in this method and that is its feasibility. It means you can only save one email at a time and for bulk migration, you have to repeat these steps again and again which is quite a tedious task to do.
Flawless Way to Export Emails from Mac Mail to PDF
As we see the manual approach is quite nice, but it is only for those users who wish to convert a fewer number of emails to PDF. And if you are from those users group who looking for the bulk conversion, then it better to try an automated method to complete this task.
Mac MBOX Converter is the tool that gives an option to export emails from Mac Mail to PDF in bulk without any data loss The key feature of this tool is its GUI which is so straightforward hence, both technical, and non-technical operate this tool. Along with PDF, this tool export Mac Mail emails into PST, EML, EMLX, MSG, and HTML.
1. Step to Save Mac Mail Emails as PDF
2. First, you have to download and install the software on your Mac machine
3. Launch the tool and click on the Add File(s) or Add Folder option
4. Browse and select the .mbox file and then click on the open button
5. Once the file is added you can able to see the files in the preview panel
6. Now, click on the PDF radio button from the Select Export Type section
7. Select the Destination location to save the files
8. Once all settings are done, click on the Export button to export emails from Mac Mail to PDF
Also Read: How to view Mac MBOX files in Outlook?
Why this Tool?
There are different reasons which prove that it is the best method for exporting multiple emails as PDF from Mac Outlook.
Bulk Conversion- Software comes with two different options to add the Mac Mail files such as Add File(s) and Add Folder(s) respectively. So you can add as many files in the software pane for conversion.
Accurate Result- The software is well capable to preserve data integrity. Hence, after the conversion process, you will get the same data without any changes.
All Types of Files- The software support .mbox, .mbx, and .mbs files and easily convert them to PST, PDF, EML, MSG, EMLX and HTML.
Support Mac OS- The tool supports all the latest Mac OS edition that is 10.8 Mountain to all the above editions of Mac OS.
Conclusion
There are many users face difficulties while transferring Apple Mail to PDF file in bulk mode. So, after considering the users' requirements here in this blog we have discussed the two methods to export emails from Mac Mail to PDF. Therefore, we have provided solutions for the users who search for How to export Apple Mail email to PDF. Now, it up to you to choose the right way for you.