Archive
,
Backup
,
MAC Email
,
MAC OS
How to Backup Apple Mail to External Hard Drive on Mac OS?
Summary- If you are searching for an appropriate solution on how to export emails from Mac Mail to Hard Drive, then no need to move your cruiser anywhere. Because here in this blog, we are going to discuss all the necessary information to backup Apple Mail to external hard drive on Mac OS.
Basically, in today's world data is everything, and archiving the data is the best procedure to protect your data from any worst-case situation. Also, backing up the crucial date is the only solution to save your data safely. Because when the time arrives, one may have to go through the consequences of not storing the emails then you can easily recover all your data.
Let understand why users want to save emails from Mac Mail to hard drive with the given user query:
Hi! I have a number of emails store in my Apple Mail and due to some reasons I want to reset my Mac machine. Hence I am looking for a way to archive Apple Mail emails to the external hard drive. Now, if anyone knows any effective procedure to do this task then, please let me know how to process this procedure in some portable file format on Mac OS.
Reasons to Export Apple Mail Emails to Hard Drive on Mac?
Other than archiving there are some other reasons that force users to backup Mac Mail data to the hard drive such as:
Archive the emails is much easier rather than recovering the email data after it has been permanently deleted from the email account.
All email applications provide a limited amount of storage space which will get filled soon. So, moving all unnecessary data is a good option to free up the storage space on Mac OS.
Also, you can easily move your email data to the supported email client. Or you can easily share all your data in PDF format.
Backing up your email data into an external hard drive helps you in the situation when your email client-server not working.
How to Backup Apple Mail to External Hard Drive Manually?
If you are seeking for a free method to archive Apple Mail email to the hard drive, then in this section, we are going to discuss that. Therefore, to export the mailbox from the Apple Mail account to the external hard drive, follow the steps given below:
1. First, open the Apple Mail account on your any version of Mac machine
2. Now, select the mailbox from the sidebar
3. After this, just choose Mailbox,  after that click on the Export Mailbox option
4. In this step, you will need to choose the destination for the .mbox file
5. At last, just click on the Choose to the destination location.
Major Limitations of the Manual Method
The manual method to export emails from Mac Mail to hard drive comes with some flaws on Mac machine, such as:
There only one file format available to backup email data to the external hard drive, i.e MBOX. Hence, you will be restricted with this format only. Or if you will need to use this data into other email client which is supported by other formats, then it would not be possible.
Moreover, this method takes time depending on your mailbox data of Apple mail. So, in case, if you have a large mailbox file then it will become so time-consuming.
In the manual method, there is no guarantee of data loss. It means there is a chance that you will encounter data loss after the completion of the method.
Alternative Solution to Export Mac Mail Emails to Hard Drive
The above described manual solution is a nice approach but it also has some limitations, hence, most professionals not recommend this to users. Therefore, in this situation, you all can try the Mac MBOX Converter Software. Because it gives you the flexibility to backup Apple Mail to external hard drive into different file formats such as PST, PDF, EML, MSG, EMLX, CSV, TXT and HTML. In short, using this automated software you will be able to apply filters for multiple formats as per the supported email client on Mac OS. If required, you can just simply view Mac MBOX file in MS Outlook without any issue.
Moreover, it is one of the perfect and guaranteed solution that allows you for saving all emails of the mailbox. That mean, you can easily export multiple or selected emails as per your choice into desired format. This utility is capable to maintain the folder hierarchy and entire data integrity. Also, it will retain email properties even after entire file conversion.
The best thing about this automated software is its compatibility, yes, it can work on all version of Mac machine without any data manipulation. Even it not only supports MBOX file of Apple mail but other email clients as well on Mac OS.
Other Advance Feature of the Tool for Mac OS
However, there are multiple features that you all get once you download this software on your Mac machine, such as-
You can easily export multiple emails from Apple Mail to hard drive in different formats.
Moreover, it offers a naming convention option while backing up emails to local drives.
Also, this software provides various filter options such as Date Filter, Data Split option, categories option.
Additionally, this tool support all versions of the Mac operating system.
This software support all MBOX files such as (.mbs) flies, (. mbx )files and gives you an accurate result.
Guide to Backup Apple Mail to External Hard Drive on Mac
To use this tool, first download it on your any version of Mac machine and follow the steps-
In the first step, run the software and tap either on Add File or Add Folder for adding Apple mail file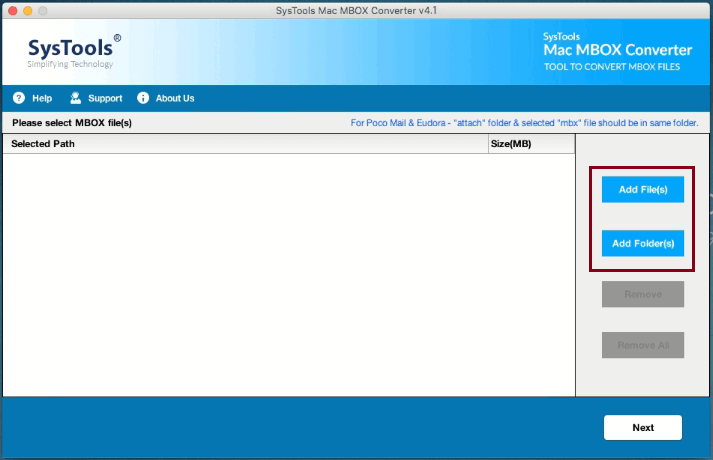 Now, view all files of Mac Mail, then mouse-click on Next button to proceed.
Choose any file or folder that you want to backup, and select an EML or EMLX format as per your requirement.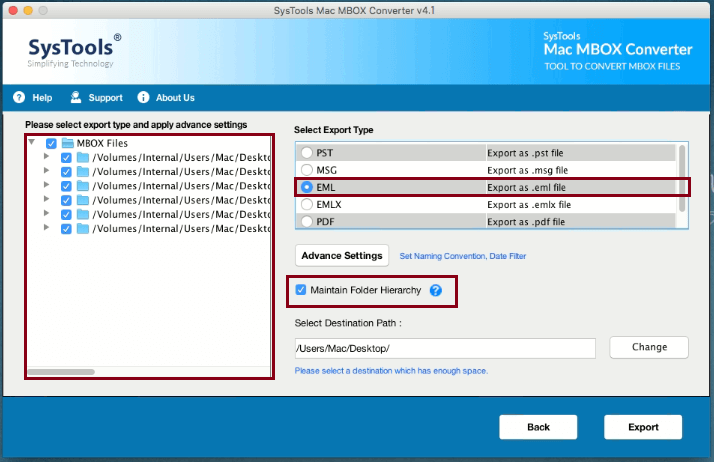 Here, set Name Convention and other Filters after clicking on the Advance Settings button.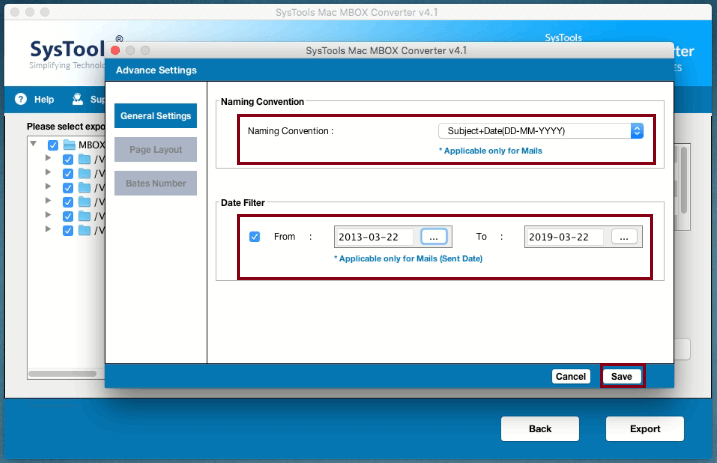 After this, just set the destination location where you want to save the files after completion of the procedure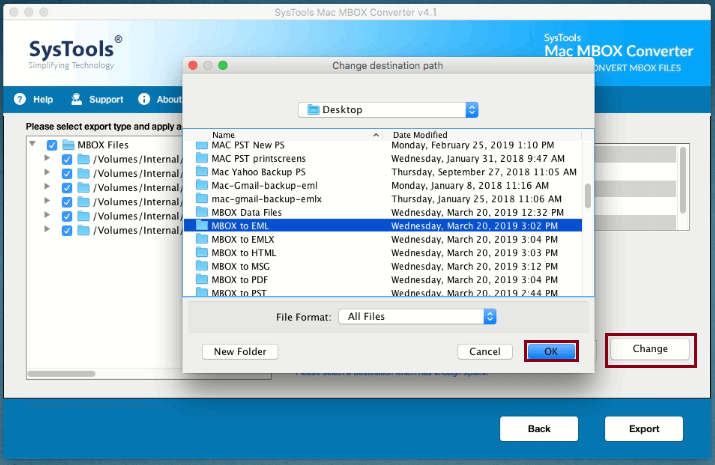 Eventually, click on the Export button to begin export emails from Mac Mail to hard drive process.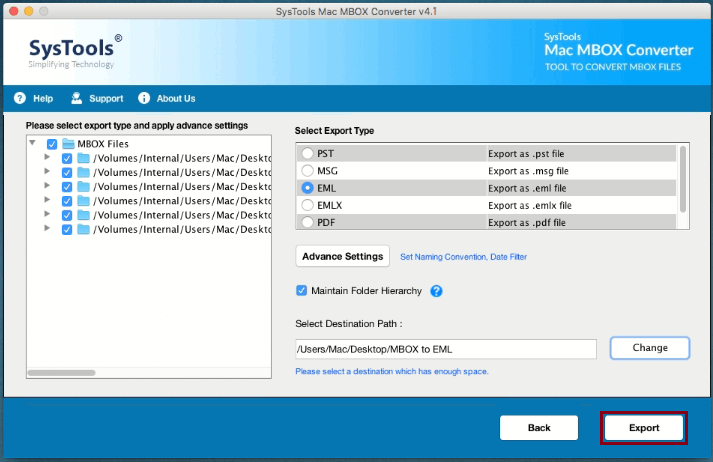 For confirmation, just after the completion, click on the OK button to get the report on your Mac machine.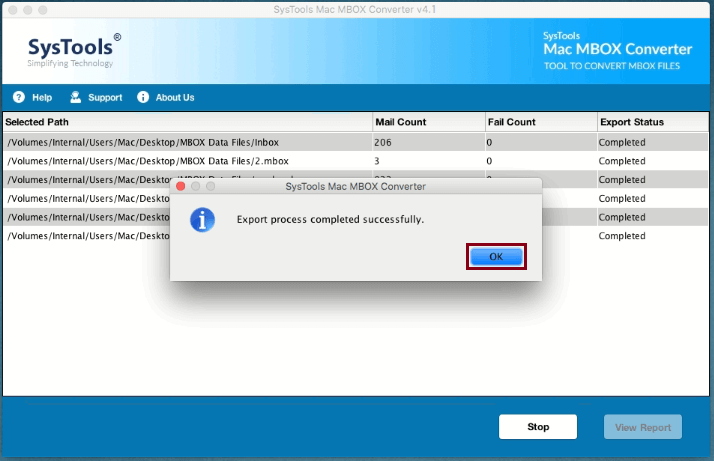 Conclusion
There are many Apple Mail users seeking a solution on how to export emails from Mac Mail to hard drive. For the same, we have discussed both manual and professional solutions here. But as the manual method does not guarantee the complete backup of Apple mail data to the external hard drive. So, we would recommend you to go for the alternative solution to archive Apple Mail to hard drive on Mac OS.