Gmail
How to Export Emails from Gmail to Excel or CSV File Format?
Priya
| Modified: May 16th, 2023 | 5 Minutes Reading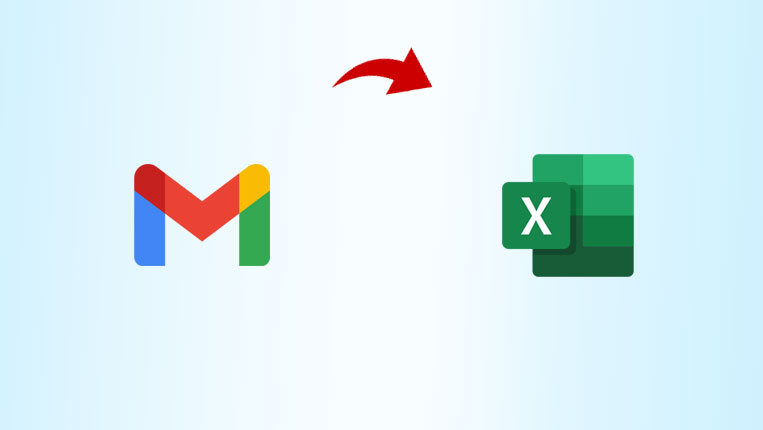 An Excel file is considered the best way to store and manage details of multiple users in a tabular form. When it comes to CSV files, they can be opened with any open-source or commercial application. So, if you are a Gmail user and want to manage data in a tabular format, then, in this article, we will be sharing how to export Gmail to Excel CSV file on desktop. To make this task more useful, we will also be describing the best way to resolve this query without any data manipulation.
User Query: Hi, I am wondering if I can manage my client information from Gmail account in my Excel file. For that, I'm looking for a professional solution that can make my task easy to export Gmail to CSV format. I have to make a presentation where I need to manage multiple user details, including their name, address, email address, etc. So if anyone has an idea, then suggest me please ASAP.
We got the above query in a forum site where users want to access Gmail email details in an Excel CSV file for some reason. So, this article is all about the solution that helps users in this situation.
Proficient Solution to Export Gmail to Excel CSV File?
For preventing all the uncertainties, it is better to go for the proficient solution. Therefore, we suggest you to use Gmail Email Backup Software for Mac to export Gmail to CSV format. This is the best software for exporting all emails to access them into your Excel file.
Moreover, you can run this tool on any version of the Mac operating system for bulk exporting. You can also choose to use the demo version for a better understanding before going for the licensed version. So, this is the automated solution that helps to export all the Gmail emails with the same hierarchy.
This Gmail to Excel converter software also has various features, and different file formats availability is one of them. This means it allows users to export Gmail to PST, EML, HTML, TXT, MBOX, MSG, and other format as well.
Top Features of this Advanced Software
Naming Convention Option: You can use this tool to export and save the exported file by renaming it. For doing so, this tool offers different patterns such as Subject + Date, From + Subject + Date, etc.
Date Filter: Most users may not require to export Gmail to Excel CSV file in bulk; therefore, this tool is designed for specific emails also. Using the date filter option, one can set the required date range and export emails from the selected date range only.
Multiple File Formats: Apart from CSV format, the user can download Gmail emails to computer in any other format. Later on, just import it to any application on respective operating system.
User Interface: When it comes to interface, then this tool provides the easiest graphic user dashboard. To help all novice users, all the instructions are given in the tool step by step. So, all the technical and beginner users can access it and operate it to export Gmail emails to CSV.
Full Support to Mac OS: This Gmail to CSV Converter software is compatible with all Mac OS users; therefore, one can run this tool on any latest or earlier versions of Mac OS. It includes Mac OS 13.0, Mac 12.0, Mac OS 11.0, Mac OS 10.8, and all the below versions for exporting emails.
Step by Step Guide to Export Gmail Emails to CSV File
For processing this task, first download this software on any version of the Mac machine. Then, follow the steps to export Gmail to CSV file format:
Provide credentials of your Gmail account with active user ID and Password, click Login.
Then, select any folder from the left pane that you want to export and select CSV format.
Afterwards, apply additional settings as necessary for the exported file. Here, set the date filter if there is a need to export few emails or choose the naming pattern.
Just after that, click on the change button to select the location path of the file on PC.
Lastly, tap on the Start Backup option from the software dashboard and begin the exporting task.
Now, check the exported CSV file on the selected location path.
If necessary, you can even import this CSV file into your Excel spreadsheet.
Conclusion
By keeping in mind all the benefits of the Excel file, users are most likely to use it for managing data in a tabular form. Therefore, in this article, we have shared how to export Gmail to Excel CSV file. Moreover, the automated method that we have described above is the finest solution. Using this tool, one can easily export as many emails from Gmail to CSV format. Use this Gmail to Excel converter for bulk exporting emails and access or manage all emails in your Excel file on desktop.
FAQs
Q- Is there any possibility of losing data while using this software?
The tool is a completely secure solution to export Gmail emails to CSV, as it provides an intuitive dashboard that guides you to export emails with complete accuracy.
Q- How do I export Gmail emails to excel?
Download the Gmail to CSV converter tool.
Login with the required Gmail account.
Select the CSV file format on PC.
Apply additional features as necessary for the exported file.
Hit Start Backup to start the process for exporting emails.
Now, just import the CSV file into MS Excel file and access the data.
Q- Is Gmail stored email data locally?
No, all email that you send and receive from your Gmail account is stored only on Google's cloud servers. However, there are different methods available to store email locally as needed.