MAC PDF
How to Copy Text From Secured PDF on Mac in Easiest Way?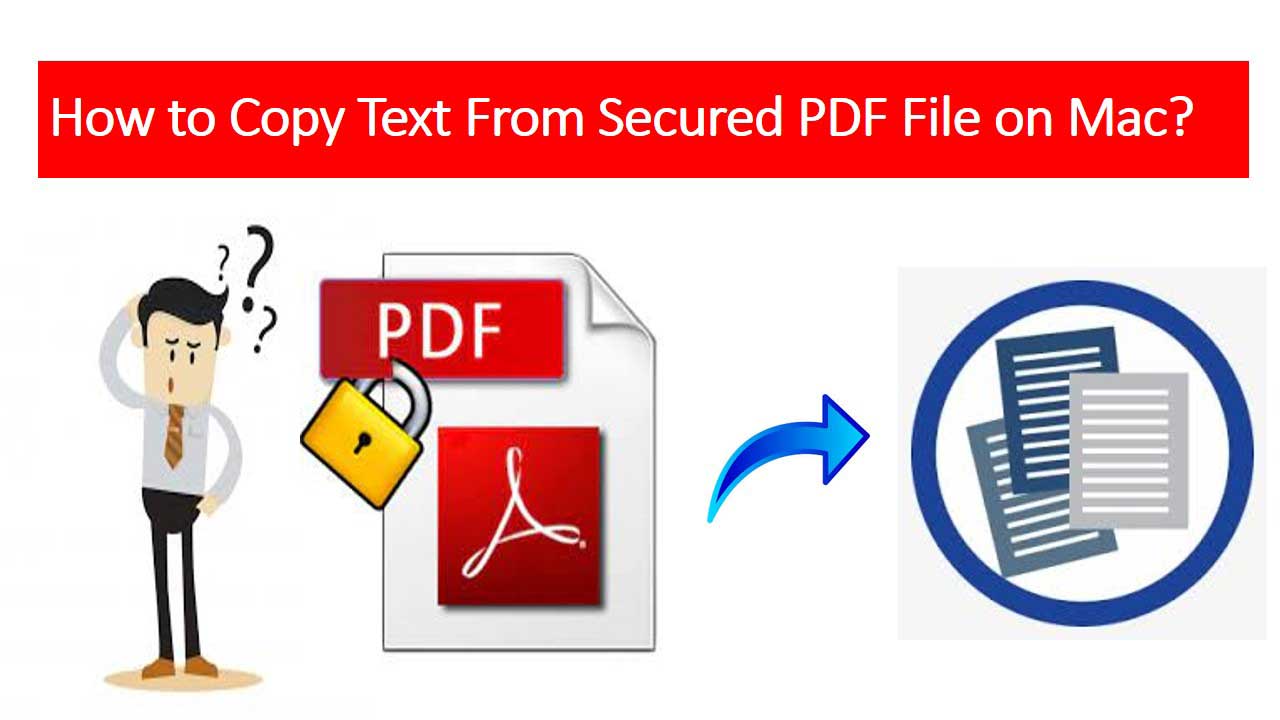 Are you having a hard time copying text from a PDF Mac? Do you have multiple encrypted PDF documents on your desktop but you are looking for a way to get the data of it? Want to know how to copy text from secured PDF on Mac OS X? Well, you are at the right spot because we will tell you the easiest way to copy and paste text from PDF document restrictions without a password on Mac.
Table of Contents:
Talking about PDF restrictions, a PDF owner can permit or prohibit some activities on their PDF documents even if you can easily view the PDF content. This is called owner-level or master-level security to protect PDF files from editing, copying, printing, commenting, signing, page extraction, filling of form fields, etc.
A permission password is required to make the secured PDF free if you are using a tool like Adobe Acrobat DC or Pro DC. Without a permission password, Adobe Acrobat tool can't do anything regarding removing PDF restrictions.
Besides, if you are already familiar with this tool and find it quite costly then, don't worry at all. Because, for you, we have come up with the Best and affordable solution for the Mac operating system.
And most importantly you should know that it does not need any permission password to perform this task on a Mac computer.
Manually Copy Text From Protected PDF
You can remove protection and print the PDF by using Google Chrome. However this method is not reliable and takes a lot of time to process. Moreover uploading your data online can be dangerous and it will ask for enter password again and again.
So let's have a look at the steps-
Open Google Chrome on your system.
Drag the PDF into Chrome to open new the PDF file.
 Now, enter the password and click on the Submit.
After that click on the Print icon, and the Destination, and select Save as PDF.
Now you can copy the desired files.
How to Copy Text From Secured PDF on Mac without Password?
Above, we have just told you the biggest reason to get this Mac PDF File Unlocker Tool to copy text from PDF without a password. However we are not going to compare it with Adobe Applications because Adobe Acrobat. But it does a lot of stuff in the domain of PDF documents.
But if you are someone who is just looking for a solution to remove password protection from PDF documents on Mac desktop. Using this tool you can even unlock PDF files for editing on Mac without disturbing the data. Or simply want to know how to copy text from a secured PDF on a Mac then, this tool is for you!
Best Top Features of the Software for Mac
There are multiple benefits that you get while using this application to copy text from a PDF Mac that is encrypted or secured, such as
This tool can easily let you copy and paste the text without requiring a permission password.
Delete user-password/ Document Open password.
As it is offline software, hence highly safe to use.
No formatting issues, page layout, or line breaks.
Takes care of PDF attachments with all other data intact on the Mac machine.
How to Copy Text From Secured PDF on Mac?
Download the software on your Mac system (a free version is also available), after this, just follow the steps-
First of all, click on Add Files/ Add Folders to browse and insert secured PDF files.
If the PDF has a document open password, kindly provide that.
To save the resultant PDFs in the desired location, click on 'Change'. By default, the PDFs will be saved on the desktop.
Click 'Unlock' from the window, now you are ready to copy text from PDF on Mac.
Finally, it will show the notification message that the files are unlocked properly, tap OK.
Remember: The free version will process 5 PDF documents and will have a company's watermark.
Let's Sum Up
In this blog, you get the best solution to how to copy text from a secured PDF on a Mac. To perform this task from PDF on Mac, you just need to download the above software. It is an offline tool that is highly secure and affordable, unlike the Adobe Acrobat application. A Free Version of the tool is also available to copy text from PDF Mac. If you need any software customization you can contact the support team.
Several FAQs
Q – Why can't I copy text from a secured PDF on my Mac?
Secured PDF files often have restrictions set by the document's creator to prevent copying text. This is usually done to protect copyrighted or sensitive information.
Q – What tools can I use on a Mac to copy text from a secured PDF?
Tools like Adobe Acrobat Pro, Preview, and professional software can be used on a Mac to remove restrictions from PDF on Mac.
Q – Do I need to know the password of the secured PDF to copy text from it?
Generally, you need the password to remove the copy restriction legally. However, some third-party tools may bypass this requirement.
Q – Will the quality of text change when copied from a secured PDF?
No, copying text should not change its quality. But formatting might vary depending on how you paste it into another document or application.
Q – Can I copy images as well as text from a secured PDF?
Yes, once the PDF's security restrictions are removed, you should be able to copy images and text.
Q – How long does it take to remove copy restrictions from a secured PDF?
The time taken to remove copy restrictions can vary but usually only takes a few minutes with efficient software.
Q – After copying text from a secured PDF, can I secure the document again?
Yes, you can re-apply security settings to the PDF using tools like Adobe Acrobat or other PDF editing software.