Backup
,
Import & Export
,
Office 365
Want to Know How to Save Office 365 Contacts – Checkout Here!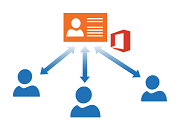 Everyone maintains a proper list of contacts whether it is a large organization or a normal user. Without a proper contacts list, it becomes difficult for users to manage the communication process in a smooth way. Nowadays, Office 365 is used by numerous organizations and users to manage their business-related work. It offers various software and services for multiple tasks such as management, communication, documentation etc. However, to access these services there should be a proper Internet connection. Sometimes, the Office 365 users need to save their contacts locally i.e. on the system. Thus, in this blog, we are going to explain different methods to save Office 365 contacts.
Why There is Need to Save Office 365 Contacts?
Now, when it comes to the need to save Office 365 contacts, it varies for a person to person. As every user have some specific requirements such as he/she wants to create an invite list for a specific event or want to import Office 365 contacts into another application etc. One of the major reason can be the 'Internet'. To access Office 365 services, tool, emails, contacts etc. there should be an Internet connection. Without the Internet, the user will not be able to access Office 365 data and services. Thus, to access and use Office 365 contacts without an Internet connection, the user needs to save Office 365 contacts on his/her system.
Any DIY Method to Save Office 365 Contacts?
Yes, the user can easily export and save Office 365 contacts by following the step by step process explained in the below-mentioned section:
First, open Office 365 and click on the People tile

Now, you will be able to see a list of your contacts, including name, email address etc
After that, you have to select the contacts you need to export and save
Select the Manage drop down tab and click on the Export Contacts

Select the export format > Microsoft Outlook CSV
Can I Apply DIY Method to Save Office 365 Contacts Without Any Data Loss?
Sometimes, the users are not able to implement the step properly. Ultimately, it results in data loss issues. The user should have the technical expertise to perform the steps. If any of the steps is implemented incorrectly then it can lead to data loss. In some cases, only a few contacts with incomplete information are exported.
Any Reliable and Smart Solution to Save Office 365 Contacts Without Any Data Loss Issues?
Yes, the user can make use of an automated and trustworthy software that is MAC Office 365 Backup tool. With this tool, the user can easily backup Office 365 contacts without any data loss issue. Moreover, the utility is having a feature-rich nature and user-friendly interface which makes easy for the users to work with it.
Summing Up
There are many users who need to save Office 365 contacts locally. There can be many reasons behind it but one of the possible reason is to access Office 365 contacts without Internet usage. Thus, in the above section, we have introduced the different methods to save Office 365 without any hassle.