Import & Export
How to Import EML to Outlook for Mac in an Efficient Manner?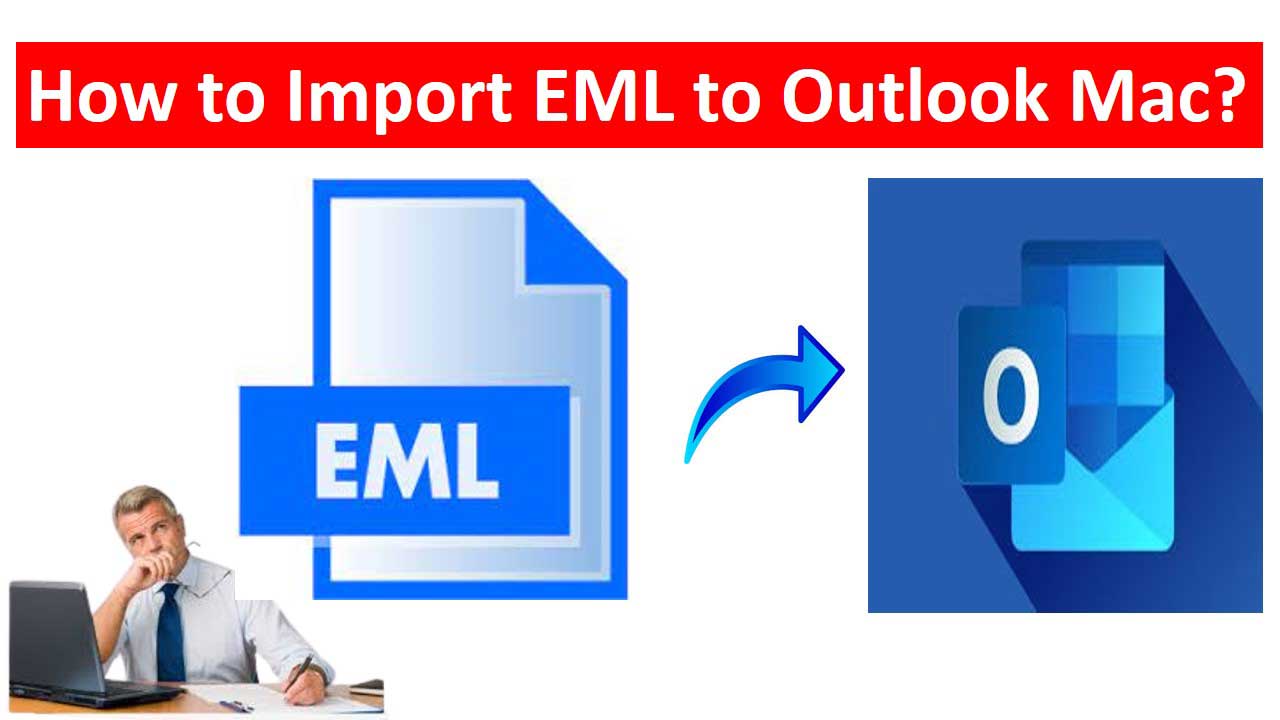 Microsoft Outlook does have built-in options for importing and exporting data, but it typically supports the use of Personal Storage Table (PST) files for this process. EML files are not natively supported by Outlook for importing. Don't worry, third party solution can help you in importing EML to Outlook. Let's discuss the solution.
User Query: I was using Thunderbird on my Windows operating system. while switching from Windows to Mac sierra 10.12, I took a backup of a few important emails as .eml in a folder. Now, In my Mac machine I am using Outlook 2019 for emailing and want to open those files in my Mac Outlook 2019. But I can't find any option to import EML to Outlook Mac. Any option to open the EML files in Outlook for Mac would be appreciated.
How to Import EML to Outlook 2019, 2016, 2013 Mac OS?
If you have created a backup of your emails as a .eml file, you can not import them into Mac Outlook 2016 using the Import-Export wizard, but it is still possible.
Unlike email backups, which are available as ".msg" files in Windows Outlook, emails in the Mac Outlook are available in .eml format. They can simply be dragged into the desired email folder (for example, the inbox) in order to import them.
Method-1: Import EML File to Outlook Mac Manually
Go the folder on which all the .eml files you have stored
Select a specific .eml file and right click on it >> Open with >> Microsoft Outlook
Now select the Move option and click on drop-down arrow to move the file into a specific folder
The file has been moved successfully, now go and check for that email on Mac Outlook 2016
Method-2: Import EML to Outlook  Professionally
There is another approach for importing EML file into Outlook, that is Mac EML Converter software. This utility allows you to export all files in Outlook accessible file (.pst) format. Then, you can easily import the resultant file to Mac Outlook 2019, 2016, 2013 or any below version. 
Moreover, the best thing about this software is it provides multiple formats as well for converting EML to PST, PDF, MBOX, or more. As a result, you will be able to read multiple EML files on Mac based computers without any data loss. 
Steps to Export EML Files to Outlook File Format
Follow the following steps as given below after successfully downloading the mentioned utility on Mac-based computers-
First of all, launch the software on your Mac machine of any version 
Now, click on the "Add File(s)" or "Add Folder(s)" button to load the EML files into the software.
After successfully adding the folder, you can preview all available EML files on software panel, click on Next
Now select the output file format as PST and select the date range using the date filter.
Now, just click on Browse button to provide destination folder location
In this step, the destination path will be shown as follows, then click on Export.
The .eml file successfully converted into Outlook supported file format, hit the OK button
Now, you can easily import this available resultant file to Mac Outlook on any of your Mac machine version.
Guide to Import Resultant File to Mac Outlook
Open Outlook to import EML to Outlook Mac 2019, 2061, 2013 and go to the menu bar as in the File >> Import
After this, just activate the button Outlook data file and click on the arrow on the bottom right
Now, you have to select Outlook for Windows data file and click on the right arrow again
Search for the file on your Mac machine, select it and click Import
Once the import process is complete (this may take several minutes), press "Done" button.
Guide for Windows OS Users 
If you are Windows OS user and want to import EML into Outlook account. Then follow the below listed steps:
Step-1: Download SysTools Software and Launch It on Your System.
Step-2: Add EML Files into Software Panel and Preview Complete Data.
Step-3: Select PST as Export Option and Browse Path to Save Output.
Step-4: Launch Outlook and Go to Import/Export and Select the PST.
Conclusion
In Mac Outlook 2016, there is no direct option for Importing EML files. However, there are some manual and alternate options available, that will help you to import EML to Outlook 2019, 2016, 2013. The manual option is bit time-consuming in managing the .eml files and then drag and drop them to Mac Outlook. Hence, for the best result and fast access the data on Mac Outlook, one can go with the third party solution mention in the article.
FAQs
Q. Can I use this software for bulk conversion as well?
A. Yes, the software has an Add Folder option to carry out the conversion process in bulk.
Q. Can I use the resultant file in Windows Outlook?
A. Yes, you can easily use the resultant file in both Windows as well as Mac Outlook on all your Mac machines.