Outlook for MAC
Is Outlook Better Than Apple Mail – Differentiate Here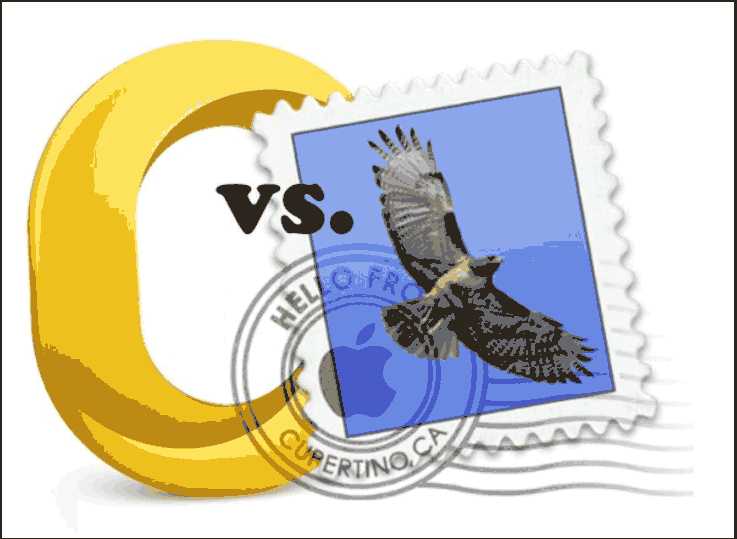 Are looking for answers that whether Outlook is better than Apple Mail or not?
Outlook and Apple Mail are the two prominent email clients which are used widely by people at large. Outlook is a part of Microsoft Office whereas Apple Mail comes as free with every Mac OS.
MS Outlook is used with Exchange server while Apple Mail is widely used by Google, POP, and IMAP servers. Thus, considering the need of the user, a detailed comparison between Outlook and Apple Mail has been made in the subsequent paragraphs.
Comparing Outlook & Apple Mail
Some of the key points based on comparison between Outlook and Apple Mail has been described as below;
1. Outlook is Paid and Apple Mail is Free
On comparing both the email clients – Outlook and Apple Mail, it can be said that Outlook comes as an inbuilt feature integrated with Office 365. Thus, Outlook is paid or subscribed service from Microsoft.
On the other hand, Apple Mail is a default application that comes with every Mac OS. It is a free of cost email application available across all the Mac OS.
Since, Outlook is integrated with Office 365, hence, the user can enjoy Microsoft Office applications whereas Apple Mail does not provide any additional functionalities besides emailing and related.
2. Outlook offers more than emailing and Apple Mail in just an email client
In this regard, Outlook being a part of Office 365 is not limited to just emailing. The user can take the advantage of additional services also.
However, Apple Mail is just limited to emailing only. It provides the subset of Outlook features. Here, the user can choose between the services as to whether he wants to email or want more than that.
3. Cross Platform Compatibility Concerns: Outlook versus Apple Mail
Apple Mail is an email client application that comes pre-installed on Mac by the Apple itself. Since, Apple Mail comes as a default email application by the Apple, so, it is absolutely compatible with Mac OS and is restricted to iOS, macOS and iPadOS.
Whereas MS Outlook configuration can take place and is accessible on Android, iOS, Windows, macOS and Web. Here, Apple Mail becomes a better choice for the user if you prefer mac OS. Otherwise MS Outlook can be chosen for wider acceptability by several OS.
4. Customization features – Outlook versus Apple Mail
Outlook
Outlook in Mac has a different appearance which is easy to navigate and use. The functions remain the same irrespective of any platform.
On the other hand, Apple Mail provides several customization features which include message list font, message font, fixed-width font and list view preview.
5. Office 365 Subscription Plan
Outlook comes with Office 365 which is a paid subscription plan. The plan of Office 365 varies and the user can choose the one that fits the best to his requirements. The service for Office 365 can be paid monthly or yearly depending upon the subscription plan.
On the other hand, Mac Mail does not have subscription plan as it is provided free of cost by the Apple itself.
If the user seeks for more storage, security and Office programs then MS Outlook can be opted for. Otherwise, Apple Mail gives sufficient emailing features with no bear of cost.
6. Outlook Consumes More CPU Resources
Outlook is more than an email application and therefore, it becomes evident that it will consume more CPU resources. If you do not use the Outlook features like to-do, task list, calendar etc. then keeping such a heavy application is of no use.
On the other hand, when MS Outlook is compared with Apple Mail, then the latter provides the multiple apps like contacts, calendars, and other items which does not occupy much space and gives seamless experience to the user.
7. User Interface & Emailing Features
MS Outlook is a personal information manager software system from Microsoft. It provides user enriched interface like calendaring, task managing, contact managing, note-taking, journal logging, web browser and many more.
On the other hand, Apple Mail has a simple and easy to operate user interface. It has organized email accounts in one place. It provides the VIP option that allows to choose the senders that you want to be interrupted by only, smart spam filter, fast and precise search. It allows to integrate with macOS and iOS.
Want to move from Mac Mail to Outlook? Then , use our software to migrate over all your mailbox emails. You can try the free demo version that converts 25 emails per Mac MBOX files.
Final Thoughts
In the above blog, a brief glance over Outlook and Apple Mail has been thrown light upon. In the subsequent paragraphs, a detailed comparison has been made on Outlook over Apple Mail. As discussed, each of the email applications has its own advantages and disadvantages. However, depending upon the suitability and requirement, a choice for an email application can be made.
MS Outlook is preferred when the user wants to work in a professional environment with all the resources like Office applications. Otherwise, for personal emailing purposes, Apple Mail seems to be a good fit.