MAC OS
How to Save iCloud Emails as PDF? Export Messages Safely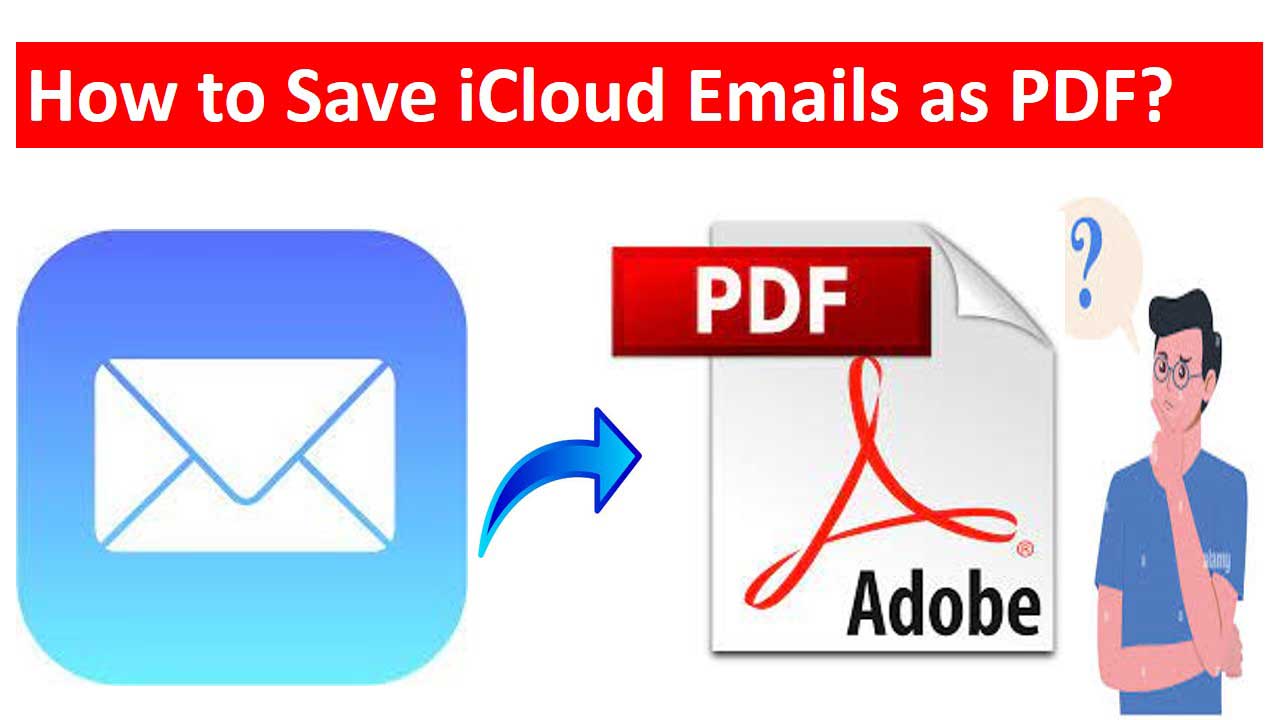 If you are looking for a solution on how to save iCloud emails as PDF, you have landed on the right page. While saving your emails, PDF is said to be the most convenient way to create copies of your data.
PDF format is a cross-platform compatible file format which allows you to safely export your data on any email platform, cloud or desktop. It ensures data security as the PDF files can be protected with passwords and restrictions.
This is why most of the users prefer converting their data in PDF format to enjoy the benefits that it provides.
But, how can you save iCloud email as PDF?
Well, there are certain methods that you can use to go through this action that will be explained here.
The Mail app on your Mac OS is filled with various tools that can help you do the same. It takes a few minutes only if you want to save 2 or 3 emails.
However, for a large number of emails to be saved, using the Mail app for direct conversion may not be a suitable solution.
Let's find out what alternative there is to save the emails.
How to Save iCloud Emails as PDF File Manually on Mac?
For this method, we will be assuming that you are using the default Mail app on your Mac machine. If it is the stock Mail application, first you have to configure your iCloud account with Mac mail and the steps given below will work wonders for you:
1. Open your Mail application on the Mac machine.
2. Choose the email you want to print and open it.
3. Click on the File tab from the menu bar and choose Export as PDF option.
4. Select the destination for the end result and press the Save button.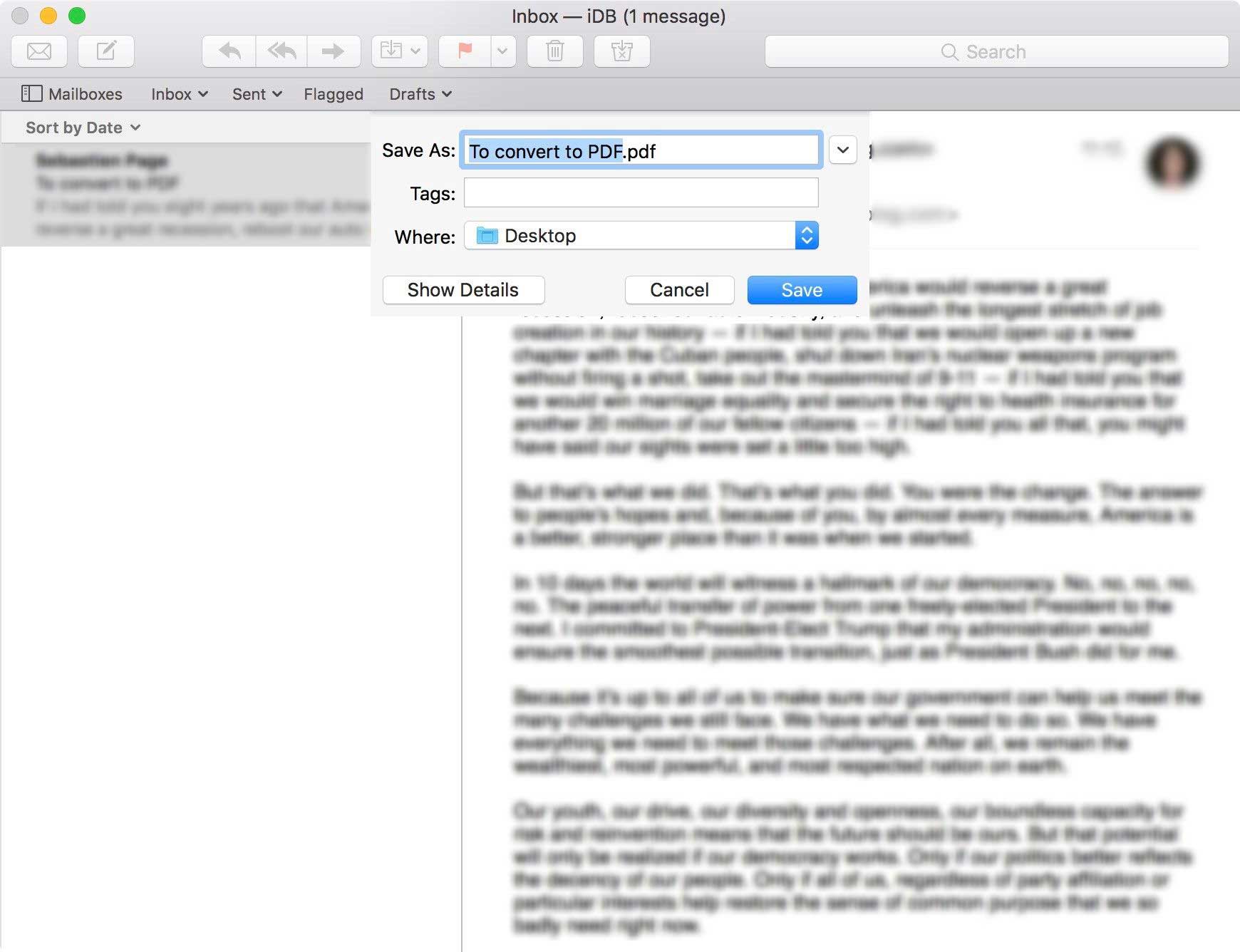 This way, you can easily export iCloud email as PDF. But, this is only one email that you have saved. If there are more than just a few emails, this method may not be as suitable.
Limitations:
This manual method doesn't allow you to save emails from iCloud in bulk.
Moreover, you will need to perform the entire process separately for each email.
Also, saving multiple emails manually will become a lengthy and time-consuming procedure.
Alternative Solution to Download iCloud Emails?
As seen above, the direct method only allows you to save the emails one-by-one which is not a suitable situation for everyone. Those who want to know how to save iCloud emails as PDF in bulk will not get benefit by using manual technique.
Hence, in this situation, we have come up with an alternative solution as the Mac IMAP Backup Tool. This professional solution allows you to export your data not only in PDF format but various other like PST, MBOX, EML, HTML, MSG, etc.
Moreover, it provides multiple Advance Filters that you can use to export the data files as per your requirement. These include the Date-filter & Naming Convention features, Page Layout Settings and Bates Number settings. Hence, it is suitable for you if you just want to save IMAP emails locally on your Mac machine.
Take a look at the steps of the tool.
How Does the Software Save iCloud Email as PDF?
1. Launch the tool and choose your domain. Enter the credentials for your account and press Login.
2. Here, mark the radio button beside PDF format and click on the Advance Settings button.
3. Go to the General Settings and set the Naming Convention & Date-Filter for selective data export.
4. Change the Page Layout settings wherein you can set the Margin and Page Orientation and Size. Also, go through the Bates Number settings if needed.
5. Check the box beside Maintain Folder Hierarchy to keep the same structure after learning how to save iCloud as PDF. Choose the location in the Change field to save the data.
6. Click on the Start Backup button to get over with the procedure.
Moreover, there is a Delete after Download option as well that you can mark. Using this feature during the process you can delete the data that you have downloaded from your mailbox.
Additionally, in the Bates Number Settings, you will get Bates Number Format and the Date Stamp in case you want that.
Features of the Tool to Help Learn How to Save iCloud Emails as PDF
Selective email export using Date-Filter by setting dates to choose a duration
Delete after Download feature to free up space in the mailbox
Moreover, it preserves folder structure after conversion using Maintain Folder Hierarchy
Incremental Backup option to export only newly arrived emails after first process
Additionally, this tool set different naming patterns via Naming Convention feature for the end result
Choose to set Page Orientation as Portrait or Landscape and Size as A4, A3, etc.
Also, there is an option to set the Margin while you save iCloud email as PDF for minimum 2.0mm & maximum 10mm.
All of the above, it works on all the lower and the latest versions of Mac machine.
Final Say
However, when users have a lot of emails saved on their email client, they tend to look for solutions to save them in a format that can be used on any platform. Such one format is PDF which is universally accepted.
So, the main objective of writing this article is to provide the best solution to you all who want to learn how to save iCloud emails as PDF. Here, we have explained all methods in detail with the limitations and benefits of each for your convenience. So, comparing both of them you can choose any method as per your convenience. Although we would suggest you to go for the professional method for saving multiple iCloud emails as PDF document on Mac.