Import & Export
Import OLM Files to Office 365 Process to Migrate Complete Data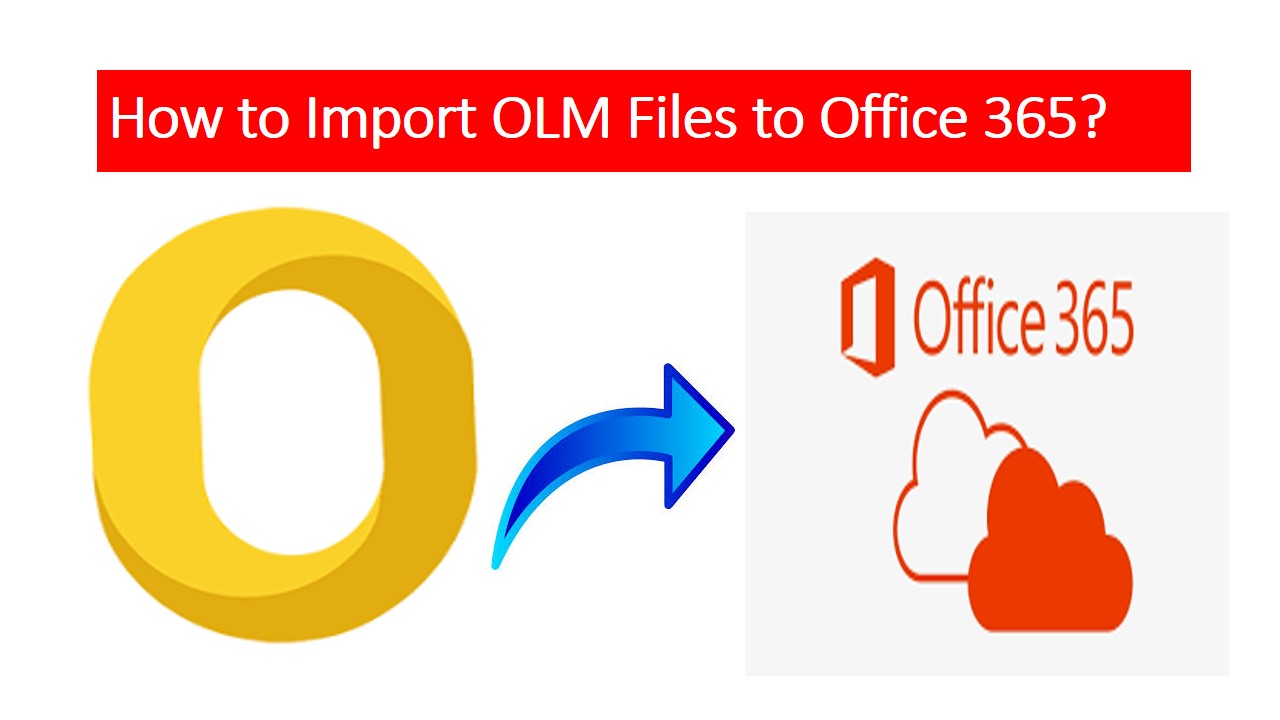 Summary: This article describes the step by step process to import OLM to Office 365 cloud. You can use the third-party application to make the process simple and convenient. The below mentioned utility is tried and tested which migrates complete OLM file into Office 365 without any data loss.
Outlook for Mac is an MS Outlook equivalent email application for the Mac environment. It works just like MS Outlook though, it stores its database in OLM file format which is completely different from the PST format utilized by Windows MS Outlook. However, with the continuous evolution in technology, users also evolved their data storage mode and everybody has started using online apps. Since web-based services are more in demand hence, Microsoft has developed Office 365 as a cloud-based application to send and receive email messages over the internet.
This enterprise-grade productivity application suite lets users access their data from anywhere and anytime. That is why the users want to import their Mac Outlook OLM into Office 365. Apart from this, there might be multiple cases where users need to access OLM files beyond the boundaries of the Outlook for Mac email clients. The below-mentioned user queries will show you the need to import OLM files to Office 365:
User Scenarios for Importing .olm Files into O365
"As Mac Outlook without any uncertainty is a useful program however, its database storage file i.e., OLM file is highly prone to corruption. Once it gets damaged or corrupted, it halts the complete workflow. Also, my Outlook for Mac sometimes works sluggishly and after that, it becomes impossible to access its data. Due to all this, I have decided to import OLM to Office 365 account. How can I do this, do anyone have any idea?"
"There comes so many times when I need to access my OLM file outside of the Mac Outlook application and according to me MS Office 365 is the best alternative for this. It is so because after importing OLM file to Outlook 365 for Mac. So, that I can open, view, and read it from anywhere even without any security concern. So, is there any simple trick to perform the OLM to Office 365 migration process?"
How to Import OLM to Office 365 Account Instantly?
There is no direct method provided by Microsoft to carry out OLM to Office 365 migration tasks. To complete the import process with complete data in simple steps, you should use OLM to Office 365 Migration Tool. It's easy to use GUI of this tool will help you to complete the migration even without any technical knowledge You can even learn the ways for for exporting calendars from Outlook Mac.
Moreover, the software is verified by Microsoft MVP and IT experts. You can install this migration tool on Windows 10, 8, and 7 and all earlier versions. Likewise, it can migrate all version Mac Outlook OLM files into a cloud-based Office 365 account. Also, it ensures complete data migration without any data modification in your .olm file.
Steps to Migrate OLM Files to Microsoft 365 Account
The tool ensures complete data migration including Emails, Contacts, Calendars, Tasks, Journals, Notes. Along with this, the below-listed steps are verified and trusted, so follow the guidelines –
1: – Download the tool and Install it on your Windows machine to import OLM file to Office 365
2: – After that, launch the program and the home screen will appear
3: – Two options to browse the OLM file, either drag the OLM file and Drop it into the software panel or click on Select Files option.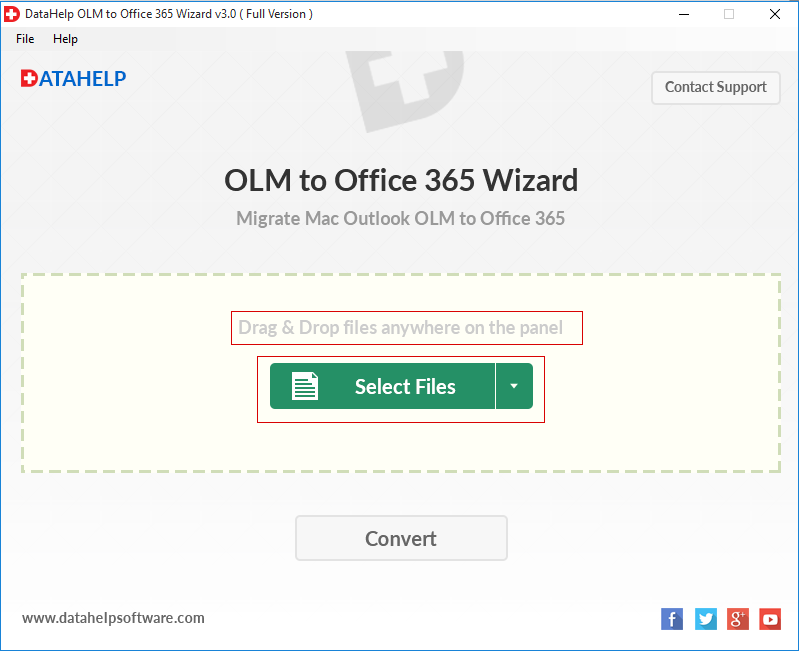 4: – Navigate to the location and select OLM files that you want to import into your Microsoft 365 account.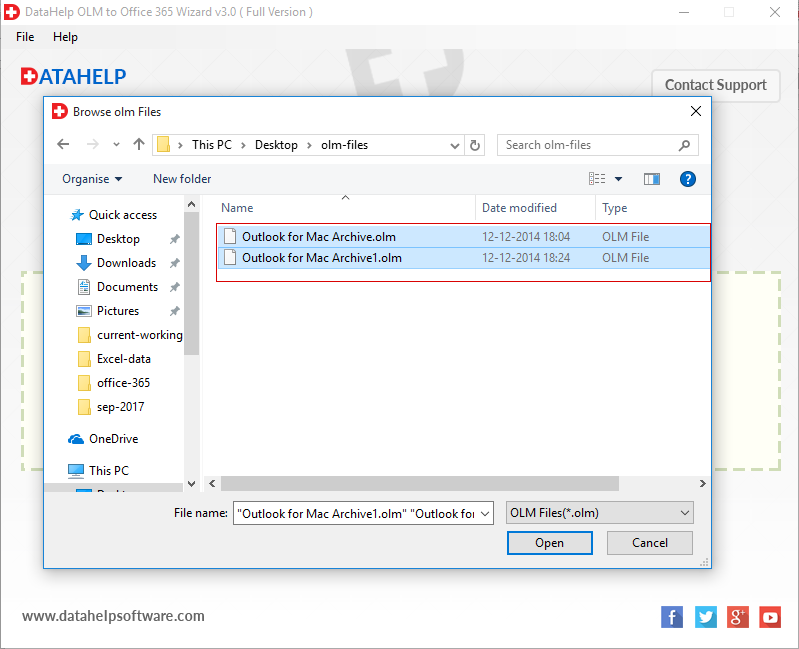 5: – After that, click on the Convert button as highlighted.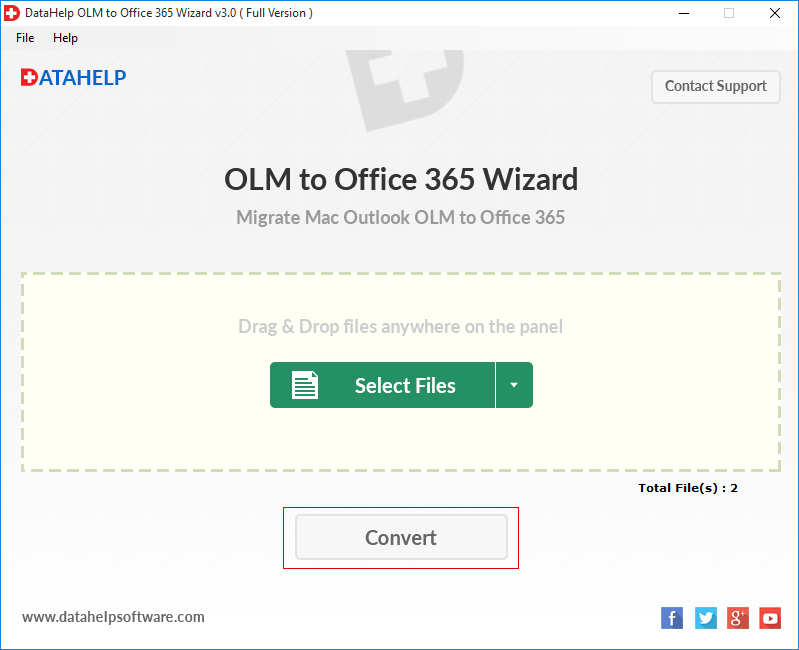 6: – Now provide Office 365 account User Name and Password. Also, you can apply Date Filter to migrate only selected data to O365 account. After that tap on the Login button.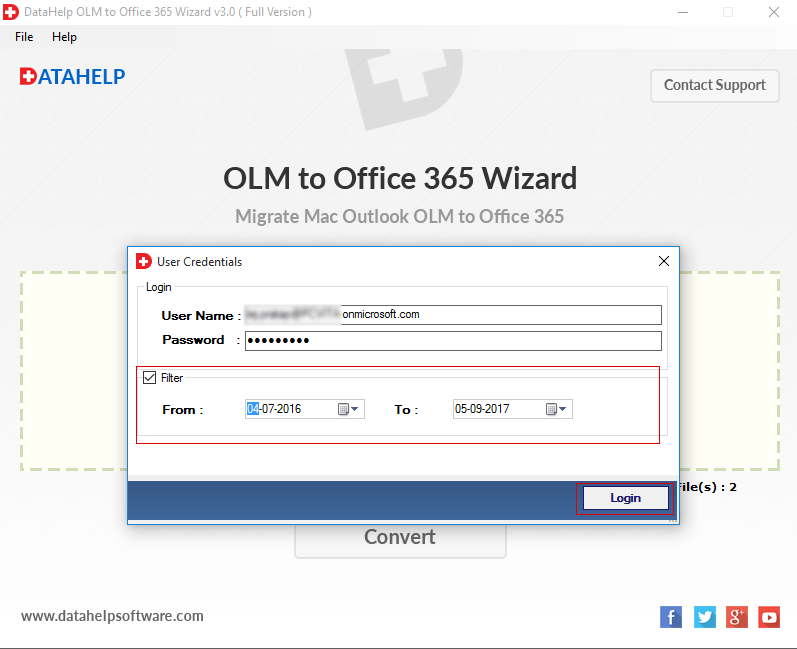 Step 7: – Now, the tool will start the OLM to Office 365 migration process. Wait till the procedure is complete. After completion, it will show you a Successful message.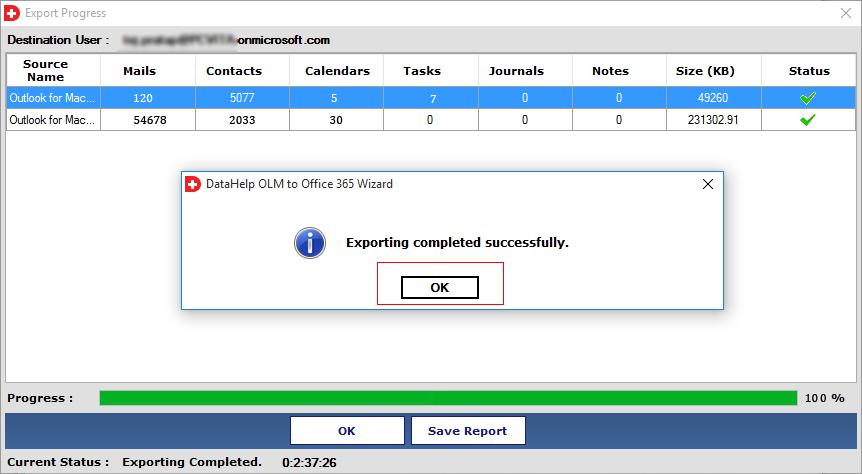 Note: – So, the OLM to Office 365 import process completed. Login to your Microsoft 365 account and view the complete migrated data.
Import OLM to Office 365 – Wrap Up
How to import OLM file into Office 365 is one of the most searched queries on the internet today. In order to resolve this issue quickly, we have come up with this write-up. Here, we have disclosed needs, challenges, and a simple approach to accomplish migrate OLM to Office 365 task. For that, just use OLM to Office 365 migration tool and complete the task in few clicks. In the end, you will get your entire .olm file data into your Microsoft 365 account.