Thunderbird
How to Print Bulk Thunderbird Emails on Mac Desktop?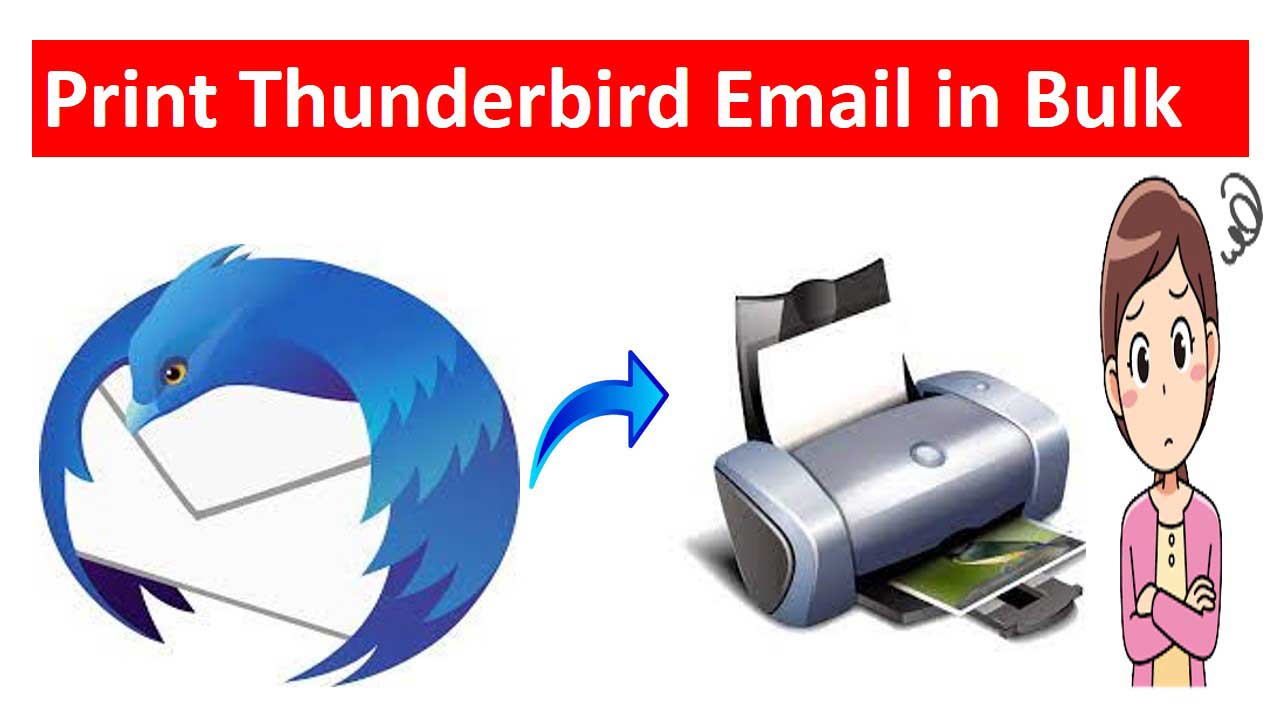 Printing is the best thing you can do for extra protection of your emails. Therefore, this article is all about how to print Thunderbird email on Mac computer. As Mozilla Thunderbird is all-important for its users and most of you may like to save the data. But sometimes printing the required emails become a need that most of the users prefer.
Therefore, we will be discussing the method by which you can proceed with this printing task on your Mac machine. But, before that, let's know what a Mac user has to say.
User Query: I have been working on the Thunderbird account on my Mac system. My manager asked me to give him files, so I need to print Thunderbird email as earliest possible. But I don't have any idea how can I print Thunderbird email on my Mac desktop. Is there any possible way that can print attachments as well of the Thunderbird account? If anyone knows about it then do let me know for the same, as I have urgent work to do.
Top Methods to Print Emails From Thunderbird
In this article, we will be sharing three basic method that you can use for printing emails in different form or needs-
Let's know both of them one by one in the next section.
Manually Print Thunderbird Email on Mac Computer
To execute this printing task, you need to go for the Thunderbird application on your respective Mac computer. Then, follow the steps for executing-
First of all, open the particular email that you need to print from Thunderbird application of your active account
Then, from the More option and choose Print from the drop-down option on your Mac machine
Now, preview the email and tap on the Print option for printing an email from Thunderbird.
Or you can just save it as a PDF format on your Mac computer and perform the same step for each email and print them all.
Want to Print Emails in Bulk Manually? Use ImportExportTools NG for Mac
In the first step, just go to the More option from the right side of the initial screen of Mozilla Thunderbird
Then, from the drop-down menu just select, the Add-ons and Themes option
Now, from the Extension option, you will get to see the ImportExportTools NG for a Mac desktop
Here, tap on the Settings icon to proceed with the task
A new dialog box will pop up on the screen, here select the Export Directories option
Now, Export the required bulk Thunderbird emails in MBOX file on computer
After that, you can simply print the emails from the location in bulk.
Limitations of Manual Method for Completion
With this manual method, you can't get Thunderbird attachments. As it does not allow the extraction of attachments in a PDF format, so you will need to choose another format to print attachments from Thunderbird.
Moreover, it is quite a long procedure to print Thunderbird email on Mac computer, as you will require to repeat the procedure again and again.
While using this method, even the headers are missing too from the Thunderbird email messages sometimes. Eventually, printing the emails along with headers becomes an issue.
Best Professional Solution for Printing Bulk Emails from Thunderbird on Mac
We have an automated solution that helps to print Thunderbird emails in bulk and along with their respective attachments. So, using the Mac MBOX Converter Software you can simply complete the printing process.
With the help of this software, you can get all the emails for printing in the same format as they were earlier. As it will help you to convert MBOX to PDF files on a Mac machine with their attached files.
This software even allows you to take out your required data into multiple formats such as EML, TXT, CSV, PST, HTML, etc.
Features of the Mac-Based Software
You can easily take out all the Thunderbird emails and then just print Thunderbird email as per your choice.
Moreover, you can even get all the email attachments if in case you need them to print.
This software is capable enough to work with all versions of the Mac operating machine, you can just simply print emails from Thunderbird on Mac OS 12.0, 11.0, 10.8, and earlier.
Likewise, this is a reliable solution to complete this process as it will keep original email properties and quality intact.
How to Print Thunderbird Email with Attachments in Bulk?
First of all, download the software on your respective Mac machine, and follow the steps for printing-
Now, add the MBOX file that is containing all the Thunderbird emails
After this, just choose the PDF file option from the all options given in the Select Export Type section
Here, choose any filters as per the requirement for your output file with attachments
At last, hit the Export button to proceed further to print emails from Thunderbird on Mac with attachments
Once, you get the file on your Mac computer with all the attachments then you can simply print bulk Thunderbird emails.
Conclusion
There can be any reason behind printing emails from Thunderbird on Mac machine. But, in this article, we have shared both manual and professional methods for the same printing task. You can use any of them, and print Thunderbird email on a Mac desktop. But if you want attachments as well with the same formatting while printing then choosing professional software is best.