Outlook for MAC
How to Restore Database of Mac Outlook 2019, 2016, 2011?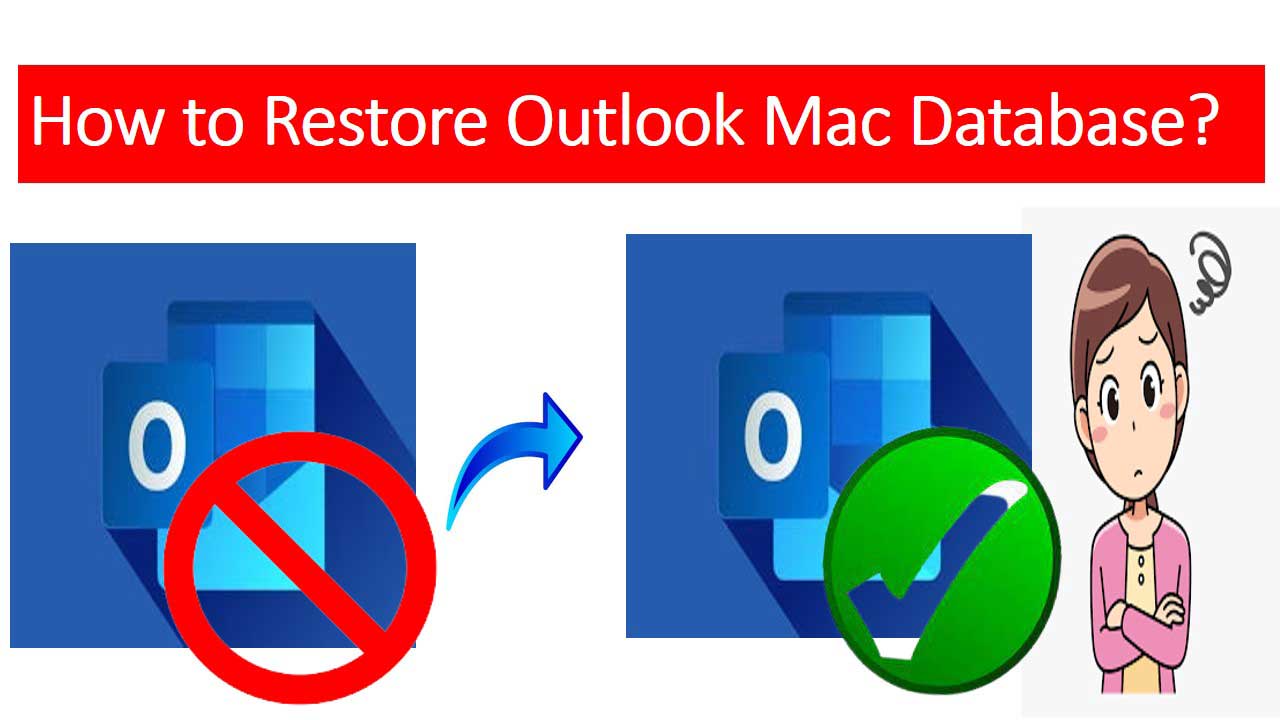 If somehow your Mac Outlook database is got affected, and you want to restore it. Then, this article would be the right option for you to read. Here, we will discuss how to restore Outlook Mac database without affecting data. In this article, you will get to know about the best solution for the same. Which will eventually be going to help you in multiple manners in the case of Mac Outlook.
Though when it comes to the best email client to manage the database. Then, the Mac outlook comes first in the mind of many Mac users. As it is quite efficient to use for managing emails, contacts, calendars, and more on both Mac and Windows operating systems. However, earlier Mac Outlook versions were not built with multiple features, but the Outlook 2019 has more features as compared to them.
But even sometimes, Mac Outlook 2019 starts throwing errors, after all it is just an application. So there are multiple reasons that can affect its database. But restoring the database of Mac Outlook 2019, 2016, and 2011 on time would be a wise decision. Therefore, we will be discussing the best solution for the same.
First, let's know what some Mac users have to say about such issue.
User Query: Hi, I am using Mac Outlook 2019, I don't know how but its database may be corrupted. As I'm trying to work on it, but it keeps showing errors. Is there any way to resolve it on Mac based computer? I need to restore the database of Mac Outlook as soon as possible. So, if anyone knows about it, then do suggest me some trustworthy solution.
Best Professional Approach to Restore Outlook Mac Database
When it comes to get back the database of Mac Outlook then no manual method can come out as a savior. Therefore, for resolving such queries we have come up with a great and trustworthy professional solution for all Mac users. So, the Outlook Mac Database Recovery Tool will be the best one to choose.
This is such a great application to recover corrupted OLM files. Moreover, it will keep all the data intact when you recover the file on your Mac machine. Sometimes, Mac Outlook cannot be opened because of some problem, then this tool will help you out.
Not just this, but it will recover deleted calendar items in Outlook Mac, along with emails, contacts, tasks, and more. Using this application all Mac users can simply fix the issue when their identity cannot be opened with 2011 version of Outlook Mac.
In short, going further with this utility would be a smart solution without affecting the existing data of Mac Outlook. Along with all the folder hierarchy and other features for the recovered file.
Key Features of this Automated Mac Program
When you come around this software to operate, it provides you plenty of features, such as-
Using this tool you will be able to locate all Mac Outlook profiles and identities without affecting any data.
Moreover, it even provides you the option to browse the Mac Outlook OLK14, OLK15, and OLM files manually.
Along with this, you can apply advanced filters to the exported file on a Mac machine.
This utility is compatible with all versions of the Mac operating system, so that, you can easily restore Outlook Mac database.
Furthermore, when it comes to exporting the recovered file in a healthy one. Then, it provides multiple file options to store them on Mac with all data intact.
The most important thing for any file is its folder hierarchy. Therefore, keeping this thing in mind, it is designed in a way that will maintain the folder hierarchy.
Guide to Restore Outlook for Mac Database Quickly
Download this software on your Mac machine to operate it. After that, follow the step-by-step guide as mentioned below –
First of all, either go for the Auto Locate or Browse options as per the Outlook 2019, 2016, 2011 Profile or Identity
Just after that, it will start locating the file and scanning will be start, tap Next icon
Now, out of the given options, choose PST format from the Export Type and hit the Advance Settings option
In General Settings, check the Categories, Split option and other settings accordingly, tap Save button
Finally, decide the destination path where you want to store the recovered file by clicking Change button and click on Export.
Conclusion
When we talk about Mac Outlook then the first thing that comes to our mind is a great application to communicate. But, somehow even it starts having errors or issues while operating. Restore Outlook Mac database is one of them, therefore we have shared the best method here. Using the mentioned method you can simply get rid of this Outlook for Mac issue. Moreover, even top technical experts recommend this software even as it can work on all Mac systems.