Archive
How to Organized AOL Mailbox by Archive AOL Emails on Mac OS?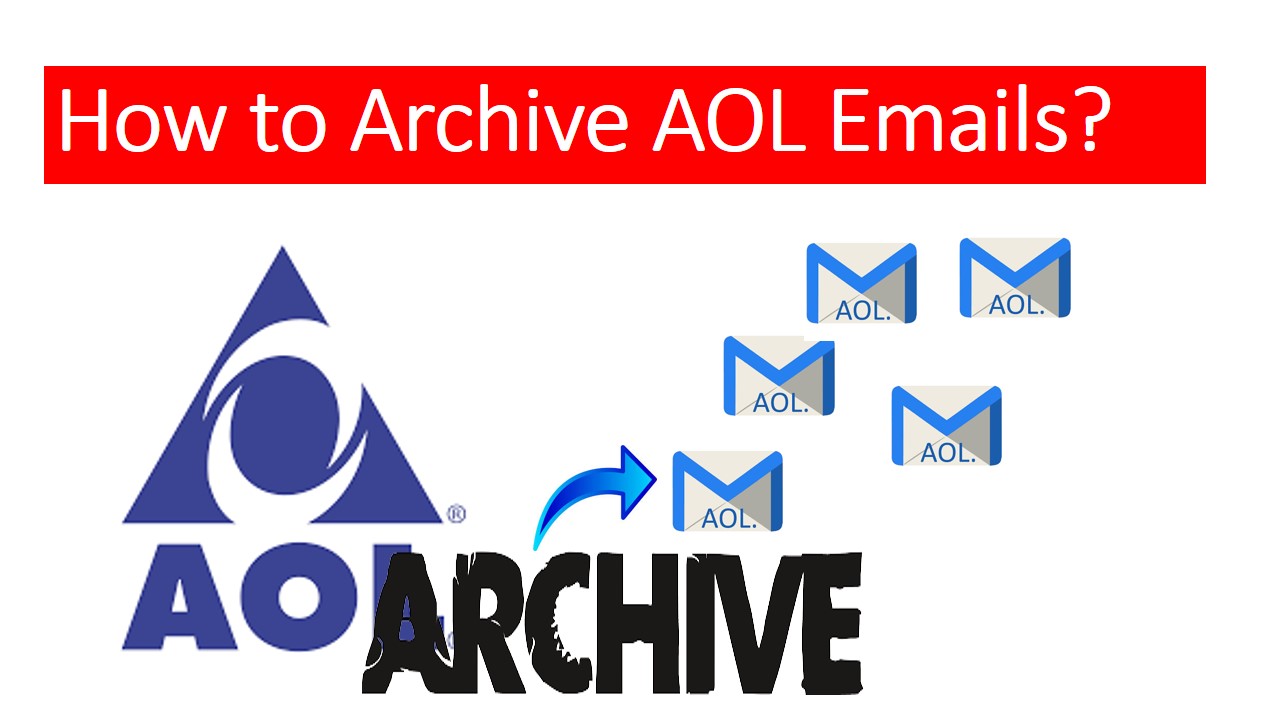 Archiving emails from the mailbox can instantly free up storage space. Therefore, most of you prefer to archive either important or unnecessary emails from the mailbox. So, today, we will be discussing how to archive AOL emails in a folder. So, stay connected with this article to understand the way to archive them.
When we talk about AOL mail, is a popularly known cloud-based email service. Moreover, it offers various facilities to its users in which data storage is one of them. But, even after having large mailbox storage, it can lead to issues. Also, you may be receiving data that also contains attachments which could be of large sizes. Hence, with time, the mailbox space gets filled up and it even impacts receiving new emails.
Therefore, in such cases, it is better to archive emails in AOL mail as soon as possible.
For the same issue, we have got user queries, such as-
User Query: Being an AOL mail user, I get almost hundreds of emails on daily basis. From which some of them are important but others are just useless. Therefore, I have decided to archive emails in AOL mail. However, I want to keep them in my same mailbox so that I can access them whenever I need them.
As per this user, keeping the mailbox organized and clean is a better solution to prevent confusion. Because a cluttered mailbox can lead to time loss when you will require an email to access it.
So, let's focus on how you can proceed with the archiving task with some basic steps.
How to Archive Emails in AOL Mail Manually on Mac OS?
When your AOL mail storage space is full it is better to archive them. Thus, follow the steps to archive AOL emails in the same mailbox-
First and foremost, login with your AOL mail by providing active account credentials on a Mac desktop
Now, from the mail section, you can preview all emails on the screen, just select any email and open it
Go to the More option with the drop-down options,
Here, choose the Archive option to archive that email in a folder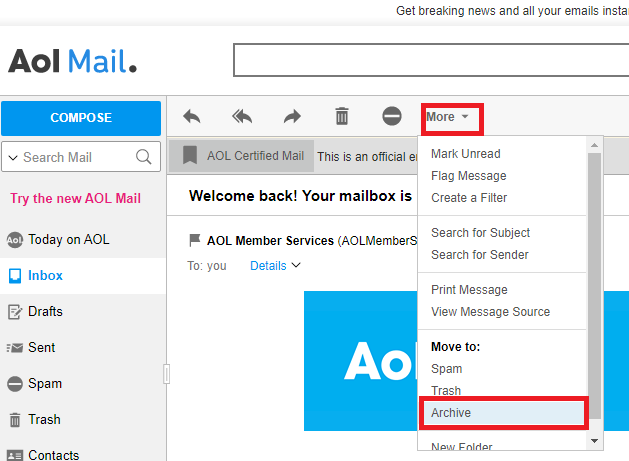 That's it, you are done with the archiving process, just follow the same process for each AOL email.
Limitations of Manually Archiving Emails
However, when you archive AOL emails you get free storage space or a clean mailbox. But even, though there are other limitations than freeing up the storage space-
Your AOL mail data can be hacked because of today's high technologies.
Moreover, if you are unable to sign in to AOL mail then you cannot even access the inbox folder or other archived folders.
There can be chances of mail outage issues.
Internet connectivity can impact the situation when you want to access your emails in your AOL mail.
Also, you can only archive email in AOL mail at a time from the mailbox. As it does not support a bulk email archiving process.
Keep Your AOL Mailbox Clean By Exporting Emails on Mac PC
However, you can archive AOL emails in your same mailbox to free up storage space. But, what if you are still not able to organize them in a better way? Or if you want to access those emails in other applications somehow? What if something happens that impacts your AOL mail service?
In this case, we only suggest you keep a copy of all your AOL emails to access them later. Therefore, for this task, we have come up with the MacWareTools AOL Mail Backup Software for Mac OS. Also, this application is capable enough to save AOL emails to computer either specifically or all emails.
Hence, using this tool you can easily extract emails in any file format as it offers multiple file formats. Moreover, it will keep your email properties and all attached files safe. So that you can backup emails along with their attachments on a Mac computer.
Why Choose This Automated Application Over Others?
There are technically multiple advantages that you get with this automated and professional Mac software, such as-
If you are planning to archive AOL emails then you can only archive them in the same format, but this tool offers various file formats to export emails with attachments.
When it comes to the integrity of all emails, their attached files, and the email properties. This smart tool keeps all the data intact throughout the process.
Moreover, it is best suited to help you to add AOL account to Thunderbird or Apple Mail without any email loss.
Apart from these, it has the simplest graphical user interface and provides complete security during the process.
Likewise, you can even work with this tool on any Mac operating system as it supports all the latest and earlier versions of Mac OS.
Hence, choosing this software over others would be nice if you don't want to take any chances with future uncertainties.
Now let's know how this automated software works in the next section.
How to Archive AOL Emails Safely on Mac PC?
For executing the task, download the software on your Mac computer first. Then, follow the step-by-step guide to keep your AOL emails safe-
Launch the utility and enter the AOL mail credentials including email address and password, and hit Login to continue with your AOL account.
After that, there will be a preview of all AOL mail folders on the left pane of the software, select any required file format for the end result
Just after this, hit the Advance Settings to set the Date-filter and set dates to backup the selective AOL mail emails
Here, you can even select the location for your end result file by clicking the Change button
At last, hit the Start Backup button to begin the process of exporting emails.
Conclusion
In this article, we have shared the solutions on how to archive AOL emails. For the same, we have explained a manual way to archive emails in AOL account. But, archiving them only is not the best solution. Hence, we have later shared the best-automated method that helps to secure your entire AOL mail emails. So, we would suggest you to go with the suggested software to prevent any future uncertainties.