MAC OS
,
Outlook for MAC
How to Export Entourage to Outlook 2019, 2016, 2013 on Mac OS?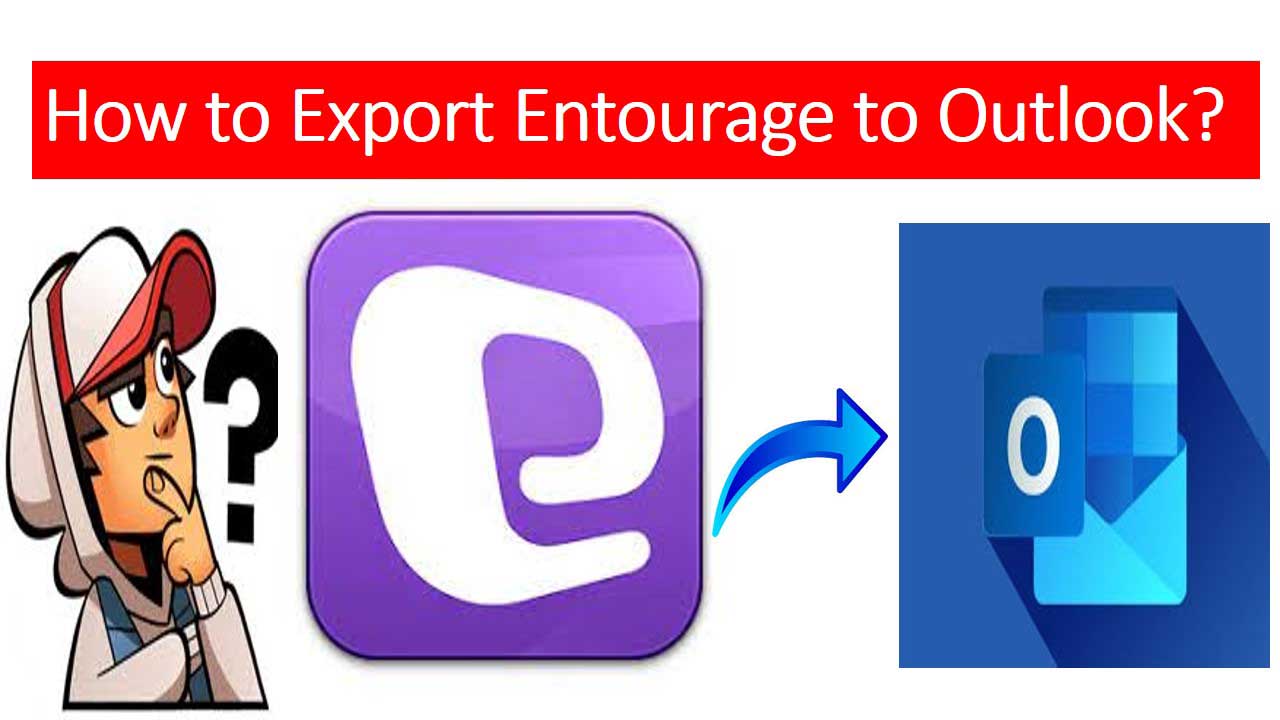 If you are planning to switch from Entourage to Outlook for Mac then, you are on the right page. Here in this article, we will provide you the best solution to import Entourage database in Outlook without any extra efforts. So, stay with us and learn how can you directly export Entourage to Outlook Mac 2019, 2016, 2013. You can even use the method to access your emails in Windows Outlook versions.
"I am using Mac OS from the last 5 years. But recently I switched to MS Outlook 2016 from my old Entourage email client. The problem is that I am not that much strong in technical aspect. Hence, am not able to migrate my Entourage emails to Outlook for Mac. Now, I want an easy way to export Entourage to Outlook for Mac."
Entourage is a discontinued email that was developed by Microsoft in 2000 for Mac OS 8.5 and later. It was part of the Microsoft Office suite. Entourage is a personal information manager that provides emails, contacts, calendars, tasks, notes, and project management functionality.
On the other hand, Outlook is also developed by Microsoft and it is a part of Microsoft Office. It is also used as a personal information manager. This email client provides several features to manage mailbox items such as emails, contacts, tasks, calendars, journals, notes, etc. Outlook stores its entire mailbox data in OLM and PST file format. The Outlook is the reason why the Entourage email client was discontinued by Microsoft.
Reasons Behind Preference of Outlook over Entourage
The most important reason behind migration is that Microsoft discontinued Entourage email service.
Entourage is a Mac-based email client. So, if a user decides to switch from Mac OS X to Windows, most cases lead to Entourage to PST conversion (due to the massive adoption of Outlook on Windows).
Outlook 2019, 2016, 2013 offers user offline mode to access their emails, contacts, calendars, etc.
Outlook provides features like Faster Email Processing, Social Connectivity, Manage Rules and Alerts and so on.
Microsoft Outlook supports Exchange Server to keep secure email communication and Exchange Server also helps in data centralization.
2 Simple Steps to Export Entourage to Outlook for Mac
For any migration process first, you need mailbox data. Without data, you can not able to perform the conversion process. Hence, first, you need to export Entourage mailboxes. Afterward, you can convert the mailboxes into PST format supported by Outlook 2019, 2016, 2013. The reason for choosing PST format is that PST is supported by both the Mac and Windows Outlook versions while OLM is restricted to Mac only. After the completion of the process, you can import the PST file in the preferred Outlook version.
Step 1: Extract Mailbox Files from Entourage
For extraction of the Entourage mailbox data, follow the steps listed below:
First, open Entourage application, then click the File menu and click on the Export button.
Now, go for Item to an Entourage archive and select All items.
After that, choose the destination location to save and click on the Save button.
Now, click on the saved Entourage file and then click on Show Package Contents to copy all the MBOX files stored within it.
Note:- Another way to get MBOX files by directly dragging and dropping the Entourage mailbox data to Desktop.
Step 2: Export Emails from Entourage To Outlook for Mac
Choosing the best and reliable tool for the migration process is always a tough task. One has to consider the accuracy, performance and other factors when choosing software. But, we made that task easy for you with the Mac MBOX to PST Converter. It is one of the most suggested tools by professional for Entourage to Outlook for Mac conversion to view .mbox file in MS Outlook 2019, 2016, 2013.
The best thing about this tool is that it provides different options to convert your MBOX file into PDF, CSV, EML or EMLX, TXT and other formats. After successfully conversion, just use it into their supported email client, like you can import Apple Mail to Outlook on Mac.
This smart tool provides a feature-rich environment for the exporting process. It is capable to convert multiple Entourage emails to Outlook for Mac without any data loss. Moreover, this tool is compatible with all the latest Mac versions including Mac 10.10 & above versions.
Instant Guide to Convert Entourage to Outlook on Mac
Download the software on your Mac machine and follow the steps to access emails in Outlook 2019, 2016, 2013-
Launch the software and click on Add File(s)/Folder to add Entourage files.
The selected files will be visible in the interface, then click Next.
Now, select the PST option and set the location to save the PST file.
Apply the Advanced Setting and filters as per your requirement.
Save the settings, and click on the Export button to start the Entourage to Outlook for Mac conversion.
Lastly, after the completion of the process just go to the set location to access the resultant PST file.
Access Entourage Mailbox Data in Windows Outlook 2019, 2016, 2013
The provided solution converts the Entourage mailboxes into PST format. These PST files are of Unicode type, which makes them compatible with both Mac and Windows versions of Outlook application. Users can do the following to access the required data in Windows Outlook 2019, 2016, 2013:
Export Entourage to Outlook on Mac,
Transfer the PST file(s) to Windows system,
Import the PST File in Outlook.
You are done!!
Final Thoughts
Microsoft is one of the most preferred email clients by the users. And after discontinuation of the Entourage email client, users switched from Entourage to Outlook for Mac via official means. Those who didn't earlier, are now looking for solutions to do so since the official method involving Outlook 2011 is no longer in play. Therefore, through this post, we have explained a trustworthy and quick solution to export emails from Entourage to Outlook 2019, 2016, 2013 for Mac.