MAC OS
,
Outlook for MAC
How to Import Eudora to Outlook on Mac | Solved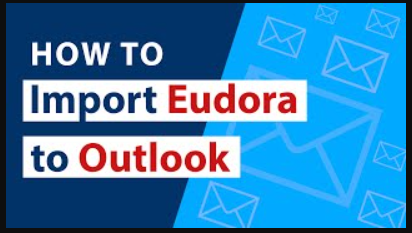 Eudora was an email client for desktop computers running on Windows, Mac, Classic Mac, and Linux operating systems. Nowadays, Eudora OSE, the light mode version of Eudora, is available since July 2010. Eudora OSE supports POP3, IMAP, and SMTP protocols. It stores emails in an MBOX file which is a plain text file that stores email messages below one another.
Location of Eudora MBOX files:
'C:\Documents and Settings\Administrator\Application Data\Qualcomm\Eudora'
Since Microsoft Outlook is widely used for managing business emails as email client it allows the user to send and receive emails, calendar entries, share contacts, tasks, schedule meetings, notes, and much more. Users are looking for methods to import Eudora to Outlook on Mac. You can also use MBOX converter to migrate your Eudora data to Outlook Mac with ease.
3 Solutions to Import Eudora to Outlook Mac OS
You can convert Eudora to Outlook on Mac by using manual methods (convert using Outlook and Thunderbird) or by using the converter tool. The steps of both the methods are going to be mentioned below in the blog.
Solution 1. Importing Eudora to Outlook on Mac Manually by Outlook
Follow the steps given below to convert Eudora emails to Outlook PST manually.
Run your Microsoft Outlook.
Go to File and you'll find an option "Open and Export", click on it.
After that, click on the Import/Export option from it.
Next, when the Import and Export window opens, choose the "Import Internet Mail and Addresses" option.
Select Eudora (Pro & Light) 2.x, 3.x, 4.x from there.
There you will find two options, "Import Mails" and "Import Address Book", enable these options. Press "Next" button.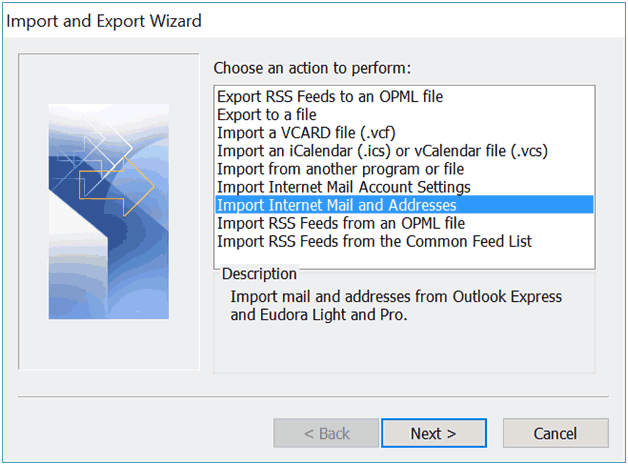 You can choose how to handle duplicates. Click on "Finish".
Note: This procedure is applicable for the light versions only.
Now, that you know the steps to migrating Eudora to Outlook Mac manually, you might find these two issues after the conversion:
The date of import is showed in the Send and Receive dates, and not the actual date the message was sent.
There may be odd HTML tags in the email messages. It is ugly but readable.
Solution 2. Migrating Eudora to Outlook using Thunderbird
Follow these steps to convert emails from Eudora to Outlook on Mac:
Download and Launch Thunderbird from Mozilla.
Run the imported mails from the tools menu.
Note: You can use only mails not settings or address book.
After the import is completed, quit Thunderbird. Now, if you're using Windows XP, the mail files should be in: "C:\Documents and Settings\youraccount\Application Data\Thunderbird\Profiles\something.default\Mail\Local Folders\"
Your files will be without extension so ignore the .msf files.
You can also use Thunderbird to convert Eudora emails to Outlook Mac. It is a very lengthy and time consuming procedure as Outlook can't import from Thunderbird so you will have to rename the Thunderbird files and put the mail files in Eudora's mail folder. Next, you have to open Eudora and follow the steps given below:
Navigate the Eudora data folder.
Sort the files by clicking on the "Sort by type" option and move all .mbx and.toc files.
Add .mbx to mail file names in the Thunderbird folder.
After that, move these files to the Eudora data folder.
Launch Eudora and without checking for new mail or doing anything else, just open it and then quit.
Open Outlook and import Eudora including the address book.
Now, if you want to convert Eudora emails to Outlook mac quickly and conveniently, you can use the converter tool. Let's learn about this tool and how it converts Eudora to Outlook.
Solution 3. Converting Eudora to Outlook on Mac using MBOX Converter
The Mac MBOX to PST Converter tool can convert Eudora emails to multiple formats such as Outlook PST, MSG, EML, PDF, EMLX, and HTML. It allows users to convert multiple MBOX files in bulk. It is also capable of converting not only MBOX but MBX and MBS files as well. This tool allows the conversion of SBD subdirectories that contain MBOX files.

Let's take a look at the steps of the procedure of migration.
Launch the software and click on "Add File" option to browse for and choose single or multiple files.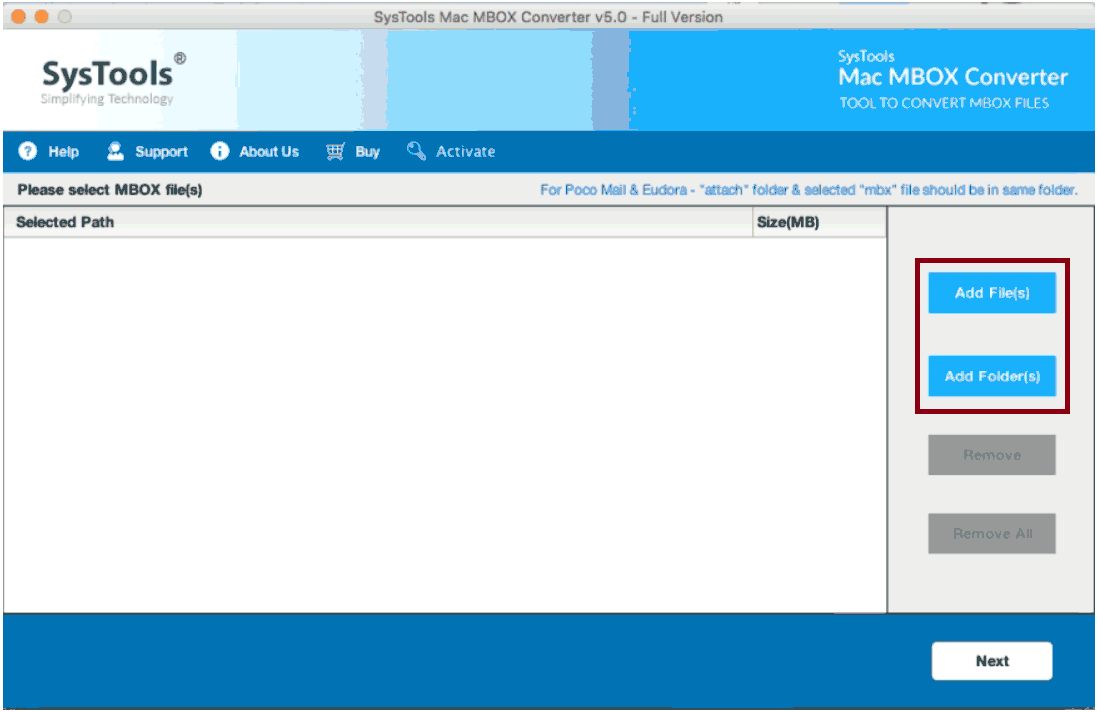 After selecting the Eudora MBX file, click the Next button.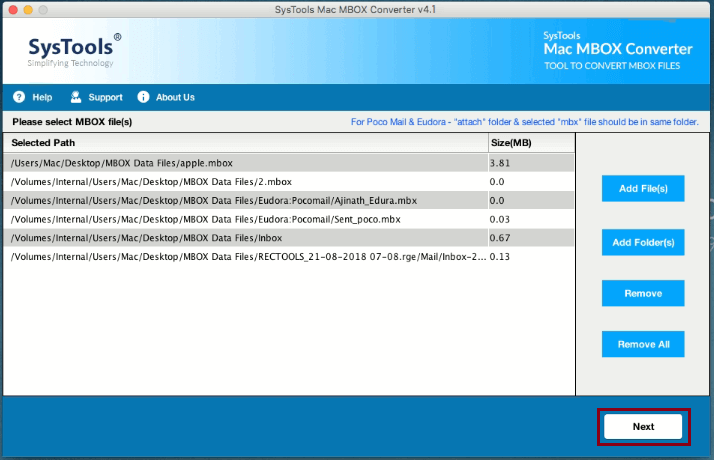 Select PST format and click on Advance Settings to apply filters.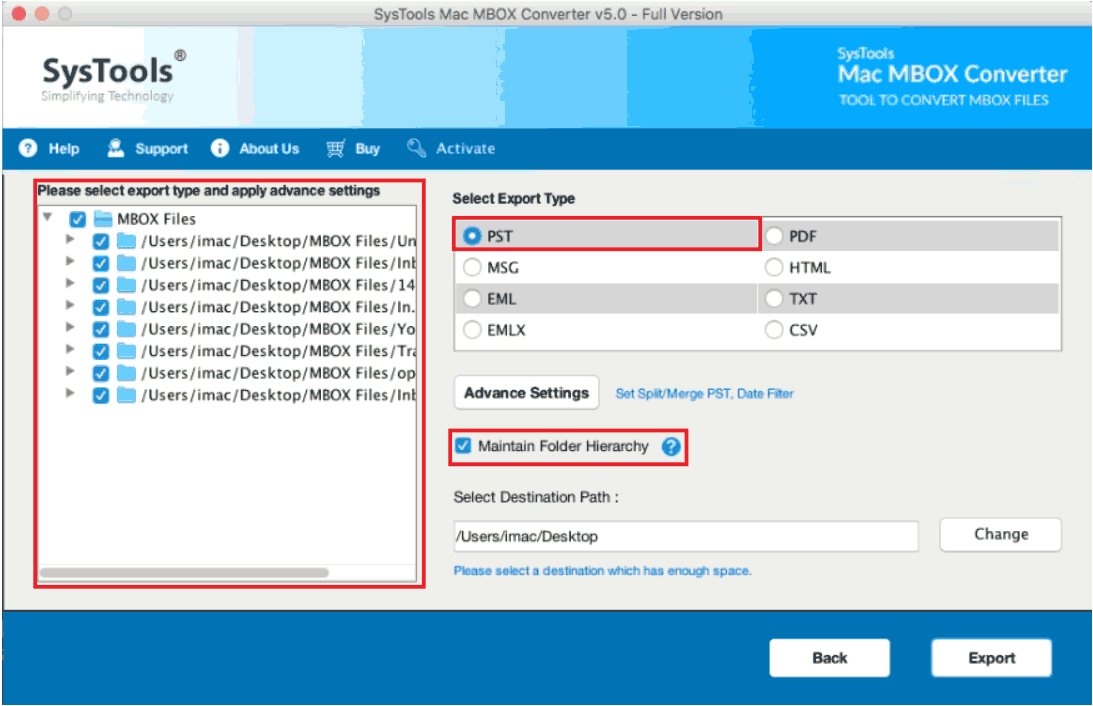 Apply preferred settings and click Save button.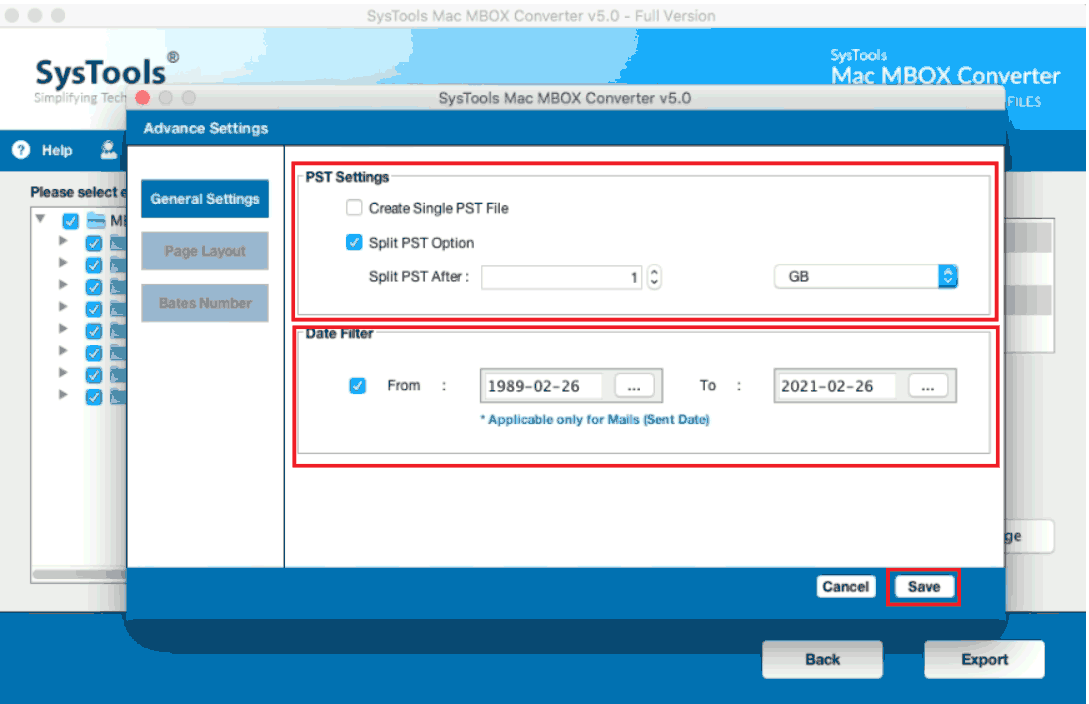 Click on Change to designate the location to save files after conversion.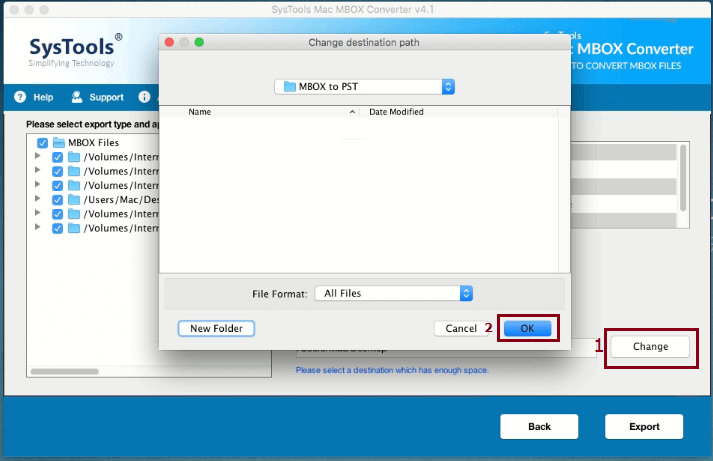 Click Export button to start converting Eudora files to PST on mac.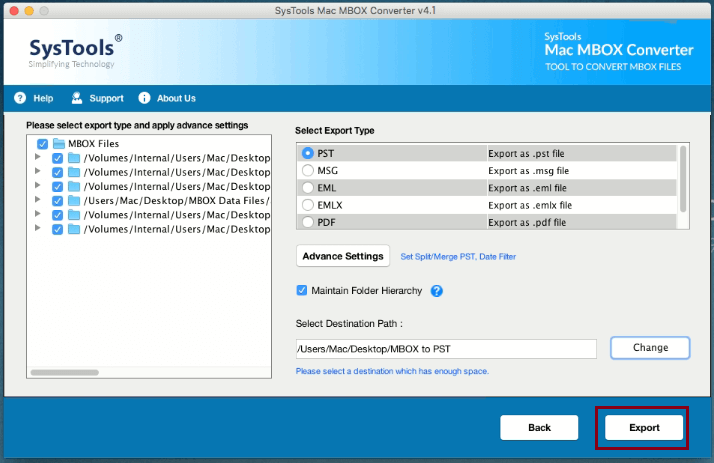 Once you have the PST files after conversion, you can easily access them in any Outlook client irrespective of the platform being Mac or Windows.
The files can be converted to various other formats than PST like MSG, EML, HTML, PDF, and NSF. The exported PST files can be divided into smaller PSTs as per the required size by clicking on the "Split PST" radio button. The tool allows converting  MBOX files to PDF.
Last Line
Conversion of Eudora to Outlook on Mac manually has issues with it. Using Outlook for conversion makes the files ugly and adds odd HTML tags and using Thunderbird makes the process lengthy and time-consuming. Whereas, using software application makes the import easy and convenient. Users can move MBOX files in bulk without any hassles. And it supports all the latest versions of Mac OS.