Yahoo mail
How to Add Yahoo Business Email to Mac Mail Efficiently?
Is it easy to add Yahoo business email to mac mail? Many users don't feel it easy and fail in accomplishing the task. Taking all their efforts into consideration, we have set up this article to help all among you to easily fix this problem. This article is an illustration giving different methods to move the emails from the Yahoo Small Business account to the Mac Mail (also known as Apple Mail).
 So let us begin with the traditional method to add the Yahoo account in Mac. Here you can find the step that you might be missing or fail to process it right. As a result to it, the setup configuration fails and you don't get the Yahoo Business email on the Mac mail account.
How to Add Yahoo Business Email to Mac Mail Manually?
In Mac system, open Mac Mail and perform the steps exactly the same as shown here
Go to the Mail menu and select Preferences option.
Select Account and click the + sign at the lower corner.
Choose Yahoo option and click Next.
Enter Yahoo business mail address and click Next.
Then, enter the password for Yahoo account and click Next.
Choose the mailbox items to be added to the Mac account.
This will add the Yahoo business email to Mac mail. This is very simple to perform and no technicalities are held in performing this task. Please refer to the below query to know a persons' issue regarding this setup procedure.
"I had setup my Yahoo mail account on the Mac mail, but none of the emails are showing up in the Inbox folder. I retried the process again and again and still the problem exists. Can anyone help me with the correct process to add Yahoo business email to Mac mail?"
You can see that even after the above process, some may not see all your emails in the Mac Inbox. It is because that the server configuration taken by-default is not correct. If you go to the server settings of the Yahoo mail account and enter the correct server configurations, the emails will show up in the Inbox and other successive email folders.
Effective Server Configuration of Yahoo Business Mail
You must be very careful while entering these server settings for account setup in mail clients. The Yahoo mail has two different server settings one for a free account and the other for business account. So, applying them you will be able to add Yahoo Business email to Mac Mail.
Here, as we have taken the business account, you need to enter the following server settings
Setup Yahoo Business Mail Manually
You need to follow the below commands in order to add Yahoo Business email to Mac Mail –
IMAP: imap.bizmail.yahoo.com

POP: pop.bizmail.yahoo.com

SMTP: smtp.bizmail.yahoo.com
Manual Approach to Add Yahoo Personal Email Account
IMAP: imap.mail.yahoo.com

POP: pop.mail.yahoo.com

SMTP: smtp.mail.yahoo.com
Check the query below: A Yahoo user even couldn't add Yahoo email to Mac mail having the correct server settings entered.
"I can't set up my Yahoo account in the Mac. All the server settings and port numbers are rechecked and found to be correct. I don't know what the issue is. Please help some so that I can add the Yahoo business email to Mac Mail."
In such a case, you need to check for the two-step verification of the Yahoo mail account. If the two-step verification is enabled, then, you need to generate an app password to access Yahoo mail on any other mail client. Thus, using that app password here for setup will add Yahoo email to Mac Mail.
What if the account addition is still causing trouble? After doing all these steps, if still it is not adding all the Yahoo email into Mac, then it is better you go try the alternate solution. You can find more about it in the upcoming segments.
Add Yahoo Business Email to Mac Mail Automatically
In the efficient process, you need to install and run the Yahoo Backup Tool for Mac. Moreover, it securely saves the emails of Yahoo mail account (personal or business) to the local Mac system. In fact, this application offers multiple format backup options. Plus, there are multiple functions to perform an efficient email backup to mac.
The Mac mail supports to import emails from MBOX, EML, and EMLX formats. So, use this utility to download emails from Yahoo Mail on Mac Computer mail easily. The main advantage of the process is that there are no configuration steps and the process is easy to execute. After the execution of the entire process, you can simply clean up Yahoo Mail. 
The best thing about this self-oriented tool is it is fully compatible with all Mac versions. So, you can operate it on any of the Mac version if you're facing Yahoo Mail not working on Apple Mail.
Steps to Setup Yahoo Account to Apple Mail Instantly
1: Initially, run the tool on Mac and Login with Yahoo Business mail account.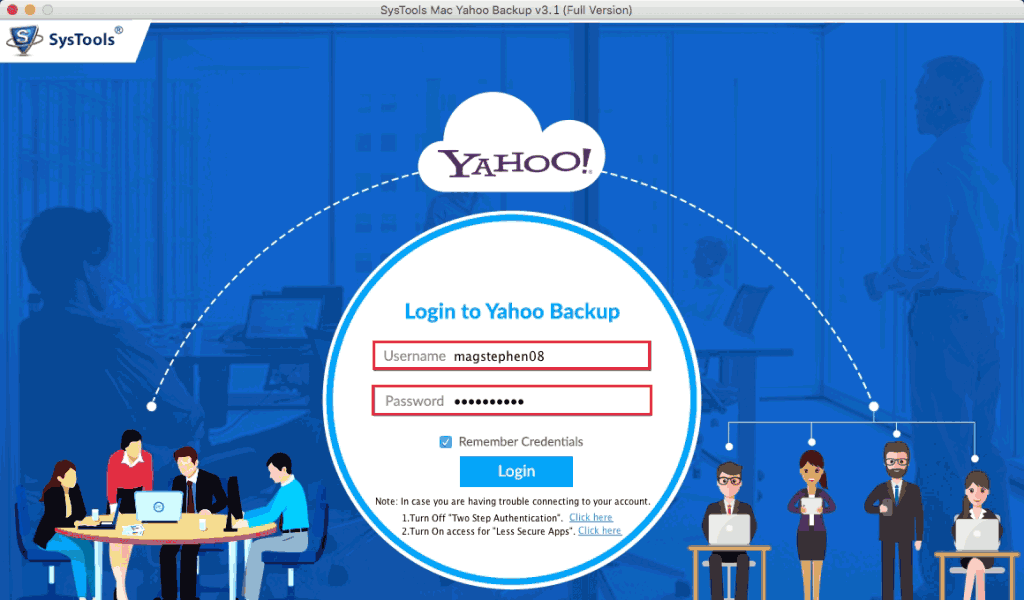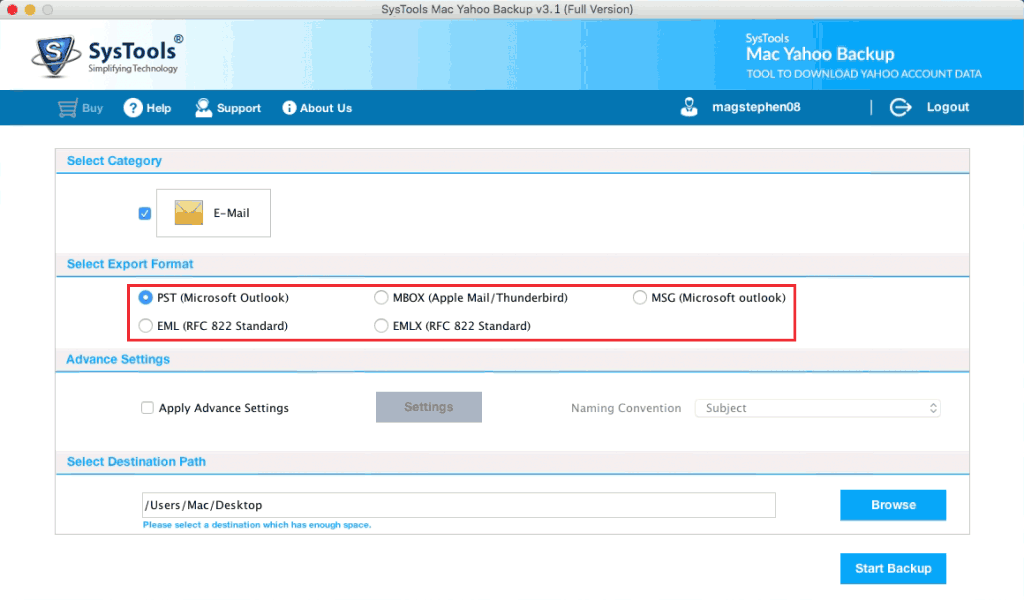 3: After this, browse a location to setup Yahoo email on Mac.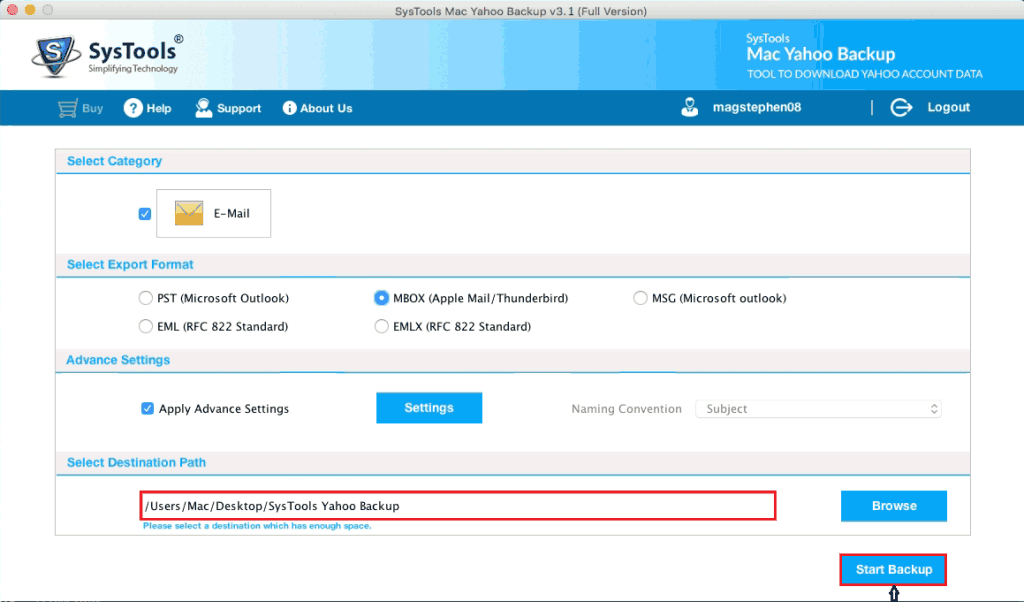 4: At last, just mouse-click on Start Backup button.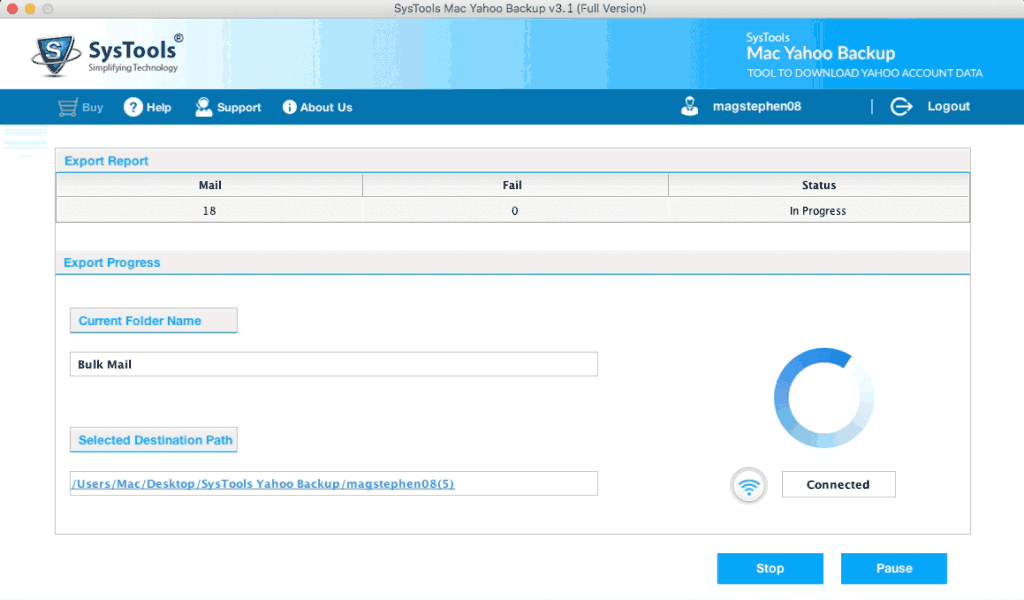 This will download all the Yahoo emails to Mac and then you can easily import the emails to the Mac mail.
Conclusion
In the current scenario, many Yahoo users are facing issue on setting up their Yahoo account on the Mac Mail. So this article is a follow up to guide all the users with some efficient techniques to add Yahoo business email to Mac mail without any data loss.