MAC Email
,
MAC OS
,
Yahoo mail
Yahoo Mail Not Working on Apple Mail | Crack the Fix Here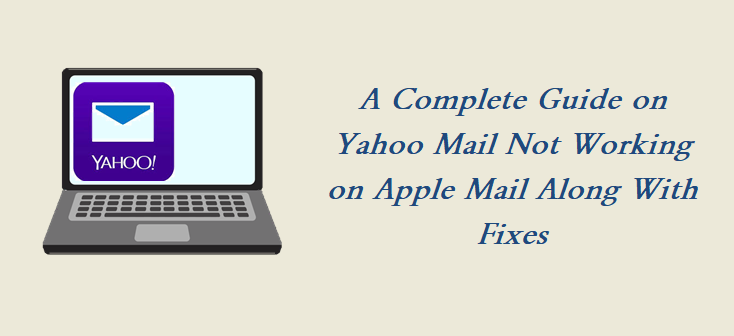 Summary- It might be possible that you are facing Yahoo Mail not working on Apple Mail issue and due to that you are here. So, let me tell you that you are landed on the right page here in this blog, we are going to discuss some best techniques to fix this issue.
Basically, many users want to add their Yahoo account to Apple Mail for their convenience so that they can easily manage their email accounts in one place. But sometimes while adding their account they are not able to do that, hence, many users facing this issue. The fundamental reason behind this issue is that you are entering the wrong credentials.
But along with the wrong credentials, this issue also occurs due to technical failures or invalid settings. So, by fixing these wrong settings or configurations, one can easily resolve this problem. Now let's get deeper into the blog and try to resolve the solutions.
Quick Tip – If you don't have that much time to try all the manual procedure to fix this error, then you can try an automated solution discussed in the following section.
Manual Techniques to Fix Yahoo Mail Not working on Apple Mail Problem
As we said above, this issue happens because of invalid configuration settings with the Yahoo Mail account. So here in this section, we are going to discuss some manual methods to fix it.
#Method 1: Separately Login into Yahoo Account
Check your Yahoo account is working properly and do that login to your Yahoo account separately. To do this follow the below steps:
First, on your machine, open any web-browser and go to the Yahoo login page
Now, sign in to your Yahoo Mail account
After that compose an email message and your own email address in the To field
Now, click on the Send button to send the email and check if it is received or not
#Method 2: Look for System Update
Every company releases its OS update at a regular time interval and Apple also does this. So check for the update. Because sometimes if you are using outdated OS then you may face this type of issue. So ensure that you are updated and if you are not then go and update your OS first.
#Method 3: Remove and Add Yahoo Account
Sometimes due to an unexpected shutdown, email data gets corrupt and it restricts users from using their emails. So in that situation, you can re-configure your Yahoo account in your Mac Mail. And to this check out the steps that help in resolving Yahoo Mail not working on Apple Mail.
First, open your Mac Mail on your machine
Now, click on Menu and select the Mail option
After that, select Preferences as the option
Select the Yahoo Mail Account which you want to remove
Click on the OK button to remove your account.
Once the account is removed from Mac Mail, add the same account again
#Method 4: Disable Antivirus Applications
Sometimes the Security applications like the antivirus program contradict the features of Yahoo Mail. And due to that Yahoo Mail not working on Apple Mail So, to fix this you can simply disable all the security applications from your Mac machine system and then try to open Yahoo mail on Mac.
#Method 5: Check For Auto-Forwarding Feature
There is a feature called Auto Forwarding in Yahoo mail if you have enabled this auto-forwarding feature in the Yahoo Mail account, then you may stop downloading messages on Mac Mail. Follow the below steps to check the settings.
First, click on the Settings tab
After that, Click on Auto Forward
Now, you can see all the rules you have set for Auto-Forwarding
#Method 6: Server Address Error
If you are facing Yahoo Mail not working on Apple Mail, then this issue can be caused by the email server. So, look at the server address settings and ensure that you have entered the right server addresses.
#Method 7: Restart Apple Mail App
To fix this issue you can try the restart option in the Apple Mail application so stop the background processes. And to do this press Command+Q from the Mail application and start the application once more.
#Method 8: Check Account Login Info
As we said above that the main reason for Yahoo Mail is Not Working on Apple Mail is wrong login information. Now, for this, you need to verify your email address, password, and also the demand for authentication as well.
Best Alternative Way to Fix This Issue
If you have tried all the above methods and still not able to fix this issue, then you can try the Mac Yahoo Backup tool. This tool gives you an option to save Yahoo Mail data into MBOX and once the file is converted to the MBOX you can easily import this file to Apple Mail.
The tool not only gives you the MBOX option it also gives you the option to create a backup of Yahoo Mail into PST, EML, MSG, and EMLX. This software is completely a safe utility that is supported with Mac OS 10.8 and all above versions.
Also Read: How to Save Emails from Yahoo to Computer
Conclusion
As we see that there are numerous reasons for this error "Yahoo Mail not working on Apple Mail". So, after considering the reasons here in this blog, we have discussed all the possible free solution to fix this issue. And if nothing works then try an automated way to fix Yahoo Mail not working on Mac Mail.