MAC OS
,
PDF
How to Convert Thunderbird Email to PDF on Mac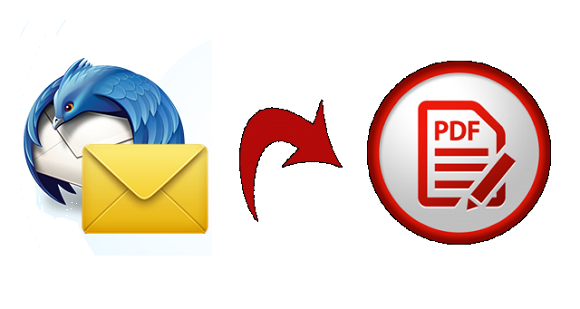 Summary: This article describes the methods to export Thunderbird emails to PDF on Mac system. A step by step guide for Mac is available for you to take advantage of.
Mozilla Thunderbird is a cross-platform desktop email client available for Mac, Windows and Linux Operating system. It uses MBOX file format to store the email messages.
But not all require the MBOX files for their task. Particularly for legal compliances, PDF format is preferred over the default MBOX. Hence, users look for a way to export MBOX to PDF on Mac in order to convert Thunderbird email to PDF Mac.
A user query: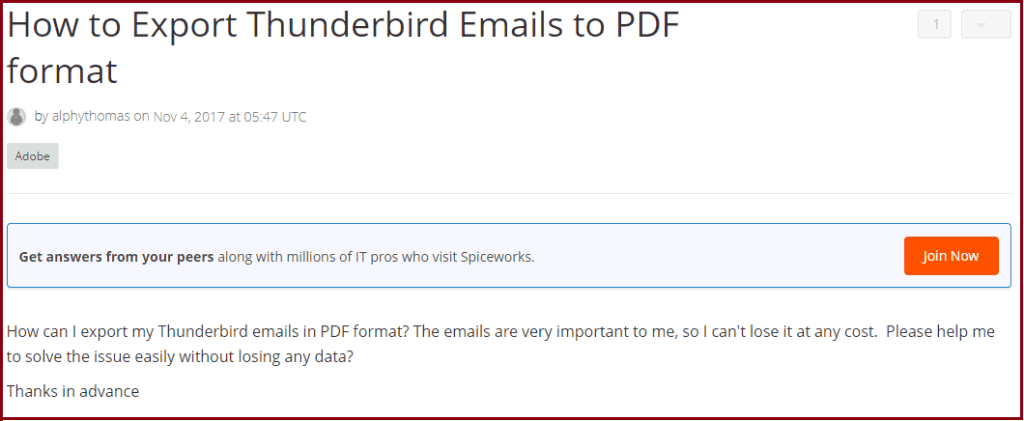 Similar user queries can be found all over the internet. There are many reasons for users to desperately search for a method to save emails in PDF format. Some of them are as follows:
Mobility and versatility: PDF files are independent of the Operating system. There are no compatibility issues with these files and hence are the best format for sharing and accessing data over multiple devices.
Standard Business format: PDF files have become the standard documents for many businesses. It is a secure format that can be password protected. Also, its versatility makes it the common standard for various business transactions.
Legal Compliance: PDF files are the accepted file format for legal compliance. If you need to showcase some emails in court, then handing over the emails in PDF documents is the best way.
Now, let us move to the Thunderbird to PDF Mac conversion methods.
How to Convert Thunderbird Email to PDF on Mac?
There are 3 different ways to export Thunderbird to PDF. The first method is free and uses native means for file conversion. While the second method is a simple one that can convert emails with attachments in PDF format. So, read both the methods and choose one as per your requirements.
#1 Print Command to Export Thunderbird Emails in PDF File
There is no dedicated option in Thunderbird for saving emails to PDF. However, there is a workaround that uses the Print command. But it only saves one message at a time.
Open Thunderbird, and select the message you want to convert to PDF
Go to File menu and click Print option.
Choose PDF from the bottom-left corner and click Save to PDF.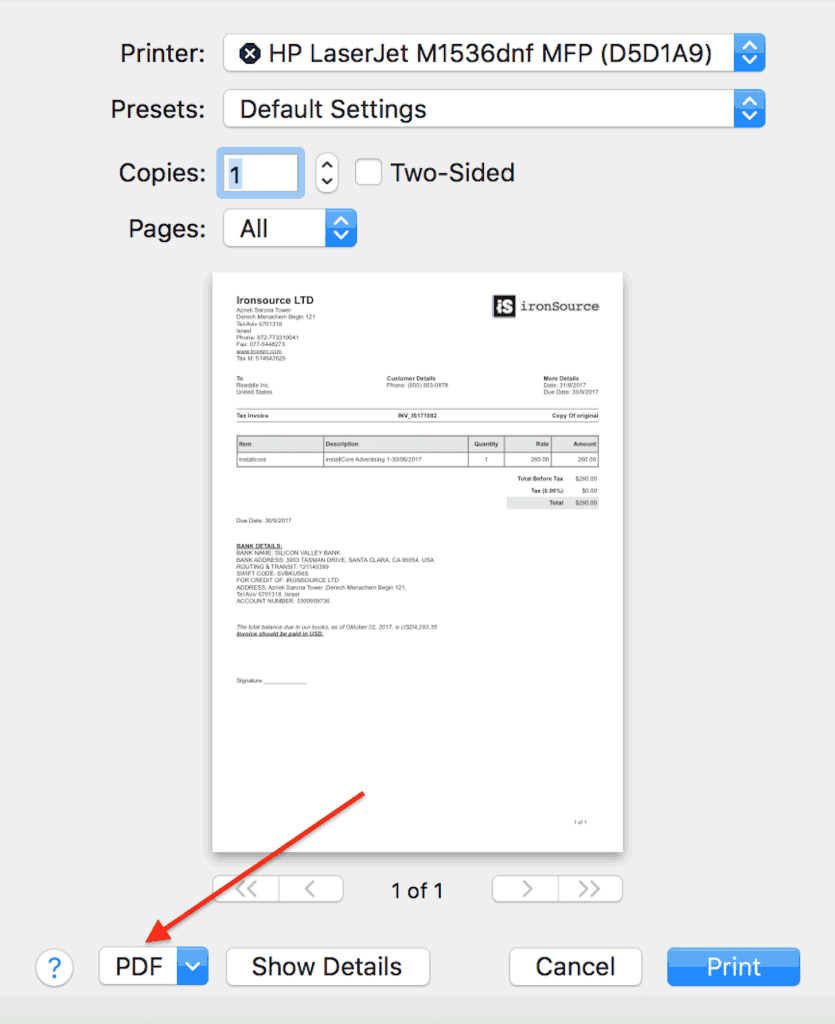 Give a name to the PDF file and set the location where you want to export it.
Click Save and the message will be exported to PDF on Mac.
#2 Mac Thunderbird Add-on for Converting Emails to PDF
There is a free add-on that adds multiple import and export functionalities to Thunderbird. You can download "ImportExportTools" add-on for your Mac application. Only after that, follow the below mentioned instructions. Do note that it won't save attachments. However, it will export all/selected emails from Thunderbird to PDF in bulk.
Restart Thunderbird on Mac after installing the add-on.
Select all the email messages that you want to convert to PDF.
Right-click and select Save selected message, then click PDF Format.
Set the location and save the files.
All the emails will be saved in separate PDF files (No attachments).
#3 Simple Method to Convert Thunderbird to PDF with Attachments on Mac
None of the manual methods ensure that your attachments will be preserved with the emails. This is a common problem for users who look for free methods to convert Thunderbird email to PDF. If you don't have the requirement of attachments, thee free methods are more than enough to cater to your needs.
But, if attachments are necessary, then MBOX to PST Converter for Mac is a must. Don't be alarmed with the name!
This conversion utility has several export formats that includes PDF, PST, MSG, EML, EMLX, and HTML. It is an all-around tool for Mac Thunderbird users. The special features make it a popular choice among Mac users:
Keeps attachments intact in the Adobe PDF files after conversion.
Naming convention option
Date-range filters
Page Margins for top. bottom, right, left page sides
Page Size such as A4, A3, Letter, etc.
Paper Orientation i.e., Portrait and Landscape
Page Numbers or Date on each Page
Here's how it works:
Default Location of Thunderbird MBOX files: ~/Library/Thunderbird/Profiles/<Profile name>/"
Launch the software for Thunderbird to PDF conversion on Mac system.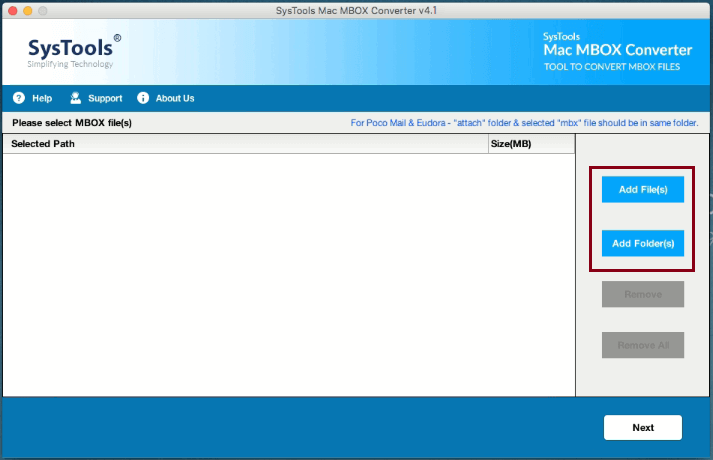 Use Add File/Add Folder to select Thunderbird MBOX files(s) and click Next.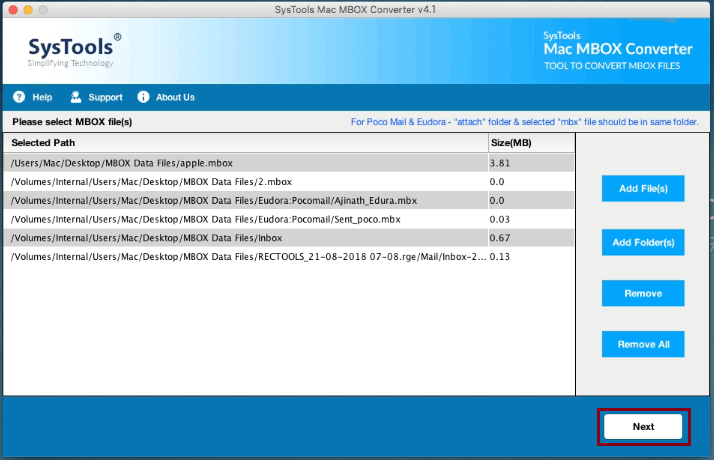 Select PDF from the software and click Advance Settings.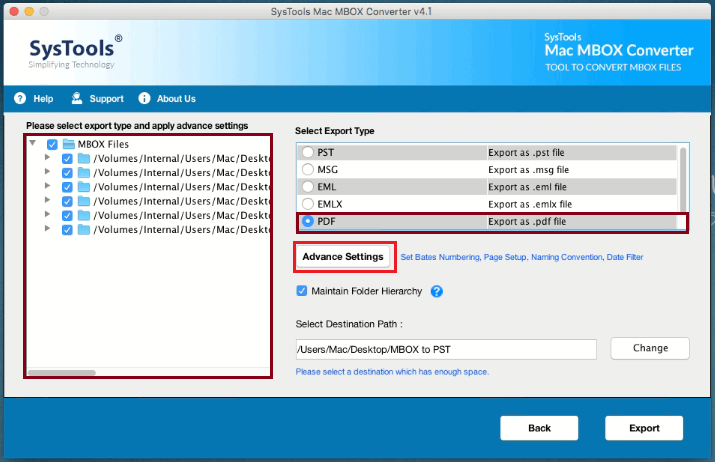 Apply Advance Settings such as layout settings, filters, etc. and click Save button.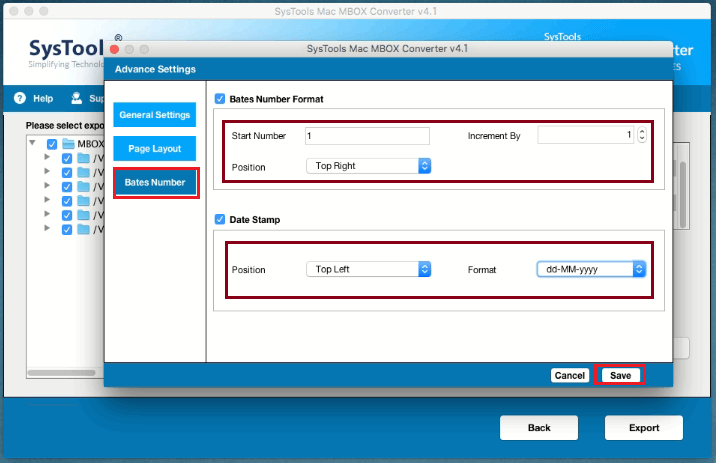 Select Change to choose the destination where files will be saved and click OK.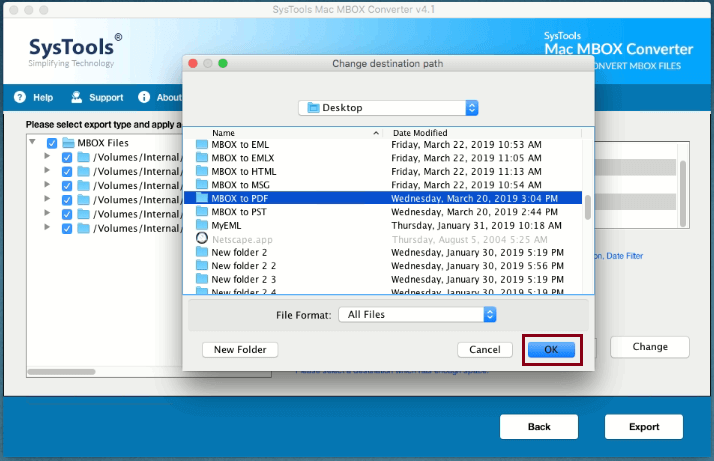 Click Export to begin converting Thunderbird email to PDF.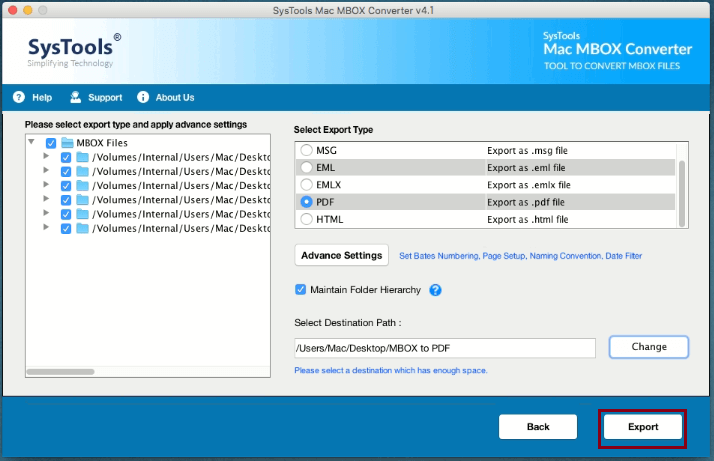 Why Do We Care?
Whether its for presentation, sharing, business transactions or legal compliance, PDF is the standard format for them all. It has global acceptance due to its cross-platform compatibility and security. Therefore, it is quite common for users to look for methods to convert Thunderbird email to PDF. But you won't find methods for Mac system users that easily.
Thus, we decided to write an article that encompasses some simple methods to export Thunderbird to PDF on Mac. After reading the article, you can choose and implement any of the given methods as per requirement.