Backup
How to Save Thunderbird Emails to External Hard Drive Hassle-Free?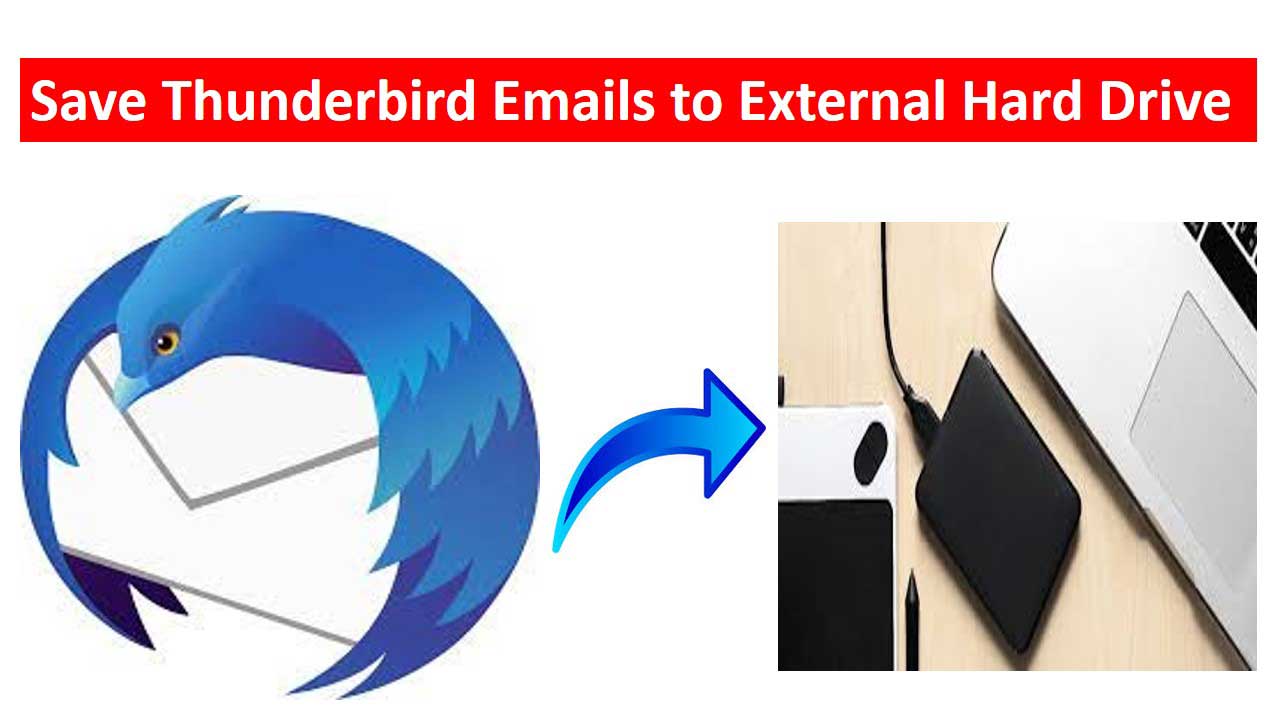 User's Concern: "Hello, I want to know how to save Thunderbird emails to external hard drive. However, I've already made a mistake by failing to keep a copy of my emails on my hard drive and ended up losing them. This time, I need to save the messages somewhere securely. I'd like to know how can I process this task on my Mac machine. Please recommend a dependable solution."
Thunderbird, being a popular and significant email client, requires users to have a copy of their emails continuously. Despite being a desktop-based client it is important to have an extra layer of protection and save Thunderbird emails to disk on Mac. Undoubtedly, the primary goal of saving your messages is to preserve your precious data from any kind of data loss. It can be data theft, corruption, or any problem in your Mac machine.
If in case, your Thunderbird emails get corrupted or lost somehow, there is a possibility to still get back. However, it will only be possible if you have been futuristic and saved them up on your Mac external hard drive.
So, now let's move to the techniques.
Why Should You Be Save Thunderbird Emails to Hard Drive?
You should always know how to save Thunderbird emails to external hard drive for the following reasons:
In case, any Thunderbird mailboxes data will delete accidentally.
Attacks by hackers or viruses on the Thunderbird account are possible.
To keep spam emails out of the account.
Keep your mailbox data safe from corruption.
A user wishes to abandon the Thunderbird email client.
There is a chance that the system will sustain some physical harm.
How to Save Thunderbird Emails to External Hard Drive?
Saving all the emails to an external hard drive can be done using –
It is known that Thunderbird saves all of its data in MBOX format. This file format retains the contents in a single file as plain text, making it difficult for users to understand. As a result, it is recommended to convert the files to a generally recognized file format, such as PDF.
This is only possible if the user uses an automated tool rather than a manual one.
Manually Save Thunderbird Emails to Hard Drive
Note: You must be aware of the Thunderbird profile location in the system to utilize a manual approach for saving emails.
In our system, Mozilla Thunderbird saves three sorts of data. They are as follows:
Copies of local or server messages.
Thunderbird user account password.
User-modified preferences and settings.
All of these sorts of data are kept in a Profile. During Thunderbird installation, it creates a default profile and stores to the system. As a result, all profile folders will save in the Mozilla Thunderbird folder.
(8digit_string).(Default_profile)
Thunderbird Profile may be found in the following locations:
User>AppData>Roaming>Thunderbird>zzzzzzzz.default
There are two processes in the manual technique, let's take a look at the first one.
Method 1 – Copy Profile and Restore it on Mac Machine
Let us now use the manual approach after identifying Thunderbird's profile folder.
We have divided it into two sections:
1. Copy your profile:
To generate a copy of the profile manually, follow these steps:
If Mozilla Thunderbird is open, close it to know how to save Thunderbird emails to external hard drive.
At this location, look for the profile folder:
User > AppData > Roaming > Mozilla Thunderbird> profilename.default
Select the copy option from the context menu when you right-click this folder.
Navigate to a storage place such as a CD RW disc, a USB drive, or another.
To save the copied Thunderbird profile folder, right-click and select Paste.
2. Restore the Profile:
To manually save thunderbird emails to hard drive or to restore a saved profile, just replace the Thunderbird profile folder with the duplicated one on the same system or a new computer as per your needs.
Method 2: Using Add on For Downloading Emails on Mac
Launch Mozilla Thunderbird and install the Import Export Tools NG add-on.
After installing the add-on, just restart Thunderbird application on any version of your Mac machine.
Now, right-click on a folder you wish to save (for example, Inbox), for saving Thunderbird messages in EML format, use Import Export Tools NG.
Then, click on the Export all Messages in the Folder > EML Format option to save the folder
Now, just choose a place to save the files and then click Select Folder.
You're done with a manual procedure here to save Thunderbird emails to external hard drive.
If you are thinking that these methods are trouble-free then you should take a look at the next segment.
Limitations of Manual Method for Saving Thunderbird Emails
1. Time-Taking Procedure: The entire process requires a significant amount of time and effort.
2. Multiple Steps: Users must be vigilant in order to complete all steps consecutively.
3. Technical Assistance: Supervision is required because the method cannot be used unattended.
4. File Forms: When using manual techniques, you are frequently limited to basic formats. You cannot save your data in popular formats supported by other email clients.
Instantly Save Thunderbird Emails to Disk on Mac OS
Because of its extensive capabilities, Mac MBOX Converter Software is the most popularly known product in the market. It enables you to effortlessly convert your MBOX files into a variety of file formats such as PST, MSG, EML, PDF, CSV, TXT, EML or EMLX, HTML etc. Hence, you can easily migrate Thunderbird emails to Outlook on Mac using this automated tool.
If required you can even convert Thunderbird emails to PDF file easily. This program can even download these files with attachments and selectively by using the different filters offered. Furthermore, it allows bulk migration to any format of your choice while keeping the data maintained.
Note: For saving contacts from Thunderbird application, you can learn how to import Thunderbird contacts to MS Outlook.
Let us now know how to use this tool step-wise to learn how to save Thunderbird emails to external hard drive:
1: After downloading and installing the program, choose the appropriate files by clicking the "Add File" button.
2: Choose the file format and apply different filters made available by the software.
3: After that choose the destination path by clicking on the Change button and Make New Folder if so required.
4: To finally export your files, click the "Export" option.
This technical method helps you to save thunderbird emails to hard drive. But, this tool not only saves emails it also have additional features as well. For example- You can also convert multiple MBOX to PST for Outlook on Mac OS, it have date-range filters as well to save specific emails. Also, ability to split PST file based on required size in MB or GB.
Last Words
It is critical to back up your data to someplace safe in order to protect yourself from potential data loss mishaps. As a result, this post will go through how to save Thunderbird emails to external hard drive in a smooth manner. Users may store Thunderbird messages manually, although it has certain limits. Hence, only the mentioned automated software would be the best decision to choose.