Excel
Thunderbird to CSV – Export Thunderbird Emails to Excel CSV File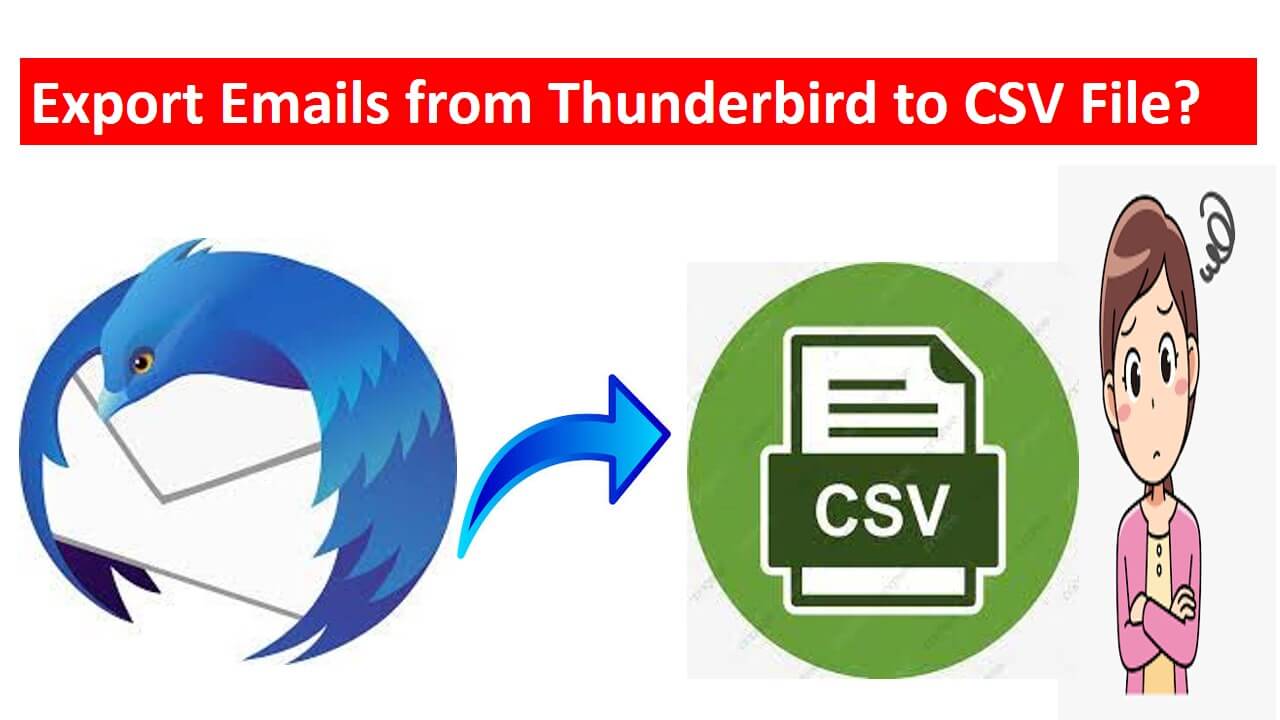 Regardless of the reasons to convert Thunderbird to CSV format, there are two methods to do this:
The free method to export Thunderbird emails to CSV is to install and use the ImportExportTools NG add-on on your Mac machine. It is an easy method and is completely free of cost but you cannot avoid losing some of the vital parts of your messages in the resultant CSV file. Also, it will discard all your attachments. You can read this article for its limitations and see if it satisfies your conditions.
The Professional solution uses the tried and tested Mac MBOX Converter Software to convert Thunderbird emails to Excel CSV files. It ensures that each and every section of the email message is covered in the spreadsheet. But, you will have to purchase the license of the tool to use it.
Let us read the methods in detail.
Free Method to Convert Thunderbird to CSV File
Note: Make sure to download and install the ImportExportTools NG add-on in your Mozilla Thunderbird email client.
Open Thunderbird and right-click on the mailbox that contains emails to be converted to CSV file.
Select ImportExportTools NG option and choose Export all messages from folder >> Spreadsheet(CSV).
Save the emails on your machine in a single CSV file.
As you can see, this process is very simple and easy. But, it does have its fair share of problems as well. Analyze them from below and then figure out if it is suitable for you or not.
Limitation:
When using this method to export Thunderbird emails to Excel spreadsheet, the resultant CSV file may contain only partial data. Take these screenshots for example:
1: You can see that the complete message, and the fact that multiple contacts in the "To" row.

2: But here, only one contact is displayed. Also, the message body is nowhere to be found.

This is just the beginning. Go through this list to view all the limitations that we came across while using the free method:
Partial contacts displayed in the CSV file
No message content (body)
An entire column with just the word = "Subject:"
Character limit of 50 imposed on all the actual Subject column
So, it is much better to use the professional method than depend on this free method that actually cost you more than you can imagine.
Smart Solution to Export Thunderbird Emails to Excel CSV File
To get complete content in your CSV file after Thunderbird to CSV conversion, it is imperative to use the professional MacWareTools MBOX to CSV converter. It has a plethora of options to help you throughout the conversion process.
Moreover, it provides you multiple features and different formats to export MBOX file such as PDF, TXT, EML, EMLX, MSG, etc. Converting the file into these formats you can easily opt them into their respective email client. Also, here you get an option using which you can easily backup Thunderbird emails on Mac OS. In fact, if required you can just save Thunderbird emails to external hard drive easily.
If you're planning to use it on Outlook, then just operating this tool you can migrate emails from Thunderbird to Outlook on Mac machine. Furthermore, it is a great option to use and convert all mailbox of Thunderbird on latest or earlier versions of Mac OS.
Steps to Convert Thunderbird Mail to Excel CSV File
Note: Make sure to export the Thunderbird emails into MBOX file(s), since the software requires MBOX file for conversion.
1: Download, install and activate the mentioned software on your Mac machine.
2: Now, just mouse-click on Add File button.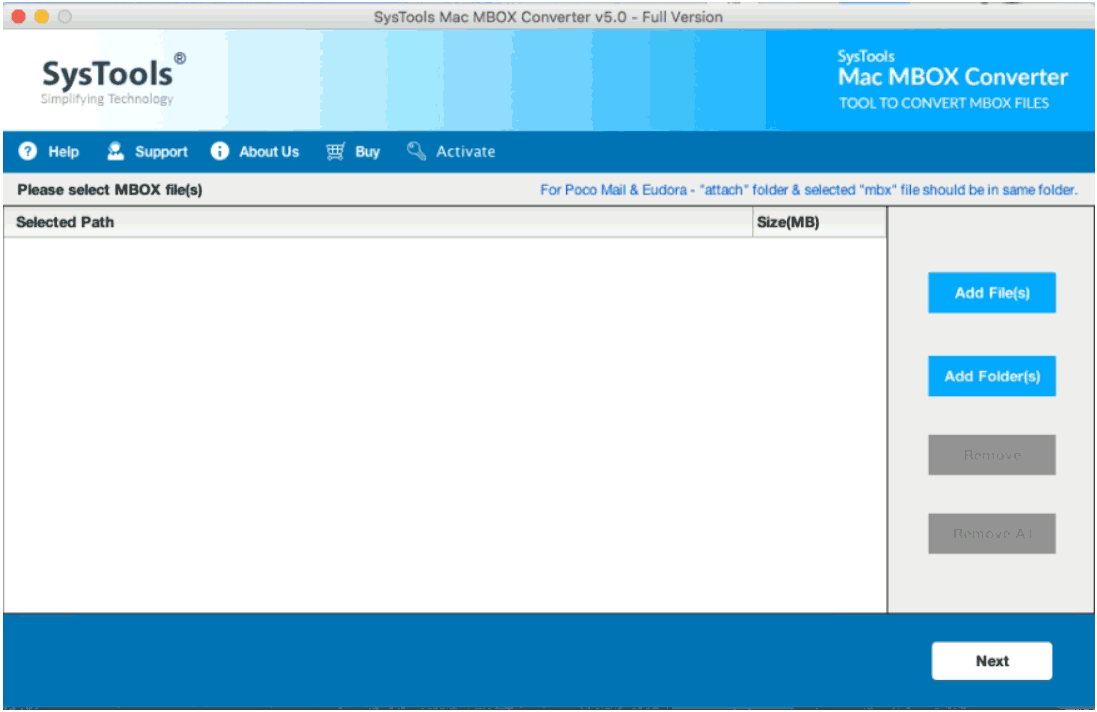 3: Browse, select and add Thunderbird MBOX files from the Mac system.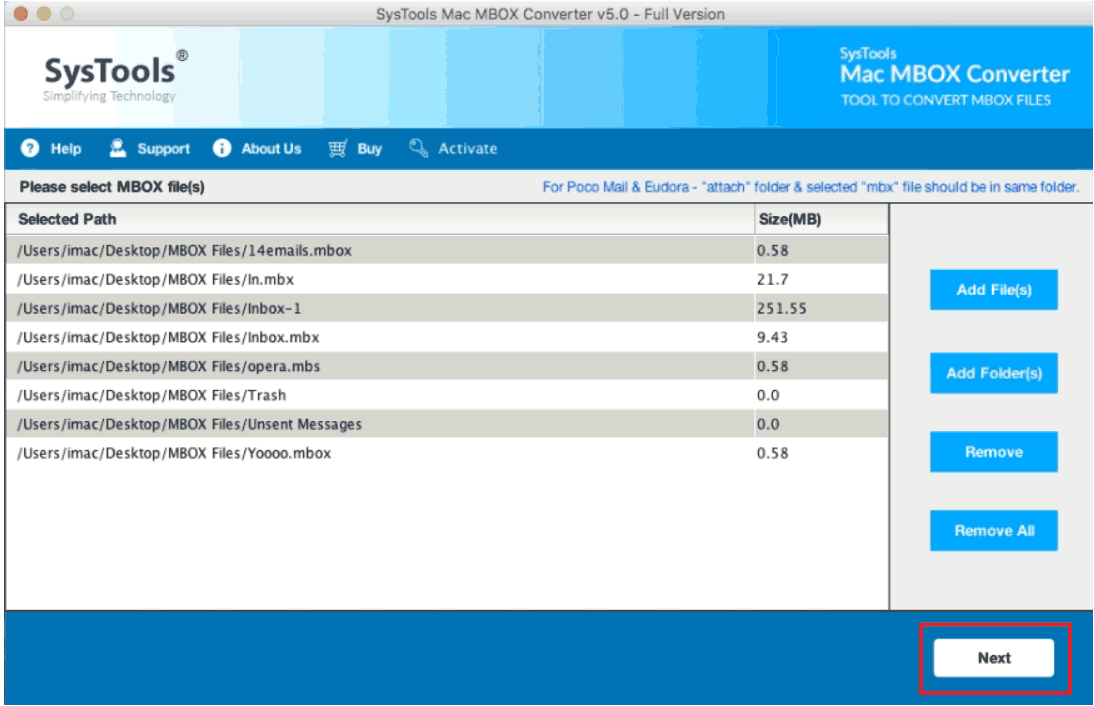 4: Now, select CSV format from the given options in Select Export Type section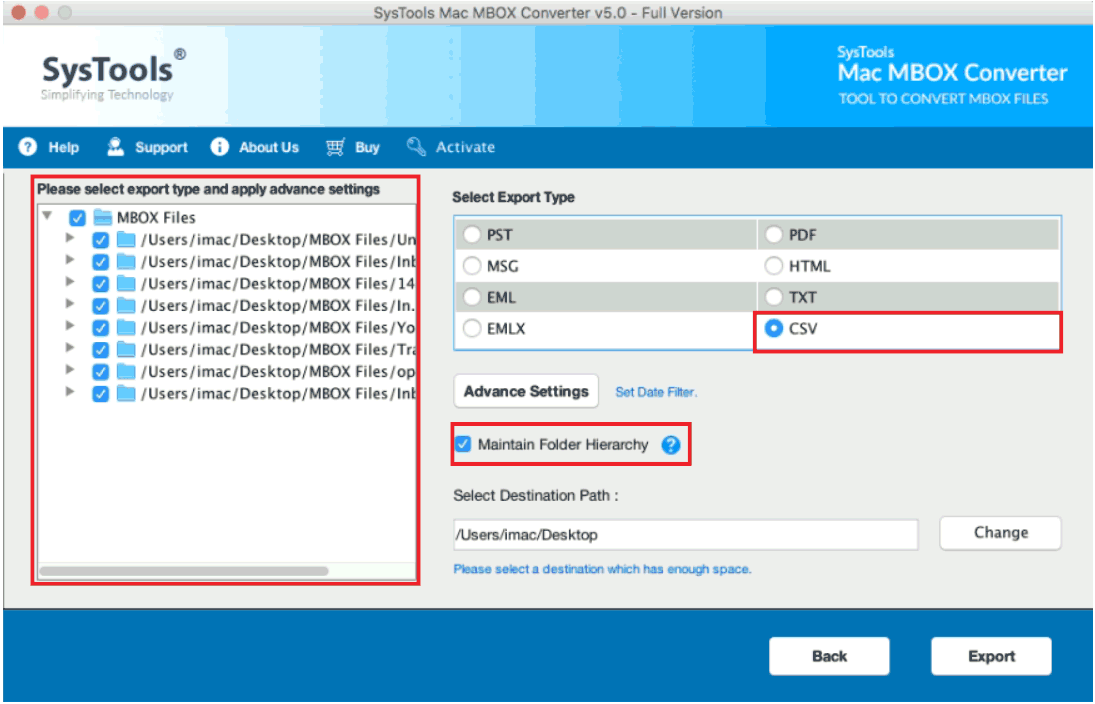 5: After this, apply Date-Range filters in Advance Settings.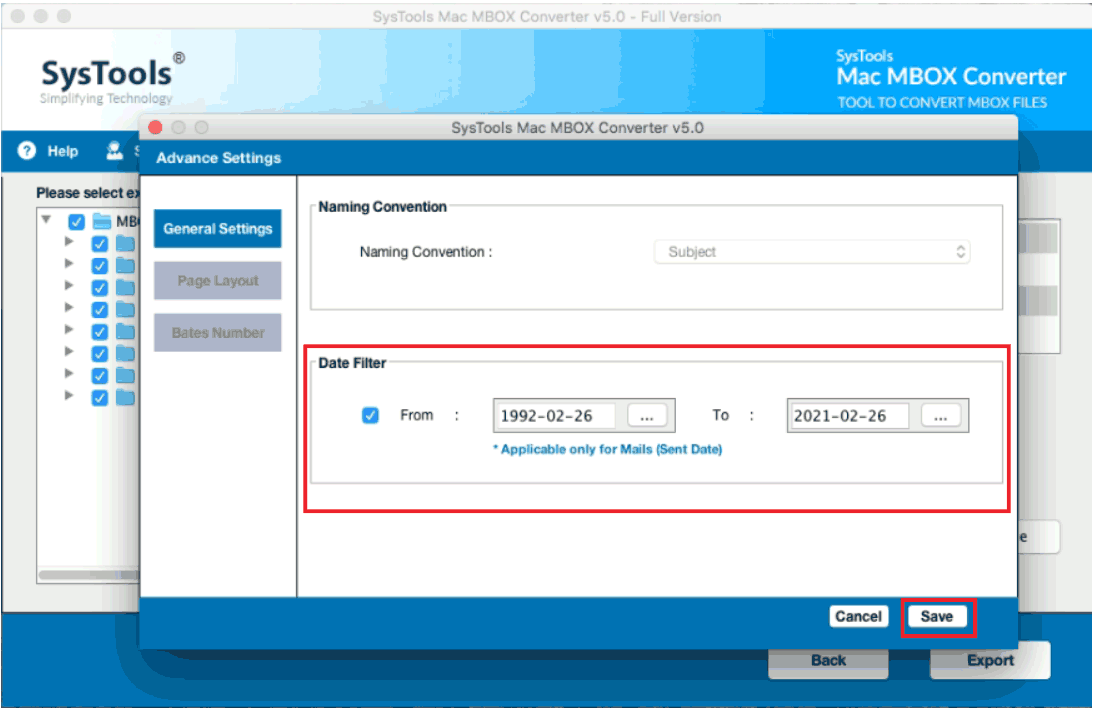 6: Finally, mouse-click the Export button to start exporting Thunderbird to Excel CSV format.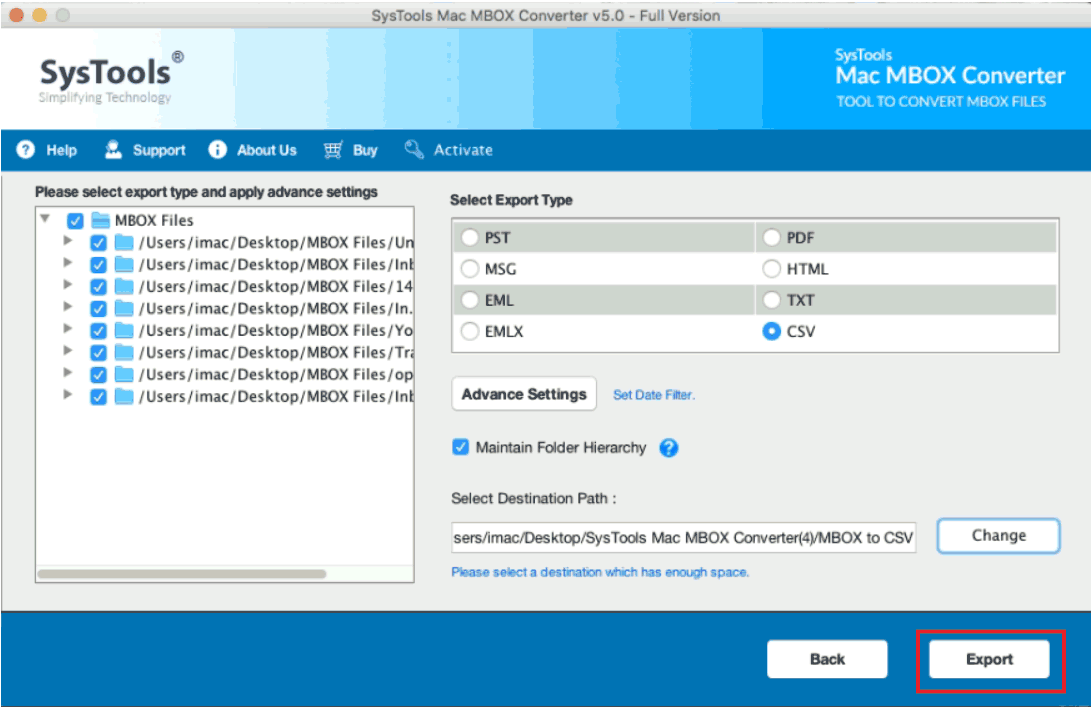 Once done, you can open the CSV file on your Mac machine and view all the email data arranged in proper columns. 

In fact, the CSV file will have the same name as the mailbox folder.
Benefits of Using the Automated Tool for Mac Machine
There are various benefits of using the tool when compared with the free method:
Process multiple Thunderbird mailbox files at once.
Moreover,  you can easily convert all the email message to the CSV file.
Not just this, but you will get the resultant CSV file in proper columns with all data intact.
There is date-range filter to filter out emails that fall in a particular range of dates.
Attachments are extracted from MBOX file in separate folders – delete them or use them as per requirement.
Final Verdict
There are two methods to export Thunderbird emails to Excel file. The free method is easy to execute but has limitations that point towards loss of data. Hence, we recommend you to opt the professional tool that has been a trusted companion for users over many years. With this software, you can easily convert emails from Thunderbird to CSV format.