Import & Export
How to Import Multiple EML Files into Apple Mail on Mac OS?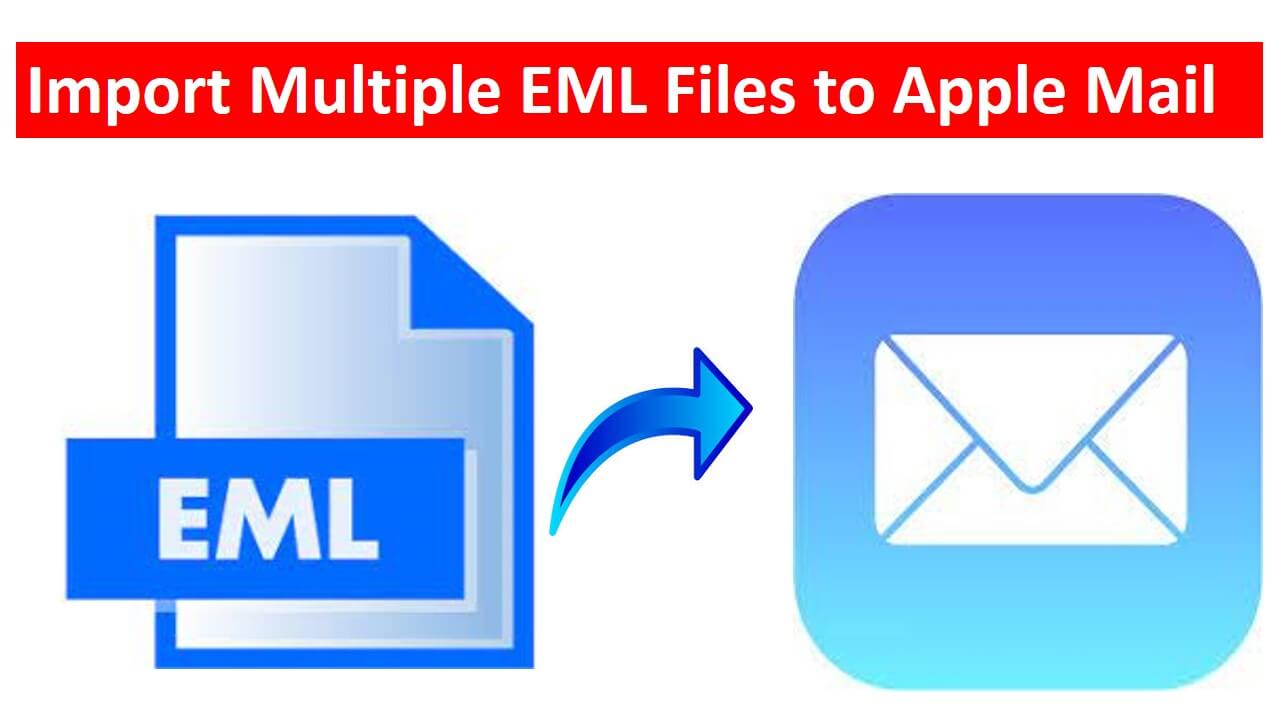 Summary: Are you looking for the best and quick solution to import EML to Apple Mail without losing any data? Do you have bulk EML files stored in your system which you want to import in Mac Mail? Are you facing issues while looking for a solution? You don't have to worry anymore as we have come up with a solution to import .eml messages into Apple Mail in this article.
EML is an archive email file which stores message body along with HTML formatting and headers. It usually saves data in plain text format. EML files are accessible in many email clients such as Mozilla Thunderbird, Windows Live Mail, Apple Mail, etc. Many users have queries that how to access these files in some other email application. Thus, we are discussing how to import EML files into Mac Mail in the following segment.
Step by Step Guide to Import EML to Apple Mail
The complete process of importing bulk EML files into Mac Mail / Apple Mail is a two-step process:
1. Converting Files into MBOX Format
2. Importing Resultant File into Apple Mail
Now, let's learn how to execute this task in detail on Mac based machines.
Best Solution to Get the Resultant MBOX File on Mac OS
There are several applications which can help users to perform the conversion task. But here we are discussing the most recommended application by experts. The EML to MBOX Converter for Mac makes the task so simple that even the novice users can import EML file to Apple Mail.
Moreover, the demo version of the software is completely free to use, and you can try all the features available in it. Moreover, the Add Folder option in the tool makes the bulk conversion so simple.
The application allows users to preserve their data into different file formats, such as PST, PDF and more. There are multiple advance settings and filters as well which makes the scenario-based conversion easier. Hence, you can open multiple EML files on Mac based computer without any data manipulation.
Step 1: Know How to Import EML to Mac Mail / Apple Mail
For this task, just download & install EML Converter tool on your Mac system. After the proper installation, run the tool and follow the below steps-
From the initial screen, tap either on Add Files or Add Folder(s) for adding EML files
Browse EML File(s) in Bulk and add them on the panel, hit the Next button
Select MBOX as output file and Apply Filters & Settings if required.
In this step,  you will need to decide the Destination Path for securing the resulting file, tap Change
Press Export button and wait till the conversion process completes on your Mac machine.
Step 2: Importing the Resultant File into Mac Mail
Now, in this phase you need to open Mail App on Mac OS and click on File button.
Go to Import Mailboxes option and a list of sources will appear in the window.
Select "Files in MBOX format" option and click on Continue button.
You will get a list of MBOX files created by separate folders. Select / Deselect files as per your requirement.
The import process will now begin, and it will take some time depending on the size of MBOX file.
You can view the messages in Import folder in the Sidebar, this is how you get to import EML to Apple Mail
Why You Should Use this Tool Over Others?
Simple to Use – This utility is specially designed so that even non-technical users can use it without any issue. They don't need any technical expertise to use this tool.
Faster – The tool to import .eml messages into Apple mail is integrated with advanced algorithms which makes the entire task so quick. Additionally, the Add Folder feature of the tool makes bulk conversion a lot faster.
Accurate Results – Many tech experts and users highly recommend this tool over others as it provides accurate and desired results. The software ensures that the data integrity is kept intact throughout the process.
Conclusion
Switching from one platform to another has become a lot common today. So, we have discussed the steps to import EML to Apple Mail on Mac machine in this article. The users who opt for manual procedures instead of automated tools face some issues and end up losing their crucial data. Thus, we suggest you all to carry out the entire process explained in the above segment. As a result, using the automated solution you can access all your .eml messages into Mac Mail without any data loss.