MAC OS
Best Outlook Alternative for Mac OS Users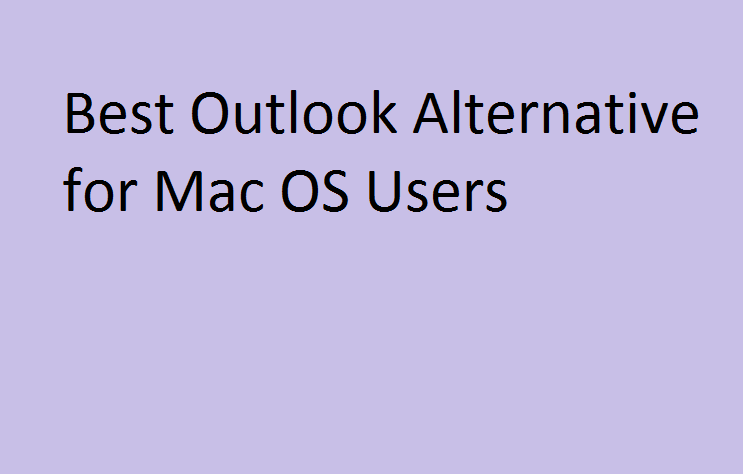 Many Outlook users do not want to continue Mac Outlook when they move to Mac machine. They often look for a fresh start in terms of OS and email client alike. For them, it becomes a tough task to find out Outlook Alternative for Mac. For the benefit of the readers, this blog will share some of the best email applications that work perfectly as the Outlook alternatives.
Top Outlook Alternative for Mac OS
Though users get to choose from ample number of email clients, we have compiled top 5 Mac OS email clients in this blog.
1.Mozilla Thunderbird: Like Windows, Thunderbird is available for Mac users also. It is one of the most used Outlook alternatives. The open-source application offers all the basic functions. Uses can send encrypted emails with this and RSS feed management is also possible. Thunderbird has an overview menu that allows users to access its important functions at the same place.
A large number of add-ons are available for this email including the add-ons that offer Task and Calendar management facility. However, during each version update of this application, one has to wait for the update in the add-ons too.
2. Seamonkey: If users are looking for some all-round solution for office communication, Seamonkey is the perfect choice for them. Basically, SeaMonkey is a combination of different Mozilla projects. This complete solution includes a web browser, email client, a chat client, and an HTML editor. Users can easily perform email organization with their command. While doing so, they can make use of both flexible sorting features and visual highlighting.
This email client also has SMIME email encryption for maximum security. It also has SSL/TLS encryption, but users have to manually activate it for the first time. The Read Receipt feature allows users to know when the recipient has read the email. Also, they can add a digital signature in each email. Multiple email accounts can be managed from the same mailbox. Its customizable spam filter will keep your Inbox spam free.
3. eM Client: This email client is available for both personal and enterprise level usage. This is available in free and paid accounts that users can choose depending on their needs. The free account is available for the personal use while one person can have two free accounts only. Commercial users need to purchase the Pro license for multiple accounts.
Besides having integrated features like contacts and calendar, it also allows its users to chat on built-in instant messenger. It also has the translation feature and super-fast search function. User data also remain secure, thanks to its SMIME encryption and SSL/TLS standards. This email client also supports Gmail, Exchange Server, iCloud, and Outlook.
4. Spike: This is a combination of classic email program features and contemporary modern apps. This is also a free application for non-commercial users. To ensure collaboration among employees and partners, it offers a group chat option. Besides, Spike automatically organizes emails in specific folders that users can view anytime.
It is also possible to connect the account with various cloud services like Google Drive, Dropbox, and Microsoft OneDrive. One click encryption facility will allow users to encrypt both emails and attachments to protect against any unauthorized access. Even if the recipients do not have this email application, they can decrypt the received email in a single click.
How to Move Outlook PST to Mac Email Clients
The suggested email clients here support MBOX file format. If users choose any of the email clients and want to import the old PST data into it, they should use Mac PST to MBOX Converter. This application is professional software that easily converts PST to MBOX on Mac OS. All the users need to do is to run these simple steps:
1. Open the tool and add PST file.
2. After adding the files, select MBOX.
3. Choose Advances Settings and click on Export.
4. After the conversion is done, open the Mac email clients where you want to import the MBOX file.
5. Follow its native features for MBOX import and move the Outlook data in it.
Observational Verdict
When Windows Outlook users move to Mac, they often search for Outlook alternatives for Mac. Though Mac users get Mac Mail as the default email application, many people like to use other email clients. Here, we have suggested top 5 MS Outlook alternatives for Mac users. Choose the email application based on your necessity to get uninterrupted email communication.