Outlook for MAC
How to Backup Autocomplete Microsoft Outlook 2019, 2016, 2011?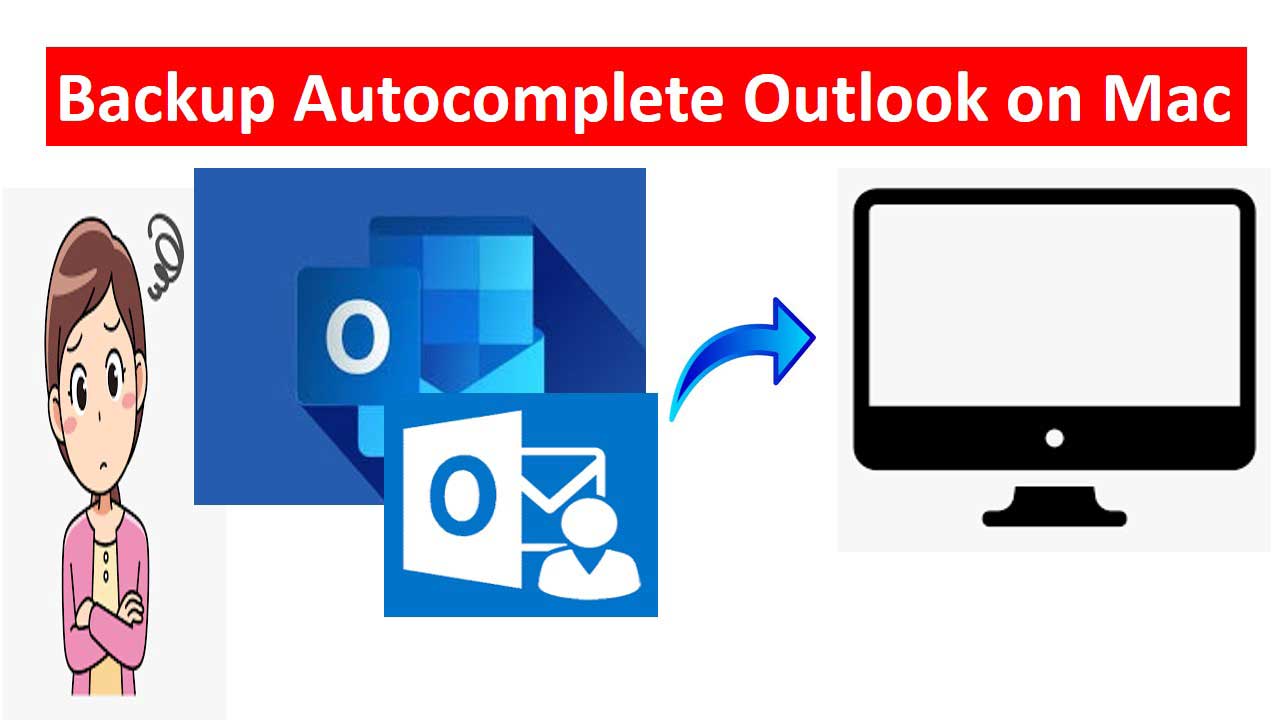 Summary: If you're wondering what can be the way to backup autocomplete Outlook without losing any data. Then, for you, we have come up with this informative article. In this article, we will be going to share the best method to resolve this query. So, in the end, you can simply take a backup of the Microsoft Outlook auto-complete list easily on a Mac machine.
Generally, MS Outlook keeps the list of all email addresses that you have recently used. So, whatever you type in To, CC, and BCC fields the Outlook for Mac, it stores them all. It is useful when you type an initial letter of an email address, it keeps popping on the screen with the required autocomplete list. This feature of MS Outlook helps in consuming less time.
But sometimes, Outlook autofill email address gets deleted accidentally, so to prevent such situations it is best to backup the autocomplete list.
User Query: Hi, though I am using Mac Outlook for a long time, and its autocomplete list helps me a lot while sending an email message. Being a Manager I have multiple Outlook for Mac users, from which one of the user-facing while sending a new message. Because it's Outlook autocomplete contacts missing in his Mac account. To keep his situation in mind, I would like to backup my autocomplete list Outlook 2019 on a Mac computer. If anyone knows the solution to copy them to the system, then do let me know.
Best Automated Solution to Backup Autocomplete Outlook
Unfortunately, there is no manual method that allows you to take a backup in the Mac system of Outlook autocomplete list. Therefore, we have come up with an advanced solution that allows you to backup the entire list on Mac OS.
So, using the Outlook Cached Contacts Recovery Software for Mac is the best and most trustworthy for operating. Moreover, the pretty amazing thing about this tool is it can work on all versions of Mac machines.
Even, it can help you when the Outlook autocomplete list is greyed out because by using this tool you will easily recover autocomplete list in Outlook 2019, 2016, 2011, etc. When the process will be done, to protect them from any future uncertainties, you can save cached contacts in Mac Outlook effortlessly.
Key Features of this Advanced Standalone Utility
This advanced software has multiple useful features for all Mac-based computers. However, here, we are sharing the most common and major ones in brief-
As this is the best application to fix the Outlook autocomplete list issue, and then you can simply restore Outlook cached addresses.
It can perfectly work with all versions of Mac Outlook 2019, 2016, 2011, etc. That mean, you can simply load OLK14 and OLK15 files as well.
Moreover, it comes as a savior when somehow Outlook autocomplete contacts not working or stops working at all.
Additionally, the best thing about this Mac based application is its working capability when Outlook contacts not showing up in autocomplete list. Using this tool you will get to see all those contacts without any hindrance.
To ease your pain, this tool is designed to create separate autocomplete files or single file of PDF or VCF for all Outlook autocomplete email addresses. There is a benefit, that once this software creates a backup of the list and provides an exported file on a Mac machine. Then, all Mac users can simply import it on Mac Outlook again.
Sometimes, you may need to locate a large size of Outlook autocomplete list file. So, in this situation, there will be no issue while adding Mac Outlook file in this tool. Because it never imposes any file size limitations in loading and fixing. In short, you can locate Mac Outlook profiles or identities of any size.
Guide to Backup Autocomplete Outlook
To operate this tool firstly download it on your Mac machine of any version. Just after that, follow the given steps one by one-
Choose Auto Location option first of all as per the Mac Outlook profile and Identities on Mac system
Or just select the Let Me browse option to load Mac Outlook files automatically, if  you don't remember the location of the file
Now, after locating the file, choose profile according to the date
For backing up, just choose any export option on Mac computer with all data intact
After this save the backup file by tapping the Change button to select the location path. To begin this backup process, tap on the Export for Mac Outlook autocomplete list.
Important Note: After performing these steps, you will get a healthy file in the selected format. So, you can simply either add this file in Mac Outlook 2019, 2016, 2011 or etc whenever needed. This backup file will save you for sure in that hard time while sending a new message.
Conclusion
Backing up is the safest way to prevent any future uncertainties of losing data. So, most users want to know how to backup autocomplete Outlook 2019, 2016, 2011, or more on the Mac OS. Therefore, in this article, we have shared the best and most professionally tested solution to help all Mac users. Using this software you can easily fix issues related to Outlook cached contacts and make the best out of it.