Outlook for MAC
How to Backup Emails from Thunderbird with Attachments on Mac OS?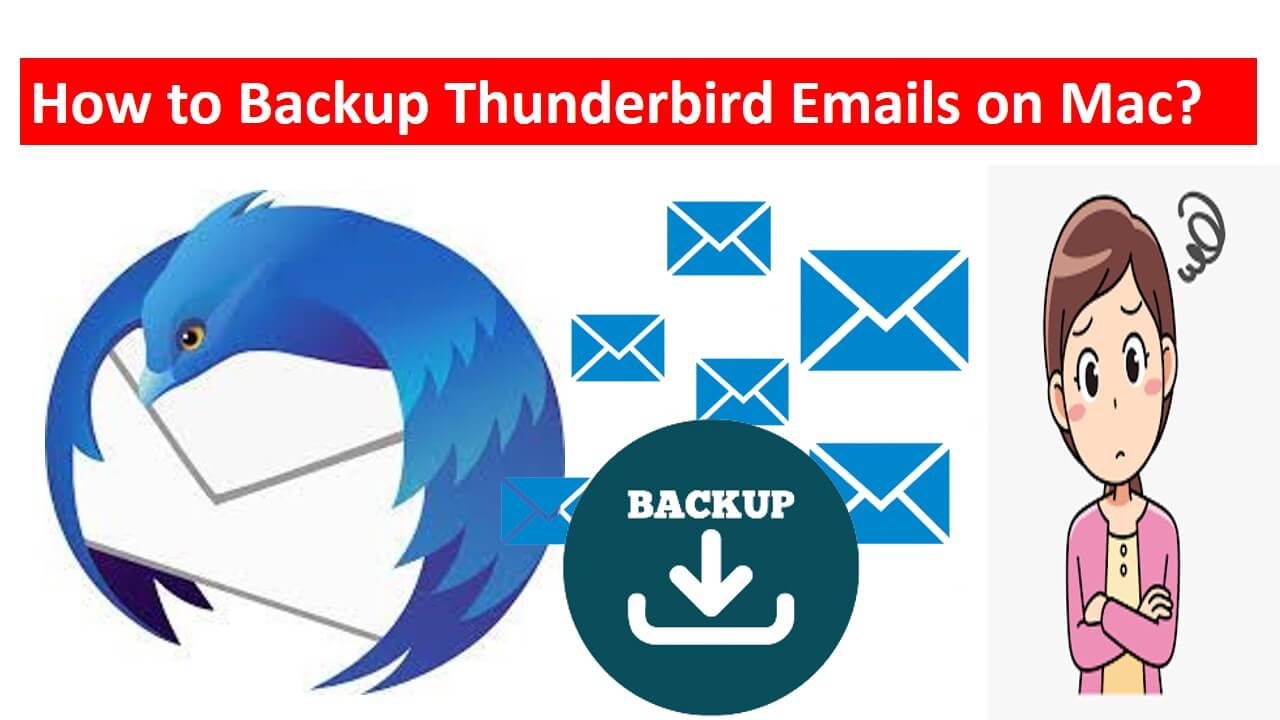 Summary: If you want to protect your Thunderbird emails and their attachments from any uncertainties, then backing up would be a great decision. Therefore, in this article, we will be discussing how to backup Thunderbird emails on Mac operating machine. Here, you will get all the possible solutions that will help you to preserve your emails and their attachments.
If we talk about the Mozilla Thunderbird, then we all know that it is an open source and free email client. Which mostly makes it easy to access the data of any user. Although you can easily configure any email with Thunderbird but threats are still here.
We also know that it stores the mailbox data in .mbox format generally. The MBOX format can be worked or compatible with other email clients as well. Here, your entire data including emails, attachments, contacts, and others are saved.
Methods for Backup Thunderbird Emails with Attachments
In this article, we will be sharing three possible ways which easily help you to backup all Mozilla Thunderbird emails on Mac OS. For doing this task, there are two manual methods and a professional one-
Now, let's learn all these methods in detail for backup emails from Thunderbird on Mac machine.
Use Thunderbird Add-on for Creating Backup of Emails
So, in this manual method, you can take the help of the Thunderbird Add-on as there is no direct way to backup Thunderbird emails on Mac OS-
In the first step, run the Mozilla thunderbird application on your Mac computer and install the ImportExportTools NG add-on
After proper installation of this Add-on, restart the Mozilla Thunderbird application again
Now, choose any folder (for example – Inbox folder) from which you want to create a backup
Right-click to it, ImportExportTools NG > choose Export all messages in the folder option > EML format
After that, just locate the destination path for saving this backup file, tap the Select Folder option
So, this is how you can backup emails from Thunderbird on your Mac computer, later on, you can access it anytime.
Manual Method to Copy Mozilla Thunderbird Profile
However, another method is by backing up the entire profile of the Thunderbird application to backup all your emails. A profile stores all the data of Thunderbird including emails, contacts, etc. In this way, you will be able to copy the entire profile and just paste it at any other location. So, to backup Thunderbird emails, just follow the below steps –
In this method, you will need to close the Mozilla Thunderbird on your Mac machine, if it is open
After that, go to the default location of the profile
Users > Admin (User Name) > AppData > Roaming > Thunderbird > Profiles > xxx.default
Now, right-click on it and choose the Copy option and save it to any desired location on Mac OS
Or if you want to restore this backup profile again then just simply replace the current Thunderbird profile with this backed up profile on the current Mac system or a new computer.
Possible Limitations of the Manual Methods
Both the manual methods don't provide any other formats to backup Thunderbird emails. Hence, if you want to use the backed-up file in other file formats then it will not possible.
Moreover, both methods do need supervision as you will need to actively process this entire backup process.
Additionally, if you have a large number of Thunderbird emails then it would be a long process to backup emails from Thunderbird on Mac.
Best Way to Backup Thunderbird Emails with Attachments on Mac
Above manual methods are quite hectic while operating them, therefore in this situation, we would suggest you to choose some professional solution. For the same, the Mac MBOX file Converter Software from MacWareTools is a proven solution.
Moreover, this application is quite great while converting Thunderbird .mbox file to any other format, like PDF, CSV, TXT, EML, or EMLX, etc. It also provides a simple user interface using which you can migrate Thunderbird emails to Outlook in its supported PST format. More of that, whatever format you are choosing, it allows you to securely save Thunderbird emails to external hard drive on Mac with attachments.
Later on, you can just simply import the exported file into their supported email client on Windows or Mac. And yes, if we talk about its compatibility then it allows you to backup all emails from Mozilla Thunderbird on any version of Mac OS.
To understand it more, let's know the working of this automated tool.
Instant Guide to Backup Emails from Thunderbird
First of all, download the above-mentioned software on your Mac machine of any version. After that, just follow the below-working steps-
Run the software, and tap either on Add File or Add Folder for adding the Thunderbird file
After that, select the path of the file for choosing any Particular MBOX file
Later on, from the Select Export Type section, choose any format as required, eg, choose PST
Now, apply Advance Settings for the output file for backing up on your Mac machine
Here, tap on the Change button to decide the Destination Path
At last, hit the Export button to begin the backup Thunderbird emails with attachments on Mac OS.
Conclusion
In this article, we have discussed the ways to know how to backup Thunderbird emails on Mac computer. Here, we have suggested manual and professional methods for the same. But, the manual one has some limitations, on the other hand, the professional one is quite useful and handy. Even this automated software has a free demo version that you can try on to know more about it. Hence, we would recommend you to choose the expert-tested software for a better way to backup emails along with attachments. As it allows you multiple formats in which you can take your backup.